MAF Devotions
Sign up to our new monthly prayer devotionals and join us spending time focusing on God and His wonderful works.
Welcome to our prayer devotions
Psalm 100 encourages us to 'enter His gates with thanksgiving and His courts with praise', and this is foundational to everything we do at MAF.
Every flight begins with prayer before take-off because God is, and always will be, at the centre of all we do.
As we begin this series of monthly prayer devotionals, it seems fitting to 'enter in' with thanksgiving and praise, to focus on who God is and what He has done – expectant of all He promises to do.
We hope you find the monthly prayer devotionals both inspiring and challenging. It is our prayer that you will increase your knowledge of God's power, His love and His plans for the world we live in.
As we partner together, let's do so expecting God to hear our prayers and answer them and that His power and glory will be known here on earth as they are in heaven.
Thank you for journeying with us to see help, hope and healing across the nations. Remember, your prayers go even further than our planes do!
MAF Devotions were previously offered as a physical product via post, but due to the current coronavirus outbreak limiting our mailing capacity, we are now only offering this via email. If you previously received this via post and would like to continue receiving it, please sign up with your email address below.
Time to sing a new song
9 September 2022
'The LORD God is my strength and my song; He has given me victory' (Isaiah 12:2, NLT).
I love to sing. It has been in my blood since I was a child. My mum sang, and her mum before her.
Before serving with MAF, I worked for a music charity and was privileged to use singing as my main tool for drawing out the treasure in young people.
I did that for over ten years, and I saw first-hand the therapeutic power found in singing.
Have you heard the saying, 'I don't sing because I'm happy, I'm happy because I sing'? Singing brings such joy!
It also helps us express feelings that are hidden; communicating in a way in which a spoken word might struggle. It gives us permission to mourn. It empowers and unites.
How many of us hear a song which takes up right back to a moment in our past? We don't just hear it, we feel it. We connect with it, mind, body and spirit.
In the same way that I used singing as a tool to help young people express their feelings, build unity with others and increase their confidence and self-esteem, I believe God uses singing as a tool to equip us and enable us through the journey of life.
We all go through different seasons. We experience hills and valleys, with – we hope – some flat ground in-between.
Troubling times
This season is difficult for so many of us. Political instability, countries at war, the cost of living crisis, NHS delays — the list goes on and on. Believers aren't immune to the challenges of life.
Having had ongoing health issues for the past nine years, I sometimes feel like I'm stuck in the waiting room, wrestling with the uncertainty of what is to come. It's also hard when you don't have a 'choice' in it. I'm sure I'm not alone in having these frustrations.
But you know what we can choose? We can choose the song we play in that waiting room. We can choose to fix our eyes on the One who redeems, heals, comforts and protects.
The Psalms
King David knew the power of song. His psalms are ones of prayer, praise, struggle and lament.
As a fellow worshipper, I often find myself at the keyboard, with my Bible open at the Psalms. It's a place where I can dwell with my Lord, held in the hands of 'melody and truth'. It's a place where I can be carried beyond my circumstances into a realm of hope and joy.
Even in times of deep grief, moments spent in song can bring you consciously into His company, where you are known, safe and loved. So I sing...
One day, inspired by Psalm 40, I sang:
'I waited patiently for the Lord to help me — and He turned to me and heard my cry. He pulled me out of the pit of loneliness and placed my feet upon a rock — gave me a new song to sing...
'A song of love is on my lips for you, my King, there's a melody of fragrant perfume — birthing in my heart.'
When I sing this song, it's a declaration of what I know to be true — calling it out.
The Bible is full of songs like this, and they feed your spirit. May I encourage you to take these truths and add your own melody? It's a beautiful partnership that doesn't need a degree in music. And when you do let it all go, you'll find the treasure, you'll find a new song.
Now, when I sing, I take my eyes off my own situation. Instead, I see beauty, wholeness and hope. I see the King of Kings — the mighty God — so big and majestic, so strong and powerful.
I see Him smile — His eyes of fire burning. I feel His touch, His embrace. I feel safe, and know that I am in His hands. I know His peace.
Instead of fearing the unknown, I wait expectantly to see what God has got in store.
Despite everything that's going on in the world, I do believe that He will bring beauty from the ashes of this turbulent time.
So, I remain. I sing. I worship. I am still. I fix my eyes on His beauty and His truth. And I wait patiently.
Will you?
Response
In Acts 16, we read about Paul and Silas in prison and how, just after midnight, they began to pray and worship. Then God sent an earthquake, and the prisoners were set free.
The thing that really grabs me is that, although their chains fell off, Paul and Silas chose to remain and, as a result, the prison guard encountered the love of God in a life-saving, life-changing, life enhancing way.
The brokenness of this world requires us, as God's representatives, to sing a new song. It also requires us to remain. Our songs are not just about the peace we experience, but the freedom it brings to others.
Take some time with God to find your new song for this season.
You will be blessed and strengthened, and you never know how powerful and freeing it might be for someone else.
Let's sing the freedom song together!
Pray like you mean it
12 August 2022
The Old Testament can be a confusing book. Stories of violence and retribution may be hard to reconcile with Jesus' message of mercy and forgiveness.
However, when we read the account in 2 Kings 6 — specifically verses 15-23 — we can see a foreshadowing of Jesus' Gospel in the form of the prophet Elisha. (By the way, did you know that the names Elisha and Jesus — Yeshua — mean 'God Saves' or 'God Is My Salvation'?)
Interestingly, like Jesus, Elisha raised the dead (1 Kings 17, 2 Kings 4), healed those from other lands (2 Kings 5), performed miracles (2 Kings 2, 2 Kings 6) and — as we will see — had an intimate relationship with God, founded on prayer.
Back to the story
During Elisha's time, Israel was often at war with the Arameans, whose homeland is now located in present-day Syria. God had given Elisha great insight into the King of Aram's plans and enabled the King of Israel to avoid the traps laid for him.
This made the King of Aram suspicious. How did Israel always know in advance what he intended to do? He suspected a leak in his inner circle. His advisors were quick to defend their innocence and point out that the prophet Elisha was telling the King of Israel their plans, enabling the Israelites to avoid being ambushed.
'Don't be afraid'
So, the King of Aram decided to take Elisha out of the picture. He gathered his troops and headed for Dothan where Elisha lived with his servant. When the servant went out early the next morning and saw the strong force of troops massing, he warned Elisha and asked what they should do.
Elisha said, 'Don't be afraid!' (Does this sound like someone you know in Matthew 17, Luke 8 or John 6?) He told his servant that the heavenly horses and chariots outnumbered their enemies.
You could forgive Elisha's servant for thinking his master had lost his mind. There were two of them against a great army with horses and chariots. Elisha sensed his servant's unbelief and asked God to show him the spiritual reality of the situation. The servant looked again and saw the hills full of horses and chariots of fire that surrounded them. He saw the protection of God.
It's easy to become fearful in the face of the problems we encounter. Like Elisha's servant, we can focus on the issues confronting us and become overwhelmed. But when we look to God instead of our troubles, we receive the gift of faith, and know that God is on our side and He will provide a way out.
We define the world by our senses — what we can see, hear, smell, touch and taste — and through proprioception (the body's ability to sense movement, action and location). But there's also another level — the spiritual plane — where God is at work.
Prayer is an important means of influencing this imperceptible realm. We may not fully understand how it works, but God is involved in the world through prayer. He commands a heavenly army and intercedes for His people. We can be assured that God is in control. He speaks to us, guides us, protects us and — most importantly — loves us.
When we face challenges (maybe not an army of soldiers, but our battles can be just as real), He is there fighting for us. We may not sense Him on a physical level but, on a spiritual level, God is nevertheless at work.
Back again
Returning to the story again, it seems that before the servant had time to understand what he'd seen, the horses and chariots headed towards Elisha. But what would God's prophet do — would it be a case of fight or flight?
For Elisha, neither was an option. He prayed. His prayer was specific — that God would cause the attacking soldiers to lose their sight (6:18).
The army arrived equipped for battle, but blinded. Elisha told them that they had the wrong location — that they were not in Dothan and the prophet of God wasn't there. He offered to show them the way and led them to Samaria, the heart of Israel. When they arrived, Elisha restored their sight — another miracle! With God's help, he had captured the King of Aram's army.
If you know other Old Testament passages, you'd probably expect the army to be slaughtered, resulting in a great victory for Israel. But not this time! The King of Israel — notably referring to Elisha as 'father' — asked if he should kill them.
Instead, Elisha told the King to prepare a feast for the Arameans and send them home — a case of 'go and sin no more' (John 8:11).
We later read, 'So the bands from Aram stopped raiding Israel's territory' (2 Kings 6:23). Rather than seeking retribution and revenge, Elisha chooses the way of grace. It's a distinctly New Testament resolution to an Old Testament situation. A Jesus-focused way!
Response
Elisha's prayer was specific. It was tactical. It was inspired. This was a man who walked closely with God. We too have that same access as we pray for MAF's work today. MAF is not alone. Our organisation is surrounded by God's spiritual protection and deliverance, as are you.
Pray boldly.
This devotion was written by Adam Pope, Partnership Development, Training and Support Manager, MAF UK.
You can find out more about our overseas staff here
Show me, 'me'
8 July 2022
Do you ever stop for a minute and look at the Church? I don't just mean the church you go to or the buildings in which we gather. I'm talking about taking an honest look at the Body of Christ. Is she healthy? Is she well?
It's not just the global pandemic and its continuing effects that have made us poorly. You've probably noticed that in recent months there have been ongoing revelations about poor leadership and abuse from within church communities — some going back decades — that have wobbled many in regard to their faith. Church attendance is said to be declining, with believers divided on many areas of life, doctrine and thought. To those outside the Christian faith, our witness as Christ's ambassadors looks somewhat tarnished and fractured.
Throughout history, Christianity has been famous for its divisions and splits. The enduring rift between Protestants and Catholics over the centuries has had profound effects. And at the beginning of the 1900s, bitter opposition arose when conservative evangelicals railed against the Salvation Army and the Pentecostal movement. In the USA, polarisation is now seen as a social identity issue, with some Christians viewing those with an opposing political stance as enemies who represent a major threat to their beliefs and values.
We might like to believe that it isn't that bad in the UK, but issues such as Brexit, mask wearing, coronavirus vaccines and racial injustice have helped produce a divisive picture both inside and outside the Church.
Perhaps it's time for some God-led deconstruction and introspection, as we acknowledge our own contribution to the brokenness that surrounds us.
Breaking it down
Deconstruction has become 'one of those words'. Some see it as helpful; a time of reflection that brings greater understanding as to what we — as followers of Jesus — believe, why we believe it, and what the outworking of that belief looks like. Others fear that the process of deconstructing their faith will blow up all they know and leave them far from God. If you search long enough on YouTube, you'll find many preachers warning against the practice of deconstruction.
According to the Merriam-Webster Dictionary, however, 'deconstruction' doesn't actually mean 'demolition'. It means 'breaking down' or 'analysing something... to discover its true significance.'
Introspection, too, has often been scorned from the pulpit. We are encouraged to avoid looking at ourselves and to 'fix our eyes on Jesus' (Hebrews 12:2-3). There is a concern that too much introspection will make us self-absorbed and trapped in our own weaknesses. But if we look again at the Merriam-Webster Dictionary, 'introspection' is described as 'an examination of one's own thoughts and feelings.'
Without an understanding of why we think the way we do and believe what we believe, our Christian walk will be narrow. Without insight and self-awareness, we risk falling into a pit of ignorance, prejudice, pride, ego, fear or need for control.
Goggles for life
As human beings, we pick up our beliefs and behaviour from the prevailing culture dominating our environment. Our experiences of family — good and bad — all leave a mark and shape our understanding of the world.
The Church, historically, has tended to promote an authoritarian model of leadership. One which emphasises telling us what to believe and how to behave. Our response is to modify our behaviour and do what we can to conform — hoping that, by doing so, we will find a place to belong. It's possible we might even condemn those who find it hard to do the same, hiding our own faults and flaws behind their more obvious failings.
On the other hand, there are those who reject everything and everyone associated with the Church — sick of its apparent hypocrisy — and throw the baby (Jesus) out with the bath water!
Perhaps we should dismantle some of these approaches to discipleship — turning to Jesus and away from such behaviour for the sake of our spiritual wellbeing and His call to love well.
But we need God's help to do this.
The Psalms
Along with poems of praise and songs of worship, the book of Psalms is layered with the language of interior searching and examination. The songs are raw, authentic and honest — capturing the emotional spectrum of the psalmist's life. They give us permission to present our questions, doubts, fears and anger alongside our joy and celebration of God.
Psalm 139 paints a picture of a God who knows and loves us deeply. He sees the good, the bad and the ugly and yet remains fully present to us. And although God knew everything about David, verses 23-24 reveal that David didn't know everything about himself. So he prayed:
'Search me, O God, and know my heart; test me and know my anxious thoughts. Point out anything in me that offends You and lead me along the path of everlasting life' (NLT).
Show me, 'me' Lord.
The goal of self-examination is freedom. It takes work. But as we break down our perceived truths and hidden prejudices, we make room for the Holy Spirit to do a renewing work in our hearts.
Doing so enables us to respond by 'loving one another' and becoming more like the One who loved us first. This is how He is building His Church.And this is how they will know we are Christians. — By our love.
Response
Ask the Holy Spirit to reveal what lenses you've been using to view life and God's Word.
Why not pray the prayer of David found in Psalm 139:23-24 and allow God to reveal any wrong perceptions you may have that contribute to division within the Body of Christ?
Lay it down and ask Him to renew your mind and your actions. Ask for a fresh infilling of love and compassion for others.
Silent Prayer
10 June 2022
I have a confession...
It isn't the easiest thing to admit because it might cause a lack of confidence in my ability to do my job. (Now you're intrigued!)
Okay, here goes...
I have led the prayer communications at MAF UK for nearly seven years now. Although I came to the role as more of a worshipper than a prayer warrior, I had been a Christian for nearly 12 years and understood the grace and power of our Lord. I believed He'd called me into the role and trusted Him to equip me, as He continues to do to this day.
I work with an incredible team that helps produce the Prayer Diary. I know our supporters appreciate having specific things to pray about, so we do our best to convey the reality of serving in remote and isolated areas. As well as creating other resources like this devotion, MAF UK personnel pray together twice a week — our small groups bringing our prayers and petitions to the Lord.
Prayer is, and has always been, a priority for MAF.
But just lately, I've been challenged by how easy it is to come to God with our lists, wants and needs. I felt stirred by the question, 'How often do we make time to listen to what He might be saying?'
For those who know me, this is quite a challenge. I love to chat and often process my thoughts verbally — so being quiet doesn't come easily. But then again, God loves to stretch us, doesn't He?
I think this is a continuation of the work He started in me a few years ago when he taught me to 'be still' after I'd broken my leg. And I guess it's all part of the deep formation He wants for all of us. So, it makes sense that Papa God didn't leave the conversation at just making time to listen to Him, He started to talk to me about 'silent prayer'.
What is that?
During an interview, Mother Teresa was asked what she said to God when she prayed. Her answer was, 'I don't talk. I simply listen.' Believing he understood this, the interviewer then asked, 'Ah, then what is it that God says to you when you pray?'
Mother Teresa replied, 'He also doesn't talk. He also simply listens.'
Silent prayer is simply spending time focusing our attention on God through the simplicity of a shared presence. It's about being together. At its core is the intention to establish a relationship with God based on friendship rather than requirements.
In his book The Deeply Formed Life, author and pastor Rich Villodas says that 'contemplative, silent prayer causes us to lay down our preoccupations, for a moment, to tend to the presence and invitation of Jesus, yet this is often a challenging practice.'
He suggests the following four ways to reframe our prayer life and get us back on track:
Focus on relationship, not technique
Silent prayer is not about mastering a technique but entering into a deeper relationship with God. Rich suggests that 'there is no such thing as being professionals at prayer. We are always beginners.'
Normalise boredom
As a lively Pentecostal type of gal, this is the hardest part for me. I often connect with God in a sensory way — through sights, sounds and sensations, so doing 'nothing' can be difficult. But Rich encourages us to 'think of boredom during silent prayer as an act of purification'. The 'purification' of good feelings or experiences keeps our eyes on the Lord and prevents us from a worship based on spiritual experiences.
Reframe distractions
Distraction in prayer isn't a sign that you are a 'bad Christian'. It's actually a sign that you're human! It's impossible to engage in silent prayer without the ongoing tension of the outer and inner voices that can sometimes overwhelm us. Rich suggests that our distractions become an invitation to return — ever so silently — to the centre of God's heart. I love the quote from the theologian and author Thomas Keating, who said that if your mind gets distracted 10,000 times in 20 minutes of prayer, 'it's ten thousand opportunities to return to God'.
Remember that God is always waiting with open arms
It can be easy to avoid the throne of God through the mistaken belief that we're simply not good enough. The image of God portrayed through the father in the story of the prodigal son shapes our understanding of His love. Interestingly, Rich's book highlights the fact that the prodigal son doesn't return with a renewed love for his father, 'he comes back simply to survive. And his father is perfectly fine with that. God just wants us home.'
The call to step out of the shallows and dive into a deeper connection with God enables us to offer our presence in the present moment. Finding ourselves in a place of greater depth refreshes, grounds and revives us. When we are silent for long enough, every part of creation somehow increases our awareness of God. Theologian N T Wright said that, 'God is doing what God is doing in God's time. And, maybe, if we had to slow down a bit, we might paradoxically catch up with God.'
Response
The invitation to practise silent prayer in no way suggests that praying about specific topics isn't important. Instead, it implies that our verbal prayers are better when shaped and energised out of moments of silence.
Can I invite you to think about how you can carve out times of silent prayer as part of your daily rhythm, both individually and with others?
This is all new to me! Why not go on this journey together? I'd love to hear how you get on. Please email us.
Flawed and fabulous
13 May 2022
'I praise You because I am fearfully and wonderfully made; Your works are wonderful, I know that full well' (Psalm 139:14, NIV)
A few years ago, I was on a busy train to London. All the seats were taken and people had to stand throughout the carriage, swaying rhythmically as the train moved along the track.
It was warm and stuffy – the only air being the recycled breath of my fellow passengers. Having got on the train when it was empty, I was blessed with a table seat, and had my head down, reading a book. Occasionally I'd glance up and notice just how far people went to avoid eye contact with anyone else.
'Made in My image'
It was at one of those stops between stations that I felt God nudge me. As I looked around at the tired and frustrated travellers, I heard the whisper, 'Made in My image'.
I broke the unspoken rule of train travel and looked at the faces of everyone in the carriage. The whisper repeated with every face, 'Made in My image, made in My image'.
As my eyes moved around the train, something in my heart was ignited. With tears running down my face, I saw afresh the heart of God for humanity.
These were His children, His kids. He longed for connection with each one, flaws and all.
I can honestly say that train journey was a life-changing moment for me. I was halfway through a six-year journey to become an ordained minister and so much of my time had been spent studying and serving the Church. As a result, I had become — unintentionally — quite disconnected with life outside the 'Christian bubble' in which we can so easily find ourselves.
Shared humanity
As I reflected on how to connect with people, I began thinking about what it means to be human. God created us to think beyond ourselves — to live courageously, generously and compassionately. Made in His image, we each have the opportunity to reflect an essence of Him into the world, that perhaps no one else will ever carry. How fabulous is that!
Yet, as humans, we have this flawed nature that can make it all about us. We can become overwhelmed by fear, act selfishly and become blind to the struggles of others. It's like we are both flawed and fabulous at the same time.
As followers of Jesus, we are not immune to our humanity. Although we have experienced the miracle of salvation, our journey of sanctification is just that — a journey. It's easy to put on a 'front', especially within church circles, but when we admit that we're both flawed and fabulous, we can find new ways to connect with others, and begin to recognise our shared humanity.
Flawed
We often view life through the subconscious lens of perfectionism, flooding us with unattainable expectations, leaving us to believe that we are never quite good enough.
American lecturer, author and research professor Brené Brown suggests that, 'We get sucked into perfection for one very simple reason: We believe perfection will protect us. Perfectionism is the belief that if we live perfect, look perfect, and act perfect, we can minimise or avoid the pain of blame, judgment, and shame'.
This perception is both exhausting and alienating.
Yet, as we start to acknowledge that we are indeed all flawed, we realise that God loves us and uses us to represent Him here on earth anyway and has done so throughout history.
The Bible is in fact full of stories of flawed men and women who God worked in, and through, for His glory. And He does so because He thinks we're fabulous.
Fabulous
Now I know that some of you might find it hard to regard yourselves as fabulous, so I wanted to help you. The Cambridge dictionary defines the word 'fabulous' as meaning very good or excellent. Indeed, in Genesis 1:31, on the sixth day God looked at everything He'd made and saw that it was 'very good'.
When God looks at us, He isn't blind to our flaws, but they are not His focus. He sees His creation as 'very good' — or 'fabulous'.
I love The Message version of this verse, which reads, 'God looked over everything He had made; it was so good, so very good!' Perhaps we need to remind ourselves of this.
Even King David, an incredible man of God who had very real flaws, needed to reassure himself that God doesn't make mistakes, and knows us intimately (Psalm 139:14).
The more we embrace the reality of being flawed and fabulous, the more we can be kinder to ourselves, open up to the possibilities God has for us, and be less judgmental of those around us.
Response
Writer Courtney A Walsh, author of the book Dear Human, wrote, 'Dear Human: You've got it all wrong. You didn't come here to master unconditional love. This is where you came from and where you'll return.
'You came here to learn personal love. Universal love. Messy love. Sweaty love. Crazy love. Broken love. Whole love. Infused with divinity. Lived through the grace of stumbling. Demonstrated through the beauty of... messing up. Often.
'You didn't come here to be perfect, you already are. You came here to be gorgeously human. Flawed and fabulous. And rising again into remembering. But unconditional love? Stop telling that story.
'Love, in truth, doesn't need any other adjectives. It doesn't require modifiers. It doesn't require the condition of perfection. It only asks you to show up. And do your best. That you stay present and feel fully. That you shine and fly and laugh and cry and hurt and heal and fall and get back up and play and work and live and die as YOU. It's enough. It's plenty.'
Why not prayerfully read through this again and again, inviting the Holy Spirit to speak to you as you do? May you discover how flawed and fabulous you really are.
Trusting God
8 April 2022
'Trust in the LORD with all your heart, and lean not on your own understanding; in all your ways acknowledge Him, and He shall direct your path' (Proverbs 3:5-6, NKJV)
'Trust in the Lord with all your heart'
Here we are called to trust unreservedly — to trust without holding anything back.
That's a tall order in anybody's book and, if we were looking for a man or a woman worthy of such confidence, I think we'd be hard-pressed to find one.
Do you know anyone who you could trust wholeheartedly with your past, present and future, or with your family, failings and aspirations?
We all know only too well that, even when we seek to do the right thing, we often fail miserably.
Here, however, the call to wholehearted trust makes sense because of the subject of that trust —the Lord. His character and nature lay the foundation for such abandon and trust.
'God is not a man, that He should lie, nor a son of man, that He should repent. Has He said, and will He not do? Or has He spoken, and will He not make it good?' (Numbers 23:19, NKJV)
'Know therefore that the LORD your God He is God, the faithful God, who keeps His covenant and His lovingkindness to a thousandth generation with those who love Him and keep His commandments' (Deuteronomy 7:9, NASB (1995)).
God's character ensures His trustworthiness. If He says He will do something, we can be sure that He will do it.
If He says that He will never leave us or forsake us, we can count on it (Hebrews 13:5).
If He says that He will give us power for the task, then it will be available (Acts 1:8).
'Lean not on your own understanding'
Leaning not on our own understanding further defines what it means to trust in the Lord with all our heart. Someone once said, 'You can't trust in the Lord with all your heart if you're also trusting in yourself.'
When Peter saw Jesus walking on the water and asked if he could join Him, Peter's eyes were fixed on the Master, and he proceeded to step out of the boat.
However, as his gaze shifted and he started to lean on his own understanding — looking instead at the waves, the wind and the water — he began to sink (Matthew 14:25-33).
Of course, we're not called to be foolish! God expects us to use our brains and make wise decisions, but how can we step out in faith without letting go of our fear, trusting in Him completely and, as a result, sometimes appearing reckless?
This is something we constantly confront as a mission organisation. If we only leaned on our own understanding, we would never take to the air in light aircraft in developing countries.
Nor would we ever leave the relative safety of the UK. But Kingdom values and our firm confidence in the Lord enable our staff to 'step out onto the water'.
I remember talking to someone who felt strongly that it was wrong for Christian parents to take their children overseas to a developing country. They believed that, if parents wanted to take that risk, it was okay. But what right did they have to endanger their children?
Even so, we did however take our children overseas to Nairobi in Kenya, where we lived for seven years. Conventional wisdom suggested that their social development would suffer, their education would be inadequate, their opportunities would be stunted, and the risks taken would be significant.
The reality, however, was quite different. Our children developed a close network of friends of multiple ethnicities. Both received an excellent education, entered their universities of choice, and had experiences they would never have encountered in the UK.
Climbing Mount Kenya and riding camels in the Maasai Mara looks great on any job application form or CV. Was Kenya more dangerous than some other countries? Perhaps, but we were not being reckless.
MAF not only takes great care to ensure that our flight operations are conducted safely, it also takes the welfare and safety of its personnel very seriously — ensuring that the risk to staff and their families remains low.
'In all your ways acknowledge Him'
In other words, bring the Lord into your plans and invite Him into your thinking. Acknowledge His Lordship in your life. Allow Him to occupy your thoughts and change your plans, asking Him for guidance, wisdom, strength and success.
But what's the result of trusting in the Lord with all our hearts, leaning not on our own understanding, and acknowledging Him in all our ways? A sense of direction!
'He will direct your path'
Other translations say, 'He will make your path straight.' If God is in charge and in control, then all twists and turns which can make navigation difficult are removed. The way ahead then becomes obvious.
This all sounds so simple. But what if you are looking for direction?
Response
First, start by trusting God wholeheartedly — He is more than worthy of your confidence.
Second, don't blindly listen to the wisdom of the world.
Third, invite the Lord into the conversation. Ask Him to make the way forward clear, and He will make your path straight!
War is raging
11 March 2022 — Written by Ruth Whitaker, Chief Executive Officer, MAF UK
'Your Father knows what you need before you ask Him. This, then, is how you should pray: "Our Father in heaven, hallowed be Your name, Your Kingdom come, Your will be done, on earth as it is in heaven"' (Matthew 6:8-10).
As I have come to pray in recent days, I have been personally concerned and deeply troubled for the people of Ukraine.
I'm sure you are feeling the cry of our broken world too — one which is reeling in the pain of loss, corruption and war. Somehow, it feels more acute in these uncertain and fragile days.
To read about innocent civilians fleeing their homes and see eye-witness accounts of bombs and missile strikes devastating communities, businesses, hospitals and homes is deeply troubling.
Conflict of any kind goes against all that we stand for as an organisation, and as a family of believers.
In the aftermath of a global pandemic, to now be reminded of the direct implications of conflict — which inch ever closer to home — I feel a renewed desire to draw near to our God.
MAF was born from the ashes of World War II with a vision to use aircraft, which had been used for destruction, as instruments of peace with cargoes of blessing.
Since then, we have witnessed the devastating impacts of violence in many of the nations we serve — from the Democratic Republic of Congo to Angola, Myanmar to South Sudan. Our hearts go out to all those who have been directly impacted by such violence.
Every life lost to war is a deep tragedy, and it is MAF's privilege to help where we can.
Although MAF is not directly responding to this current crisis, as a global family we want to draw together in our calling to love and serve those who are frightened, lost, isolated and alone.
With millions of displaced people searching for a safe passage away from violence — facing an unknown and uncertain future — I know that our prayers are needed in this hour.
As we lament the loss of human life and the devastation of war, let us pray that the refugees will find sanctuary and know a peace beyond understanding. Pray too that every effort to provide aid will reach those who need it most.
We lift up our brothers and sisters in Christ who are present in the midst of the conflict as Kingdom peacemakers. We pray for their safety and provision.
And we pray too that war would cease and justice would prevail.
We must also protect our hearts against hatred and guard against stereotypes and slander. May the words of our mouths and the meditation of our hearts be pleasing to the Lord (Psalm 19:14). We are called to forgive others (Matthew 6:14-15).
I take comfort from Matthew 6:8-10, which tells us that our Father knows our every need. And He knows every person affected at this critical time. May this be a reassurance to you too, today
So, it is my prayer that, as you come before God in whatever way you can, you will find strength and faith in Jesus' words as we pray, 'Your Kingdom come, Your will be done, on earth as it is in heaven'.
Response
Let's pray:
'Lord, our heavenly Father,
We look to Your Word for strength at this significant time, as we lift up the people of Ukraine and those affected by war across the world.
For families displaced, mothers bereaved, and children confused.
We lift them all to You, Lord.
May You be their guide and shield, through great darkness.
May You bring love and hope, in the face of fear.
And may You send strength and comfort in a time of despair.
May Your Kingdom come to earth and may peace return to the nation of Ukraine.
Amen.'
Calling
11 February 2022
At MAF, when we are looking for new overseas staff, we always say that we want people who feel called by God. The phrase 'called by God' has always baffled me.
After I became a Christian, I was keenly aware of our responsibility to take the Good News of Jesus to the remote parts of the world. It was good news, after all!
I saw others going to serve in places like Chile, Ivory Coast, Vanuatu, the Philippines and Indonesia.
But did my keen interest and concern constitute a 'call'? So, in my teens, I would ask visiting missionaries what they understood by the phrase and what God's call looked like for them.
I was left somewhat confused because the reality was that each had a different understanding and experience.
I had fallen into the trap of thinking that the norm was Moses and a voice from a burning bush (Exodus 3:4) or, like Samuel, an audible voice in the middle of the night (1 Samuel 3:10).
Another example prominent in my mind was Saul and Barnabas, where the Church was given clear guidance by the Holy Spirit (Acts 13:2).
Many shapes and forms
In my quest to understand this 'call', I have, however, come to realise that the call to serve, whether here in the UK or somewhere overseas, comes in many shapes and forms.
I believe that some still receive a call from God audibly or in some very clear and perhaps miraculous way, but many believers describe their unmistakeable sense of direction in alternative ways.
These include a strong sense of leading from God through the ministry of the Church and the preaching of the Word, a persistent sense of the world's needs, or an insistent nudging of the Spirit.
These are often aligned with the individuals' skills and gifts.
It is always exciting to hear how the Lord uses different avenues to speak to people from all walks of life, whether accountants, teachers, safety and logistics managers, pilots or aircraft maintenance engineers.
Recently, we had an application from someone who worked on nuclear submarines.
How to discern
So, how do we discern whether God is calling us in a specific direction?
At MAF, when I am talking with individuals and couples and helping them to see if overseas service is the right path for them, I look for several things.
First and foremost, before an individual can consider a call to a specific ministry, it's essential that they have accepted a call to follow Jesus — that they have put their trust in Him as Saviour.
This is foundational, and any call to a particular work or ministry is always secondary. In MAF, we are looking for individuals who know and love Jesus, and actively seek to follow Him.
Second, while discerning a call to service with MAF, we are looking for individuals with a 'settled conviction' that this is what God wants them to do.
This calling or desire to work with MAF isn't something that's just sprung up overnight. The sense of direction will have been with the individual for some time, is usually growing, and cannot be ignored.
Third, in discerning a call to MAF, we are looking for confirmation from Christian leaders. This will be from trusted people who know the individual well and can endorse their direction of travel.
When I attended Bible College there was a student who vocally expressed his belief and calling to pastoral ministry. The only problem was that no one else could see it. His temperament and gifting just didn't align. There was no 'confirmation of the brethren', as the old saying goes.
It is a sad reality that we can easily convince ourselves that a certain path or direction is right. As Proverbs 12:15 says, 'The way of a fool is right in his own eyes, but a wise man is he who listens to counsel' (NASB).
Perhaps you've been wondering if you could or should use your skills and experience for the Lord overseas or in the UK. That is a great place to be, asking, 'Lord, what do you want me to do?'
Sadly, many Christians never ask that question, or fail to spend enough time listening for an answer.
Response
First, pray. Simply lay the idea of overseas service before the Lord and ask Him to lead you. Perhaps set aside a period of weeks to regularly bring this before the Lord, then stop and listen for that still small voice (1 Kings 19:12).
Second, continue reading your Bible with the belief that His 'Word is a lamp for my feet and a light to my path' (Psalm 119:105). As you read, ask the Lord to reveal His plans and purposes
to you.
Finally, share your thoughts with trusted Christian friends and ask them to pray with you. Ask them to honestly tell you what they think. Do your plans, ideas and desires align with what they know of you?
Remember that the Lord moves in mysterious ways and His call comes in many shapes and forms. It rarely comes fully formed but is more often built over time as we continue to journey with Him.
Find out more about serving with MAF
A glimpse of heaven
13 January 2022
'After this I looked, and there before me was a great multitude that no one could count, from every nation, tribe, people and language, standing before the throne and before the Lamb. They were wearing white robes and were holding palm branches in their hands. And they cried out in a loud voice: "Salvation belongs to our God, who sits on the throne, and to the Lamb."' (Revelation 7:9-10)
Having worked with MAF overseas and in the UK, I have seen small glimpses of the outworking of this vision many times.
In Numbulwar, a small and remote town in Arnhem Land in Australia's Northern Territory, lives a distinct Aboriginal community. It has a population of about 687, a general store and a medical clinic.
It takes 1 hour in an MAF plane to reach the nearest 'big' town, and 3½ hours to reach the territory's capital. But here an active Nunggubuyu church meets on Sundays, its members sitting on the sand, worshipping God in a simple chapel with a corrugated roof.
Nightly fellowship meetings take place nestled in the sand dunes, where the congregation sings praises to God.
Avoiding danger
While serving with MAF in Kenya, I flew with a group of pastors and missionaries to West Pokot County — the journey enabling them to avoid a treacherous 12-hour, 300-mile road trip to north-western Nairobi.
The people there experience extreme isolation, poverty and tribal violence. Yet here I was privileged to join 50 or so pastors at a conference where the joy of the Lord was palpable.
Despite the constant cattle raids that often end in conflict and death, the pastors preach peace and forgiveness, and are hungry for the Word of the Lord.
Picturing heaven
On a mission trip with my church to Papua, Indonesia, I was flown by MAF to Wamena in the highlands where, along with my missionary escorts, we sat in a church building with roughly hewn pews that was packed to the rafters with people.
The believers worshipped God; their unaccompanied voices pulsating in a rhythm and style I'd never heard before.
Interviewing Christians in the UK
In my current role as MAF UK Head of HR, I've interviewed Christian candidates from all over the UK but, more recently, have met candidates who've emigrated from countries considered closed to the Gospel, such as Iran and Bangladesh.
The Church exists in the most unexpected locations, and people from every tribe and language are worshipping the risen Saviour!
The apostle John's vision of people from every nation, tribe, people and language in the book of Revelation presents a wonderful picture of what heaven will look like.
It's an amazing image considering the racial inequality we see spotlighted regularly in the media. It presents a reality that one day people will be drawn together from the four corners of the earth. A time when the differences between them will be totally irrelevant.
Realising the vision
Such a vision seems impossible and, although it cannot be achieved by mere human endeavour or determination, the Gospel is indeed the power of God unto salvation (Romans 1:16). Only the Gospel can radically transform hearts, minds and lives.
Indeed, it's the only hope in this troubled world of ours for true fellowship, unity and racial equality.
As it says in Romans 10:15, 'How beautiful are the feet of those who bring good news!'
MAF has the joyous privilege of partnering with hundreds of individuals and organisations that represent the hands and feet of Jesus as they take the Gospel to isolated communities. Many of the people there live and serve in hard-to-reach areas where MAF planes provide the only contact with the outside world.
Because MAF is a Christian mission organisation, our staff serve overseas in the name of Jesus — doing so in order to bring help, hope and healing to remote and inaccessible areas.
Our personnel realise that they have been blessed in order to be a blessing to the nations (Psalm 67). They serve so that men, women and children can hear of the wondrous Saviour and fall at His feet in worship, crying out in a loud voice, 'Salvation belongs to our God, who sits on the throne, and to the Lamb.'
Response
We read about and eagerly anticipate the apostle's vision of ultimate unity before the throne of God but are reminded too of its dependency on the Gospel and its messengers.Please pray for more Christians in the UK to hear and respond to the call to take the Good News in word and deed to some of the remotest places on earth.
If you are feeling prompted to explore overseas mission, please check out the options to serve with MAF by clicking here. Alternatively, you could pass it on to a friend.
A life interrupted
10 December 2021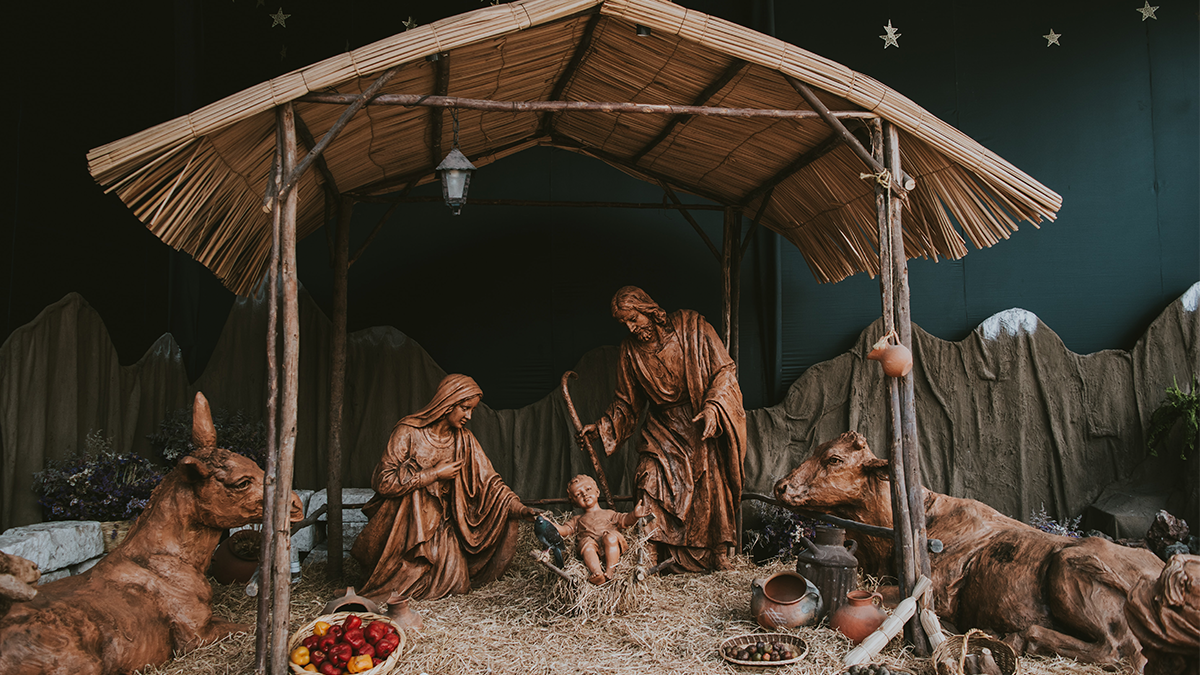 The tapping of the keys as I work on my laptop is the only sound in the quiet sanctuary of my bedroom.
My cat Darcey is keeping me company, spread out asleep at the bottom of the bed. The house is so still — the distant cry of a lone seagull reminding me that there's still life outside these walls.
Although working from home became a necessity for many of us over the last 18 months, my reasons for doing so now are not COVID-19 related.
You see, I recently fell down the stairs. Again!
You might remember a devotion I wrote a couple of years ago called 'Being present', in which I shared about falling down the stairs, breaking my leg, and how God had used the enforced time of rest to teach me how to be still. You can read that devotion here.
Despite the frustration and the long healing time, I've often said it was one of the best things to have happened to me because God used this time of stillness to do some 'heart surgery' — freeing me from some of my childhood hurts and insecurities.
Not again...?
Thankfully, I haven't broken my leg this time. However, it seems I have extensive tissue and ligament damage to the left ankle and — as I write this — the swelling and bruising are intense, as is the pain.
Recovery will apparently take some time.
It would be easy to become despondent. We are weeks away from Christmas and, like many of you, I had plans. Plans to decorate, to shop, to lose a few pounds. I also had plans to lead some carol singing in the local pub as part of a church plant initiative with which I'm involved.
Proverbs 19:21 reminds us that, 'Many are the plans in a person's heart, but it is the LORD's purpose that prevails.'
My plans have been interrupted. Thankfully, our limitations – such as my being unable to bear any weight on my ankle — don't limit God. In fact, I would go so far as to say that it is in those moments of interruption that God can really break through.
As 2 Corinthians 12:10 reminds us, 'When I am weak, then I am strong.'
A Christmas story
It wasn't Mary's plan to become pregnant with the future Saviour of the world, and the requirement for her and Joseph to travel to Bethlehem and take part in Caesar's census while Mary was heavily pregnant was hardly ideal. Then, when they arrived in David's city and they were told there was no room at the inn, despite Jesus' birth being imminent — well, you get the point.
Also embedded in the miraculous Christmas story is a dark tale of loss. King Herod had plans to protect his rule and keep his throne, so when the wise men alerted him to the birth of a 'new king' in Bethlehem, Herod demanded the killing of all boys aged two and under.
The parents' loving plans for their vulnerable children were devastatingly interrupted.
Fast forward 30 years, and we see Jesus among the people, ministering to the sick, the broken and the lost. This 'man of peace' wasn't what the Israelites were expecting from the Old Testament prophecies.
They wanted a strong and powerful king to come and wrest their land and freedom back from the Romans. But this wasn't God's plan...
Thankfully, despite the plans and sometimes tragic consequences of man's misguided actions, the Lord's purposes prevail.
Expectant
The more we journey with Jesus, the more we realise that His ways are higher than our ways and that He is able to do immeasurably more than all we can ask or imagine (Ephesians 3:20). There becomes a need to surrender — to 'let go and let God'.
So, that is what we must do. What I must do.
As I embark upon another season of stillness, I do so with the expectation that God will show up. That He will build upon the work He has already started within me, and will bring fresh revelation and freedom.
In the meantime, as I work from my bed with my leg elevated and iced, I will give thanks for the little things — the company of a sleeping (and now snoring) cat, a peaceful home, my helpful husband, our amazing NHS, and friends and family who care.
I will let go of my plans and lean into the One who promises never to leave me or let go of me. And I will stand upon my experience of His faithfulness — sustained by the stories of others — to spur me on in my waiting, hold me in my suffering, and guide me in my prayers.
Reassuringly, just as Mary's plans for a normal married life were interrupted thanks to God's miraculous intervention, and Herod's self-seeking plan to murder the Messiah was thwarted, so my interrupted life won't prevent Jesus from accomplishing His purposes.
May that truth bring us all great peace this Christmastime.
Response
Are you struggling with life's interruptions? Take some time to be still with God and ask Him to show you His plans in this season.
'Let go and let God' do a refining work in your heart as you wait to get back on track.
Take time to re-read the Christmas story and ask Jesus to reveal something new to you.
Stay thankful. Search out the little things for which you can praise God each day.
The power of kindness
8 November 2021
The slogan 'be kind' has gained momentum over the last couple of years following the tragic death of television and radio presenter Caroline Flack. The isolation felt by so many people due to the coronavirus pandemic has kept the hashtag going as we continue to navigate these challenging times.
But is the message to be kind just a trend, or is there more to it than that?
What if kindness is a superpower available to all of us – one that can change the destiny of another person?
A modern-day parable based on a true story...
The story is told that a Dr Frank Mayfield was touring the Tewksbury Almshouse when he apparently met an elderly floor maid who had worked there for many years.
He asked her about the history of the place. Rather than explain, the maid apparently showed him what looked like small prison cells in the basement and told him, 'That's the cage where they kept Anne Sullivan.'
Anne was a young girl brought to the Tewkesbury poorhouse (as it was known then) with her brother. Their mother had died when Anne was eight and, shortly after, her father abandoned them.
About four months after they arrived, Anne's brother died. It is said that Anne would bite and scream and throw her food at people. Because she was only a few years younger than Anne, the maid wanted to help the poor girl, but didn't have any idea what she could do.
So, one night after work, she baked some cakes. She walked carefully over to Anne and said, 'Annie, I baked these cakes just for you. I'll put them right here on the floor and you can come and get them if you want.' The maid said that Anne took the food and ate it.
Although conditions at the poorhouse were notoriously bad, the maid said that Anne gradually became nicer. Sometimes she would talk to her, and even got Anne to laugh. This was noticed by the staff, who asked if she'd help them with Anne.
Her calming influence enabled staff to discover that poor Anne was almost blind.
During Anne's stay, a number of others helped her, including a staff member called Maggie Hogan, who introduced Anne to the small library and persuaded residents to read to her.
Eventually, staff at the Perkins School for the Blind agreed to help Anne – so, in 1880, she left the poorhouse and was able to study at Perkins, where she became a teacher herself.
How Anne met Helen
Years later, the Director of the Perkins School for the Blind received a letter from a concerned father, seeking a teacher for his 'unruly' daughter.
The man described her as blind, deaf and 'deranged'. The poor father was at his wits' end, but he didn't want to put his daughter in an asylum. The Director immediately thought about Anne.
That is how Anne Sullivan became the lifelong companion of Helen Keller. Having personally experienced what it was like to be cut off from the rest of the world, Anne could identify with Helen's fear of loneliness and her need to vent her frustrations on a confusingly black and silent world.
In order to help her, Anne began to sign words into Helen's hand, helping her to understand the idea that everything has a name.
Helen Keller went on to become an author, disability rights advocate, political activist and lecturer, and was nominated on numerous occasions for the Nobel Prize.
Empathy – kindness – connection
Although some of the story's aspects may be anecdotal, it shows that the smallest acts of kindness can have a genuinely lasting influence.
According to the story, the starting point for the maid was the empathy she felt for Anne, recognising that she would hate to be where Anne was. That empathy then, apparently, led to a simple act of kindness which enabled the two to connect. Their connection made way for Anne to be seen and helped by others. This ultimately resulted in an amazing future for Anne and an opportunity for her to bring transformational change to someone else.
As human beings, we are created for connection – with each other and with God. Often, when a connection is severed, our defences come up and we become increasingly isolated and hard to reach.
Sometimes, it just needs someone willing to step up and show kindness – reigniting the flame of humanity and hope.
Response
We read in Galatians 5:22 that kindness is one of the fruits of the Spirit: evidence of the Holy Spirit at work in your life. Why not take the time to consider how you are exhibiting this fruit today?
Both Anne and Helen experienced trauma, isolation, confusion and loss. This led to disconnection and dysfunctional relationships. Were it not for the kindness, patience and courage of someone willing to step up and help out, it would have been easy to write the two off and miss out on what they had to offer this world. We all have a backstory. Perhaps you know someone with whom it is hard to connect. Someone who might just need an act of kindness to soften their heart. Ask the Holy Spirit to direct you as you step out in kindness this week.
Just need a hug
11 October 2021
Picture the scene.
A son who, having demanded his freedom and inheritance, only to lose it all, is making his way back home to his estranged family, humbled, broken and hungry.
From a distance, his father sees him coming, and rushes out to meet him. His heart pounding, he throws his arms around him and kisses him.
I'm sure you're familiar with this story. Famously known as the 'prodigal son', it's one of three stories found in Luke 15 with a similar theme.
We can all relate to this story in some way — either as the one who left, or perhaps the resentful brother who stayed. Yet the significance of Jesus' parable is more about the nature of God, as portrayed by the father.
The Scriptures say that the father was filled with compassion for his son.
He didn't wait for him to get to the front door, or even to say sorry — instead, the simple act of his son turning towards him was enough for the father to run to him and pull him into a deep embrace.
Real Gospel
I wonder if, over the years, we've lost the intended meaning of these stories — the Christian message becoming more about what we are against, than what we are for.
This approach builds up walls and creates a 'them and us' mindset between the Church and non-believers. It is detrimental to people discovering a life-changing relationship with Jesus for themselves. It also limits any chance of community with other believers.
According to a survey about faith, church membership in England is forecast to decline to just 4.3% of the population by 2025 (Faith Survey | Christianity in the UK).
I am sure that the social media platforms that reveal the ugly division and bickering which exists within the Body of Christ don't help either.
Perhaps we need to be a better witness? The artist Charlie Mackesy suggests that human beings just need a hug.
1 John 4:19 tells us that we love because He first loved us. It is the Father's love that draws someone home, not our attempts at saintly behaviour, good manners or the swift reprimand of a sanctimonious 'saint'.
In fact, we are loved in spite of ourselves. The more we recognise that it is by grace we are saved, and by grace that we live out each day, the more we can experience God's compassion for humanity.
As Charlie puts it, 'The Christian story should be an absolute embrace for the human race.'
Unworthy
Back to the story of the prodigal..
I'm pretty sure that the son, feeling unworthy of his father's love and compassion, could hardly look him in the eye. He didn't deserve such love. I imagine he felt completely lost. Yet what did his dad do?
He immediately reminded his son of who he was, dressing him in the finest clothes and placing a ring of identity on his finger that demonstrated his complete approval, love, mercy and protection.
He restored him to himself, and threw a huge celebration as a witness to all – making it clear that his son was no longer lost or estranged.
And this was before the son could do anything to show he was sorry.
Isn't this what God the Father does for us, through Jesus? Isn't this the Good News that, to quote Charlie Mackesy, tells us, 'You are known and will always be known, and you are free'?
Accepted
As I ponder this truth, I'm reminded of the story of the two criminals hanging either side of Jesus during the crucifixion.
Despite the humiliation that Jesus had endured, along with the mocking from the first thief, the second one recognised Jesus for who He was. The thief asked that He remember him — to which Jesus replied, 'Truly I tell you, today you will be with me in paradise' (Luke 23:43).
Again, the simple act of turning towards Jesus was all that was required. The criminal didn't feel worthy of forgiveness when he realised who Jesus was. Nor did he need anyone to remind him of his wrongdoing.
The people we encounter each day — who may be living far from the way God intended —don't need our scorn or our rejection. They need us to meet them where they're at. They need to be reminded that they are loved. Loved beyond measure. They just need a hug!
What they don't need is to see us arguing with each other. Instead, they need us to model hope, compassion and acceptance. John 13:35 reminds us that it is our love for one another that will prove to the world that we are His disciples.
God didn't send His Son into the world to condemn the world, but to save it.
He created us to love and be loved. And although He is fully aware of our fallibility and fragility, He is waiting, looking — ready to run and embrace everyone who turns towards Him.
This is good news! This is the greatest gift to humankind.
He is a good, good Father.
Response
Who do you know that might 'need a hug' right now? Think about ways in which you can show God's love to that person.
Perhaps you are the one in need of a hug? Turn your face towards Jesus and let His love embrace you afresh today.
God doesn't always kill grasshoppers
13 September 2021
I recently read a prayer devotion that described a plague of grasshoppers that struck the US state of Minnesota in the late 19th century.
The Governor set aside a Day of Prayer to cry out for God to intervene. Four days later, a temperature drop wiped out the larvae and saved the crops.
The notes then referred to King Jehoshaphat who called on the Israelites to pray and fast, asking God to defeat the invading armies, which were routed (2 Chronicles 20:5-30).
The lesson from this was to pray about everything, however extreme, and God will answer because nothing is too hard for Him.
But what about those times when you pray, and your prayers seem to go unanswered?
Plagues have always taken place — often resulting in death and destruction — despite the prayers of faithful Christians. We haven't managed to stop more than four million people dying of coronavirus. My own prayers for my cancer ravaged mother were met with silence and her premature death aged just 50.
God didn't answer those prayers and it didn't matter whether we set aside a day of prayer, an hour or a minute.
The mystery of God
Was He unable to intervene? Of course not!
He 'is able to do immeasurably more than all we ask or imagine' (Ephesians 3:20).
So why does it seem as if our prayers are sometimes ineffective?
There is a mystery to God that mere humans will never fathom this side of heaven. Ultimately, prayer is never futile because it deepens our relationship with God.
It is okay to admit your confusion when you are told that prayer can stop an army or a plague, and it doesn't.
It is okay to acknowledge that our faith can sometimes wobble when we're told that a prayer for someone who is sick will make them well, and it doesn't.
The danger lies in our attempts to oversimplify our spirituality, or when we seek to explain God and uncover a formula we can control and understand.
It is misleading to try and correlate our actions with God's.
'Who has known the mind of the Lord?' asks Isaiah 40:13 (NCV), with God saying in 55:8-9, '"For My thoughts are not your thoughts, neither are your ways My ways," declares the Lord. "As the heavens are higher than the earth, so are My ways higher than your ways and My thoughts than your thoughts"' (NIV).
No formula to prayer
We cannot influence or coerce God into answering prayer through our acts of piety, nor expect Him to respond in a set way where A (prayer) + B (faith) = C (the answer we expect).
I'm not dismissing the importance of setting aside time to pray and/or fast. Such times deepen our relationship with God and one another, but this doesn't act like a key in a lock or an internet password. We can't supercharge prayer.
Being told that God will answer if we pray hard enough or believe strongly enough can result in doubt and disillusion. Believers start to question their faith or — worse — distrust God's ability to hear and respond.
You see, it isn't always God's will to answer our prayers in the way that we'd wish.
However, I do believe that it is always His desire for us to bring our requests, cries and sometimes our silence before Him when we don't have the words to express our yearning.
Am I dismissing prayer in a letter to a faithful prayer supporter? By no means! Let me be clear: God does answer prayer. You may well have seen such miracles in your own life. I know I have!
There are, of course, times when God's will is to change a situation. Whether that's to halt a plague, cure the sick, give someone the gift of faith or keep an MAF flight safe. All I'm saying is that we can never be sure when or if He will — and that's okay.
Keep praying
So, what do we take from this? I hope we will all continue to pray. We value your prayers as much as we value you as a sister/brother in Christ.
Pray for miracles in your life and in the lives of those MAF is serving around the world. We place prayer at the heart of all we do. Our pilots and engineers pray every day in their planes and hangars, and we in the UK office do too.
We pray with expectant hearts; with faith. Faith not that we can persuade God to grant us an answer, but with the assurance that He will do what is needed and that, when we come to Him, it fills His heart with joy.
\When He answers, we give Him all the praise and honour. When He doesn't, we give Him praise and honour anyway. Let's follow St Augustine's example and 'pray as though everything depended on God. Work as though everything depended on you.'
Response
If anything you've read today resonates, don't be afraid to share any frustrations you might have with God and with others that you trust. It is good to be real and to share the burden of unanswered prayer.
Here's a prayer that might help when you have no words of your own left to say: 'Lord, help me to trust You, seeking You always with a worshipful heart — even when I don't understand why sometimes my prayers seem unanswered and my heart is breaking. Grant me Your peace, I pray, and surround me with Your tangible presence always. I love You. Amen.'
Beyond God's reach
9 August 2021
What would you say if someone said you could be spending eternity with saints such as Peter, Paul and Pontius Pilate?
What, wait... did you say Pontius Pilate? The same Pontius Pilate that historian Josephus refers to as beating and massacring those who opposed his rule, and whose administration Philo of Alexandria described as one long litany of 'briberies, insults, robberies, outrages, wanton injustices, constantly repeated executions without trial, and ceaseless and grievous cruelty'?
Mixed messages?
His depiction in Scripture is, however, more complex.
He's the cruel tyrant who, in Luke 13:1, mixed the Galileans' blood with their sacrifices, but he's also the hamstrung Roman governor whose wife warned him, 'Don't have anything to do with that innocent man' (Matthew 27:19).
Though he's aware of Jesus' innocence, describes the charges against Him as baseless, and sees 'no grounds for the death penalty', Pilate nevertheless agrees to His crucifixion.
Despite this, however, he says, 'I am innocent of the blood of this just Person' (Matthew 27:24, NKJV). The Amplified version shows him calling Jesus 'righteous'.
Pilate also orders the notice 'Jesus of Nazareth, the king of the Jews' to be fastened to the cross, refuses to change the inscription, and allows Joseph of Arimathea to bury Jesus' body.
Yet, according to Josephus, Pilate used the temple treasury to pay for a new aqueduct and ordered those who protested to be beaten with clubs. He later let his troops kill a group of Samaritans near Mount Gerizim, causing his recall to Rome.
Pilate arrived in March 37AD and, although some say that he committed suicide or was executed by Caligula, others believe the case was either forgotten, put on hold, or may have led to an acquittal.
Another gospel?
However, due in part to the dissemination of various apocryphal manuscripts, a number of Coptic and Ethiopian Christians came to believe that Pilate became a Christian.
The fourth century Gospel of Nicodemus portrays him as a convert, while the fifth century Paradosis Pilati shows Pilate being martyred for following Jesus. A similar story appears in the Gospel of Gamaliel and the Martyrium Pilati.
So, although the West was to develop the tradition of a 'bad' Pilate who died for his misdeeds, members of the Eastern Church tended to end up with a more sympathetic interpretation.
Whatever the truth concerning the man who asked, 'What is truth?', the possibility of Pilate's conversion — real or imagined — surely reminds us that no one is too far from Christ to receive God's mercy.
Far from home?
Perhaps there's someone in your life who seems far from God or appears unyieldingly resistant to the Gospel. Maybe you've even despaired of a parent, sibling, child, spouse or close friend ever accepting Christ's love.
The Bible reminds us that, 'God so loved the world that He gave His one and only Son, that whoever believes in Him shall not perish but have eternal life.'
Rather than wanting anyone to perish, He wants 'everyone to come to repentance'.
Scripture is full of unlikely converts. Take Manasseh, the wicked king who erected altars to Baal, made an Asherah pole, built altars to the starry hosts in the temple, then bowed down and worshipped them, sacrificed his son in the fire, practiced divination, and consulted mediums and spiritists (2 Kings 21:1-18).
Or what about Saul, who approved Stephen's stoning (Acts 7:55-8:1), and was mercilessly intent on imprisoning the Lord's disciples (9:1-2)?
But Saul, as we know, later became known as the apostle Paul (13:9).
Manasseh, despite his evil practices, also had a happy ending. He later humbled himself, removed the foreign gods, destroyed the altars to Baal, got rid of the image in the temple, restored the altar of the Lord, sacrificed fellowship and thank offerings to God, and told Judah to serve Him (2 Chronicles 33:11-19).
So let's not give in to despair or give up on our Gospel witness and prayers. If God can call Manasseh or Saul to Himself — or accept people like that — He can call anyone.
Although no one knows what really happened to Pilate, we do know that, for those still living, there is hope.
The criminal in Luke 23:40-43 may possibly have spent a lifetime rebelling against God but, on the cross, he came to fear Him. He knew he was getting what his deeds deserved but realised who Jesus was and asked to be remembered when He came into His Kingdom.
Pray that Jesus' response, 'Today you will be with me in paradise', will apply to those we know and love who have yet to open their eyes to God's healing truth.
Response
Have you given up hope that someone you love and are praying for will ever ask, seek or find God for themselves? Recall God's mercy, and never stop praying.
Perhaps you doubt God's love for you, feel unworthy of that love, or question whether He could possibly accept you. Remember Manasseh the king, the Pharisee Saul and the criminal on the cross. No one is beyond His reach — or His love.
All missionaries?
12 July 2021
I recently attended an online national leadership conference that repeatedly used the phrase 'reset'.
The emphasis was on the Church becoming again God's missional community in every culture and every context. It was suggested that, as we transition out of the lockdown restrictions, we are being offered a moment in time where fresh hope and fresh faith can become a reality as we experience a 'new thing of God' (Isaiah 43:19).
The mission, should you choose to accept it, is...
As Christians, the assignment is simply to 'Love the Lord your God with all your heart, soul, and mind...
And love others as much as you love yourself' (Matthew 22:37-39, CEV).
Can you imagine the effect that doing so with intention and purpose might have on the communities in which we live? Loving God with everything that we are transforms us from the inside out.
Loving others as an overflow of that, offers hope and demonstrates His grace and mercy to those yet to discover Him for themselves.
As a result, our churches should be 'standing room only' as lives are transformed by His perfect love.
Yet, for some reason, the majority of English-speaking churches in the West are seeing their numbers dwindling rather than increasing.
Why is that?
Author and speaker Danielle Strickland suggests that there are two issues that prevent us from being a transformative voice in today's culture: assimilation and separation.
Too much assimilation can mean taking on the values and customs of the dominant non-Christian culture.
Separation means purposely putting space between 'us and them', resulting in a culture where we judge rather than love others.
I understand how distressing it can be to see all the brokenness that exists in the world. It's easy to feel small and insignificant and to wonder what we can do to address the many issues around us.
We might be tempted to delegate the job of mission and outreach to the evangelists and to those on the mission field. Yet, right from the beginning, the world has been hostile to the message of Jesus — though He still commands us to 'go and make disciples'.
The truth is, in order to be the light, we need to be present in the darkness. Jesus says, 'You are the light of the world' (Matthew 5:14), and He encourages us to let that 'light shine before others, so that they may see your good works and give glory to your Father in heaven' (5:16).
It's important that we pray for overseas missionaries because the need remains at an all-time high.
But, alongside that, we can't ignore the mission field on our doorstep and the part we are called to play as followers of Christ.
Something needs to shift
Danielle identifies three things that need to shift to enable us to stay engaged with our mission field in order to bring transformation:
Shift 1: Let your distress over the culture of this world lead you to curiosity rather than judgement. We need to lean in, not out, and find out what is going on in the world. It's important to ask lots of questions and to listen well — all the time learning as we listen and living out what we've learned.
Shift 2: Let your curiosity lead you into connection rather than separation. Ask the question, 'What does it mean to be human?' We all live, love, are mortal and are fallible — it is part of the human condition. How can we lean in to help those around us?
Shift 3: Let your connection lead to transformation. Rather than merely remaining connected or not wanting to be seen as too 'full-on', we need to offer people transformation. In humility, let's show people the One who has the answers to all life's questions. Although many of life's issues are rooted in fear, 1 John 4:18 reminds us that perfect love casts out fear. What better way to describe love than through the person of Jesus?
We are the Church
Perhaps, despite the devastating reality of the last 16 months, God has been using the time of closed church doors to prepare us for a new assignment; reminding us that we are the Church. It's not the building, or even the services, as good or as valuable as they might be.
The truth is, it is God's desire for the Good News to be preached throughout the whole world, so that all nations will hear it, before the end comes (Matthew 24:14). God is a sender by nature, a missionary God, and the Church — that's you and me — is to be a missionary Church.
Rev Paul White said, 'None of us can change the world but most of us can change a bit of it.'
Maybe, just maybe, lockdown has caused a sudden shift from a 'come and see' approach to a 'go and share' one.
The question is, will you accept the mission to be the change where you are?
Response
Throughout the world, MAF programmes bring medicine, humanitarian relief, education and the Word of God to those living in isolated places. Pray that God will stir the hearts of those He is calling to serve Him overseas.
Ask the Holy Spirit to lead you throughout the day, asking for courage and wisdom to engage more in the lives of non-believers; shining Jesus' light and mercy on their lives. You may be surprised at the opportunities that present themselves when you do so.
Keep you distance?
7 June 2021
'That which was from the beginning, which we have heard, which we have seen with our eyes,
which we have looked at and our hands have touched – this we proclaim concerning the Word of life'
(1 John 1:1)
During these strange times of COVID-19, a friend and MAF supporter did something that initially shocked me, though it was not unpleasant; he hugged me. We were standing side by side when he extended his right arm sideways and gently patted me on the back. I immediately wondered about the danger of catching coronavirus.
Minutes after we'd parted, however, it occurred to me that, because we were both wearing innumerable layers to keep us warm, it was pretty unlikely that any transmission of the virus would have taken place — particularly since contact had been momentary and neither of us actually had the virus!
Normal service will be resumed
Until now, it's been a subject that few writers or journalists have — if you'll pardon the pun — tended to embrace. The focus has mainly been on handwashing, wearing face masks, keeping indoors,
protecting the NHS and following the advice of SAGE (the Scientific Advisory Group for Emergencies).
Because we live in a country that's fairly reserved, there hasn't been a lot written about hugging, or its year-long socially imposed absence.
We look forward to the day when the question of physical distance is consigned to the dim, distant past, when people can either hug or refrain at their own discretion.
Some people are of course far less tactile than others and were probably quite happy to social distance. For others, it's been acutely painful.
During the height of lockdown, an MAF friend wrote, 'Someone who knows me well asked how I'm coping without being able to hug people. I replied, "That's why I got a dog."'
The way God made us
Because touch is an important aspect of who we are, now is probably a good time to consider the issue. Babies and small children thrive on touch, which boosts the immune system and lowers blood pressure.
Hugging also causes our brains to release oxytocin — the 'bonding hormone' which stimulates the release of 'feel-good' hormones such as dopamine and serotonin. These reduce stress and anxiety, lessen pain and help regulate one's mood.
Although some people crave touch more than others, the need for some form of physical contact is nevertheless strong. It is part of who we are, and how God created us. So, while some covet the affectionate contact that comes from hugs, others enjoy the contact that football, basketball, rugby or wrestling provide.
Healing hands
But what does the Bible say about touch, and is there anything we can learn from it? Let's spend the next few moments looking at how Jesus interacted with others.
He reached out to the man who was suffering from leprosy, touched the hand of Peter's feverish mother-in-law, and allowed the woman who'd been subject to bleeding to touch His cloak or prayer shawl. (In Matthew 14:34-36 we see Him letting those who came to Him at Gennesaret do the same thing.)
He also took the hand of the synagogue leader's daughter and restored her to life, touched the eyes of the blind and restored their sight, cleansed the leper by reaching out His hand, and cured a man 'who was deaf and could hardly talk' by putting His fingers in his ears.
Finally, when Peter attacked the high priest's servant with a sword, Jesus touched the man's ear and healed him.
In Revelation 1:17, when the author sees the Son of man in all His glory, John writes, 'When I saw him, I fell at his feet as though dead. Then He placed His right hand on me and said: "Do not be afraid."'
It's an episode that's reminiscent of the one on 'the high mountain' when Peter, James and John fell to the ground, terrified, during Jesus' transfiguration, and the Lord came, touched them and said, 'Don't be afraid'.
Hands and feet
However things pan out in terms of COVID-19, or any of the other difficulties we are yet to face, Jesus' words and comforting presence should give us pause for thought, as well as courage and hope.
In John 3:35, we read that Jesus, the One who has touched countless lives — physically and spiritually — has had everything placed in His hands by the Father. Later, in Ephesians 1:22 we learn that, having been appointed head over all, our glorious resurrected Lord has had everything placed under His feet.
As Jesus' hands and feet, may we touch the lives of others in the way that fellow Christians have significantly touched ours.
Response
Scripture indicates that people in Jesus' day were fairly tactile. Does this have anything to say to those of us who live in the West and aren't really comfortable expressing our feelings and emotions? Consider whether there are other ways we can show and receive affection.
Christians are often described as being Jesus' hands and feet. What does this mean in terms of how we should act in the 21st century? Do the principles of James 5:13-15 provide any pointers?
Knowing God more
25 May 2021
I'm sure you've heard the saying, 'The more you know, the more you realise you don't know.' The older I get, the more I find myself repeating it. As a wife, mum, friend, leader and trainee minister, I realise the L plates never come off.
Though credited to Socrates, there's a quote by the singer Tony Bennett that's also worth pondering. The crooner is quoted as saying, 'I can't ask for more out of life, and the more I learn, the less I know.'
The more we understand, the more we realise how much there is to comprehend. I wonder if this is also true in our quest to know God more.
It's so easy to get caught up in the attempted comprehension (head knowledge) of God, to the detriment of really knowing (heart experience) Him. It's almost as if the more we learn, the more confused or conflicted we get.
Human nature is such that, when we experience these feelings, we tend to step back, putting space between us and that which causes us confusion. Such feelings are uncomfortable and — let's be honest — who wants to feel uncomfortable?
All in
Yet Jeremiah 29:13 tells us that it is when we seek the Lord with all our heart, holding nothing back, that we will find Him. Relationship with God is like any other relationship in the sense that, the more time we invest, the deeper it becomes.
It requires a 'stepping in' rather than a stepping back. It means being both honest and vulnerable.
Knowing about someone can help when forming a friendship, but ultimately it is the experience of spending quality time with a person that brings a connection.
Another analogy would be chocolate — my favourite! I can tell you how delicious a bar of Galaxy is, – but you won't really know that for yourself unless you taste it. It is the same with God. We need a personal experience of Him. Maybe that's why King David wrote the words, 'Taste and see that the Lord is good' (Psalm 34:8).
As believers, we are invited to experience who God is, to discover His beauty, His grace, His forgiveness, His mercy, and His power afresh each day.
We all know that relationships need investment from both sides to fully flourish. The good news is that Jesus is fully invested in deepening His relationship with you and me. Hallelujah!
As we draw close to Him, He draws close to us. The knock-on effect of this is that we become more like Him — beacons of light chasing away the dark shadows of this world.
God's desire is that no one should perish, so He calls everyone to turn their faces towards Him. In partnership with Him, God calls us to be His representatives. We are to be His hands and feet — people who know Him so intimately that, when people see us, they see Him.
But how?
How we do that, and how we 'know God more', will be different for all of us. I'm aware that our backgrounds, life experiences, personalities and denominational influences will all shape what that looks like. One piece of advice that might bridge these differences would be to learn more about yourself.
Knowing ourselves better is crucial to our spiritual formation in Christ. The more we understand that our identity is in Him, the more we discover who we were created to be. We are all uniquely designed by God, with different bodies, personalities and temperaments.
King David understood this when he wrote, 'For You created my inmost being; You knit me together in my mother's womb. I praise You because I am fearfully and wonderfully made; Your works are
wonderful, I know that full well' (Psalm 139:13-16).
Recognising the 'ways' you connect best with God, and focusing on those, will bring new levels of closeness and intimacy. Remember, 'no one size fits all' when it comes to having a heart connection with Jesus.
Abraham built altars. David danced and wrote psalms. Mary sat adoringly at Jesus' feet. John the Baptist fasted and Peter's mother-in-law served. All of these spiritual heroes worshipped God in different ways.
Some other thoughts
Allow God to use your imagination and trust your gut feelings as you respond.
Hold short accounts. We are all flawed and get stuff wrong. Don't let anything you or someone else did create a barrier between you and God. Say sorry. Forgive quickly.
Embrace the journey. Talk to the Holy Spirit throughout the day, making time to listen. Consider what Jesus might do in every situation that arises.
Be brave with the hard stuff — the pruning that we all have to endure (Hebrews 12:11). Remember we are all an ongoing work of art, and that He is the master craftsman. We can trust Him.
Response
Look back on past moments of intimacy and reflect on how you have best connected with God.
For some, it might be through worship or poetry. For others, it might be walking through nature. For many, I am sure it will be studying God's Word or spending time in prayer.
Whatever it was, do it again. And again! Be purposeful when you walk, worship or study. Be conscious of the Holy Spirit amidst it all and expect Him to speak. Write down what He says. Review what you write. Respond. And do it all again.
Remember, His mercies are new each day (Lamentations 3:22-23). Every morning He gives us grace.
Change is coming
13 April 2021
On Sunday 28 March, the clocks went forward, signalling the beginning of British Summer Time. It's a welcome change.
The 'winter season' has been long and, although remnants of lockdown linger, the longer, lighter evenings bring with them a whispered invitation to dream again.
The coronavirus season has indeed blown harsh winds across the globe, bringing with it economic instability, a devastating loss of life, and a crushing sense of loneliness that will probably have engulfed many.
Many of you may have suffered one or all of these things first-hand, with eyes that are tired from all the tears. You may have experienced a heaviness in your heart that catches your breath. You may also have known that sense of fear that lingers, preventing you from planning ahead or hoping for too much.
Some might even go so far as to say that last year was cancelled, as the restrictions took hold and gathering with others was prohibited.
But, incredibly, something else has happened over the last year that possibly hints that a shift of heavenly proportions is coming.
Time
I wonder if the enforced isolation and limited interaction have afforded humanity the gift of time. Time to reflect, to really see what's going on, both nationally and globally. Time to consider what we might need to do to help bring healing to the world.
As believers, we pray for God's grace to be released. We read His Word and declare the Scriptures in prayer. We wait to hear the Holy Spirit speak, all the time holding on to the belief that God is Sovereign and will bring beauty from the ashes of this strange season (Isaiah 61:3).
As we wait, we hope, we wobble, we cry, we stand, we fall, we get up again, we wait some more. And as we do, the Holy Spirit starts to stir our hearts — though not always in ways we'd expect.
God speaks
My experience of hearing from God is that He starts with revelation. The Scriptures paint a similar picture.
Right before God's promises of restoration are proclaimed in Isaiah 43, we see the prophet rebuking the Israelites for their blindness and deafness (42:18-23).
The promises — without first revealing the reality of Israel's situation — would have literally fallen on deaf ears.
This process remains true for us. We also need to have our eyes and ears truly opened to the issues of our age if we are to fully grasp what God is wanting to do in us and through us at such a time as this. When we receive revelation from God, it empowers us to be part of the solution.
The last year has revealed the reality of an injustice and inequality that remain deeply entrenched in society. One that can no longer be denied or ignored.
As followers of Jesus, it is helpful to look at what He did when confronted with unjust social issues. Jesus didn't ignore the reality of what He saw. Instead, He sided with the poor, stood up for the persecuted, cried with the broken-hearted and fed the hungry.
His message was one of truth and freedom.
Jesus challenged the injustice of leaving a man to suffer in the guise of upholding the law by lovingly healing his withered hand on the Sabbath (Matthew 12:9-14).
He exposed and challenged the sexism of the day by saving an adulterous woman from being stoned to death (John 8:1-11).
And, although He recognised that all lives matter, in the face of discrimination, Jesus focused on the life that was being discriminated against (Luke 15:1-7).
The ugly truth
Yes, this has been a difficult year, and an uncomfortable year of revelation.
But what if this last year is a teaching year? A year that revealed the ugly truth — the reality of the brokenness that exists not just in remote and distant lands but here in the West. What if this has been a year that informs us for today's mission?
Like the Israelites of old, it is when we open our eyes and ears to see and learn, that we are in a position to receive the promise that God is doing a new thing (Isaiah 43:18-19).
Remember, God's method of deliverance is often not 'out of' but 'through'. His presence as we go through difficulties becomes our liberation.
There is work to be done. But, for now, let's be encouraged that 'it has already started' or, as The Passion Translation puts it, 'Even now it sprouts and grows and matures' (Isaiah 43:19).
Reflect and pray
Spend some time before God allowing Him to minister to your heart in relation to the 'long winter of COVID-19' and its effects on you and your loved ones.
Ask the Holy Spirit to open your eyes to the realities of injustice and inequality that exist both in the West and further afield.
Learn more about the challenges that exist and what you can do to support positive change.
Ask God for patient endurance to see your efforts come to maturity as you continue to pray and to serve.
God so loved the world
8 March 2021
This month sees the third prayer devotion written by David Leek, Head of HR at MAF UK
'God so loved the world, God so loved the world,
that He gave His only begotten Son, that whoso believeth, believeth in Him
should not perish, should not perish but have everlasting life.
For God sent not His Son into the world to condemn the world,
God sent not His Son into the world to condemn the world,
but that the world through Him might be saved.
God so loved the world…'
John Stainer penned the lyrics for this great choral composition in 1887, based on the words of Jesus in John 3:16-17: 'For God so loved the world that He gave His one and only Son, that whoever believes in Him shall not perish but have eternal life.'
What amazing words — 'God so loved the world'. So well-known and so often misunderstood.
When speaking to Nicodemus, a learned teacher of the Jews, Jesus drops a bombshell which stops the Pharisee in his tracks: 'God so loved the world'. Surely not? God loves Israel — they are His chosen people, the ones He called out of Egypt — but the world? That must have been hard for Nicodemus to comprehend.
But the statement hangs in the air. 'God so loved the world.' People of every tribe, tongue, nation and ethnicity. He loves each and every one. He loves them all!
But even more startling is the fact that God 'so… loved the world'. The word 'so' indicates a magnitude and generosity on God's part that results in an extraordinary action: 'God so loved… that He gave…'
Martyn Lloyd-Jones, in his sermon on this passage states, 'God delivered Him up for us all. Delivered Him up to all the endurance and the suffering and the agony that you and I so richly merit because of our sin and disobedience.
'He bore our sins in His body on the tree. It is by His stripes that we are healed. God so loved the world that He gave His only son over to that.'
He did this for me, for you and for those who are far-off — whether spiritually or physically — in some of the remotest regions of the earth.
I grew up in a very mission-focused church. Every year we would have a mission conference where a visiting missionary would come and lead meetings for an entire week.
There was always a men's breakfast, ladies' lunch, youth meeting, international dinner on the Saturday night and then a Sunday service. Each detail was meticulously planned by a missions committee that would meet and pray for months in advance.
The mission conference was a highlight of the year and culminated in a call to overseas service and a financial pledge to give a set amount to support those working overseas.
Overseas mission was normal, cool and exciting. I looked forward to hearing stories of how the Gospel was spreading and changing lives, and seeing pictures of what God was doing around the world.
I was inspired and challenged to think about how and for whom I was living my life.
As a youth, I was inspired by the work of English doctor and missionary Helen Roseveare and the story of American missionaries Jim Elliot, Ed McCully, Roger Youderian, Pete Fleming and MAF Pilot Nate Saint, who were martyred in Ecuador in 1956.
For me, the idea that God so loved the world was real and vibrant.
Today's world is very different. The concept of overseas mission and missionaries is no longer fashionable in society and is sometimes even questioned by Christians.
The emphasis today is much more on those on our doorstep — the people who live across the street from us: the widows, the poor and the disadvantaged. The sentiment in society is increasingly about needing to look after our own first, as reflected in the UK government's recent decision to cut the overseas aid budget.
But here are Jesus' amazing words, 'God so loved the world…'
Are the terms 'mission' and 'missionary' the most useful in terms of communicating the Great Commission to today's society?
I leave it to others to debate this, but what is clear is that God so loved the world that Jesus' last command to His disciples in Matthew 28:19-20 was to 'go and make disciples of all the nations.' In Acts 1:8, He says to the apostles, 'And you will be my witnesses in Jerusalem, and in all Judea and Samaria, and to the ends of the earth.'
Of course, we have a responsibility to those on our doorsteps — that's our Jerusalem, if you like — and we also have a responsibility for people living in other areas throughout the UK, but we also have a responsibility for the nations.
MAF was founded more than 75 years ago by pioneers such as Stuart King, all of whom were compelled by God's love to take the transformative message of help, hope and healing to the remotest and most isolated people.
Reflect and pray
Heavenly Father, thank you that Your love isn't confined to one geographical region or one privileged people. You so loved the world that You gave Your only Son. Help me to join with You in sharing this amazing news.
If you would like to find out more about overseas service with MAF, click here.
Our bodies have many parts
8 February 2021
This month sees the second prayer devotion written by David Leek, Head of HR at MAF UK
'But our bodies have many parts, and God has put each part just where He wants it. How strange a body would be if it had only one part. Yes, there are many parts, but one body. The eye can never say to the hand, "I don't need you." The head can't say to the feet, "I don't need you."' (1 Corinthians 12:18-21, NLT)
In writing these words, the apostle Paul was relating his teaching to something that was abundantly clear to his readers.
Physical bodies are made up of many parts, and each part is important for the functioning of the whole.
Paul mentions feet, hands, ears, eyes and heads, but the human body has thousands of parts, including 600 muscles, 206 bones, 200 different types of cells, as well as all the components of the circulatory, digestive, endocrine, immune, lymphatic, nervous, reproductive, respiratory, and urinary systems. The Body of Christ also has many parts.
Which part of Christ's body are you?
As a recruiter for MAF, I often hear individuals expressing frustration when they cannot see how their particular skill set, gifting or personality fits in with God's plan.
'I'm not a preacher' or 'I don't like standing up in front of a crowd', they say, or, 'I'm good with my hands but I find it really difficult to verbalise my faith'.
In the Church, we tend to elevate some roles to the extent that some believers wonder how they fit in to God's purposes. I'm currently using the Africa Study Bible and it says in 1 Corinthians 12:22, 'In fact, some parts of the body that seem weakest and least important are actually the most necessary.'
What is apparent is that we don't need a Church full of preachers. We don't need everyone to be a Bible teacher, translator or worship leader — as important as those roles are. We need a wide variety of people, each using their particular skills to build God's Kingdom.
MAF is a mission that doesn't fit the traditional mould, and many people are really excited about that because it means they can use their unique personality and skills to serve God.
Our pilots, aircraft maintenance engineers, finance managers and building maintenance professionals all see themselves as missionaries. And it is right that they do so, because they are taking the skills and expertise God has placed in their hands and have offered it back to Him to use.
They are called and they are sent by the Church.
As 1 Corinthians 12:4-6 reminds us, we all have different kinds of gifts and have all been called to different kinds of service.
Each part of the body is important
Sometimes we are tempted to think that we don't have anything to offer. But 1 Corinthians 12 teaches us otherwise. Each part of the body is necessary, even the small and seemingly insignificant elements. If one part isn't working or contributing as it should, it affects the performance of the body as a whole.
I have thankfully had a relatively healthy life, but I have found that minor injuries, where something isn't functioning as it should, can have a significantly debilitating effect. My HR colleagues can attest that for months I was hobbling around the office (when we were allowed to go in due to coronavirus restrictions) with a sore heel.
It was nothing major or serious, but my condition made it difficult and painful for me to walk. It also meant visits to the doctor, a physiotherapist, a podiatrist, and the need for an X-ray.
I was unable to operate at 100% proficiency and I certainly didn't have the usual spring in my step. Due to plantar fasciitis, one muscle in the arch of my foot made a tremendous difference to how I was able to function! Whatever part of the body you are, you are truly important and the Body of Christ isn't fully effective without you.
Location, location, location
Where has God placed you? Where are you working at the moment? What skills and experience do you have? Whatever you're doing, it isn't meaningless, useless or a mistake (Jeremiah 29:11).
You may not have known it at the time when you began studying to be an accountant or teacher, or when you went into information technology or studied safety and quality, management or training.
Whatever your skills and talents, God has directed your path so that you are a part of His Body at this time, in this place. It's amazing!
The need for MAF's ministry around the world continues to grow, but with that growth comes the need for committed Christians with the right skills and experience to make that possible.
Each flight which takes off depends on multiple staff with multiple skills, and this includes those involved in bookings, finance, planning, logistics, safety, quality and IT — as well as engineers working on the plane's airframe, engine and avionics.
There is also a need for country directors, teachers and — as always — pilots!
God has put each part where He wants it
Be encouraged that the Lord has been directing your steps (Proverbs 16:9). He has prepared you and equipped you with a unique set of skills essential for the proper functioning of His Body.
Today, could you offer up your unique personality and abilities to God and allow Him to use and place you where He sees fit?
Who knows, you may have been born for such a time as this (Esther 4:14)?
The harvest is plentiful, but the labourers are few
11 January 2020
This month's prayer devotion was written by David Leek, Head of HR at MAF UK
'Jesus went through all the towns and villages, teaching in their synagogues, proclaiming the Good News of the Kingdom and healing every disease and sickness. When He saw the crowds, He had compassion on them, because they were harassed and helpless, like sheep without a shepherd. Then He said to His disciples, "The harvest is plentiful but the workers are few. Ask the Lord of the harvest, therefore, to send out workers into His harvest field."' (Matthew 9:35-38, NIV)
Kent, where I live, is sometimes described as 'the Garden of England' for its fertile farmland and fruitfilled orchards. It is also known for its strawberries. In 2019, nearly 33 tons of the luscious summer fruit were served up at the Wimbledon tennis tournament.
Last year, coronavirus restrictions — coupled with fears relating to our departure from the European Union — meant that the seasonal workforce essential for bringing in the harvest was drastically reduced.
You may have seen images of farms flying in workers from overseas to help meet the need. The result of the shortage – hard work, financial outlay and hope for the future left rotting on the neglected plants or decomposing on the fruit strewn ground.
Weary, scattered and faint
It's interesting that, in Matthew 9, after travelling throughout the region and visiting various towns and villages, Jesus notices two things.
First, he sees people who are in a pitiful state. People who are harassed and helpless. They are described in other translations as 'weary', 'scattered' and 'faint'. Jesus isn't referring to just a few isolated cases, but to everyone living in the region.
But second, Jesus sees a great opportunity — the harvest is plentiful! There's the possibility of a bumper crop. In John's Gospel, Jesus tells His disciples to, 'lift up your eyes and look at the fields, for they are already white for harvest' (John 4:35, NKJV).
But there's a further element in Matthew 9 that is also worth seeing — the workers are few!
A heavy load
Many years ago, a missionary highlighted for me the need for more Christian workers. He explained that, although there's a great need in our own country right where we are, the need overseas is equally urgent, and the workers there are even fewer.
He illustrated his point by using the example of ten workers carrying a lengthy and substantial pole. At one end, there were nine workers comfortably bearing the burden. At the other, there was one person struggling under the weight. The imbalance was obvious!
In Acts 1:8 we read, 'And you will receive power when the Holy Spirit comes on you; and you will be my witnesses in Jerusalem, and in all Judea and Samaria, and to the ends of the whole earth.'
The need in the UK is unmistakable, and we all have a responsibility to reach the lost — but our mandate extends to the whole world. Not only to the farthest and most isolated locations but to every people, tribe and nation.
Helping with the harvest
What are we to do? Jesus tells us to pray.
Thank you to every one of you who regularly prays for MAF's ministry worldwide. It makes an incredible difference, and we couldn't do what we do without you.
Can I ask you now to join with me in praying that the Lord of the harvest will send workers into His harvest field?
Like many mission organisations, MAF sometimes struggles to find the workers we need to maintain our existing ministry, or to enable us to grow sufficiently to meet the expanding needs of the countries we serve.
Although people might think that the need for MAF's services in the developing world are diminishing, the very opposite is true! The barriers of poor infrastructure, distance, war, poverty and natural disaster remain, as does the need for spiritual and physical transformation.
Hearing the call
MAF's recruitment needs change on a regular basis, but we often need qualified men and women to fill the role of Finance Managers, Quality Managers, teachers and Country Directors. We currently have a chronic need for more licensed aircraft maintenance engineers and — as always — pilots.
As we enter 2021, a year still in the grip of the coronavirus pandemic, we need to realise that God is not on lockdown. His plans are proceeding apace, and He continues to call people to the mission field.
Perhaps God is calling you to join MAF, or you know someone you could encourage to seek God's will concerning service overseas.
If so, please pass on this devotion and share MAF's needs with them. Thank you.
Saviour of the world
14 December 2020
2020 has been an extraordinary year.
The first quarter saw the UK, and much of the world, forced into lockdown as coronavirus took hold. Schools and businesses were closed, and streets and roads were empty — many people either working from home or being furloughed.
Summer appeared early and people found refuge in their gardens. The birdsong appeared louder; the flowers more vivid. There was an incredible sense of 'togetherness' despite the social distancing rules as neighbours joined together to clap and celebrate the NHS and keyworkers each Thursday evening.
However, as one month merged into another, weariness began to take hold. It's hard to stay positive when you don't know what the future looks like. Prolonged separation from human contact contributed to a decline in the mental wellbeing of many, and conflict rose its ugly head as the reality of racial inequality demanded attention.
Despite a small respite during the second half of the summer, the UK and other nations across the world experienced a second wave, resulting in a new set of restrictions being enforced.
As we approach Christmas, the usual busyness resulting from this traditionally frenetic time of year is taking place against the backdrop of a global pandemic which has brought devastation, loss and challenge to so many.
Christmas this year is going to be very different. Family get-togethers will be limited, and school nativities cancelled. Some people have embraced this strange year and put up their decorations in November. Others may be thinking, 'What's the point?'
Whether you decide to decorate your living room or not, can I encourage you to reflect anew on the real reason we celebrate each year?
God has a plan
Throughout the Bible, there are stories where God did something spectacular in the midst of despair. The birth of Jesus is one such story.
I have been listening to a carol by worship collective Common Hymnal called 'Mothers and Shepherds' that was first released in December 2019. The first verse of this song reveals something that we might relate to at this time:
'Come now and hear the sound, of mothers gathered 'round
Tears are streaming down in Bethlehem, grieving life that didn't have to end
Asking God to justify the pain, never knowing He would feel the same.'
The backdrop to the birth of Jesus was a great injustice that left mothers in Bethlehem and its vicinity grieving when King Herod, threatened by the prophecy of the coming Messiah, ordered the execution of all male children two years old and younger (Matthew 2:16).
Jesus was born into a world of suffering and fear.
For every tear that we've shed this year over the loss of a loved one, or because of loneliness and isolation, know that Jesus too feels your pain. He understands what pain is and knows what it feels like to be 'overwhelmed with sorrow' (Mark 14:33).
Psalm 34:18 reminds us that He is 'close to the broken-hearted' and we can be comforted by the words of Psalm 56:8: 'You keep track of all my sorrows. You have collected all my tears in Your bottle. You have recorded each one in Your book (NLT).
Yes, 2020 has been a difficult year, but God is not on lockdown. He is for us. He promises never to abandon us (Deuteronomy 31:6) or allow us to be separated from His love (Romans 8:38-39).
Restoration process
The beauty of Christmas, as we ponder afresh the birth and promise of Jesus, is that it ignites new hope. The same prophecy concerning God's anointed One that haunted the powerful, brought hope to the lowly and caused an ordinary group of shepherds to search out the young King that Herod later tried to kill.
In all the hurt and disappointment of 2020, let's pray that more people with search out the King of kings — finding new hope and His indescribable peace.
I genuinely believe that, for those who are mourning and those who are seeking, Jesus is and will always be the Saviour of the world.
Response
Be real. It is important to be honest about how you are feeling as we come to the end of a challenging year and approach Christmas with continued concerns. Pour your heart out to God and allow Him to minister to you.
Be still. Matthew 11:28-30 invites us to find rest in God when we are struggling: 'Are you tired? Worn out? Burned out on religion? Come to me. Get away with me and you'll recover your life. I'll show you how to take a real rest. Walk with me and work with me — watch how I do it. Learn the unforced rhythms of grace. I won't lay anything heavy or ill-fitting on you. Keep company with me and you'll learn to live freely and lightly' (MSG).
Stay connected. Due to the lack of face-to-face contact, it is easier now more than ever to withdraw and isolate yourself from others if you're struggling. Make sure you are surrounding yourself — virtually and over the phone — with believers who can speak life and encouragement into your spirit.
Keep praising. There is power to be found in a thankful heart. Each day give thanks for the little things and join us in praising God that His promise to restore humanity back to Himself continues to unfold.
The God of Restoration
9 November 2020
As lockdown limitations increase across the UK, and the winter nights draw in, a little solace can still be found with a blanket and a cup of tea, snuggled up in front of the TV.
One of the programmes that my husband and I have discovered is called The Repair Shop, on BBC1, 'where much-loved but broken treasures are brought back to life.
'For those who haven't seen it, each episode follows expert craftspeople who restore family heirlooms that have sentimental value for the owners. It's fascinating to see something that looks completely broken and beyond repair being carefully taken apart, cleaned up, refurbished, and then reassembled.
Did you know that God is also in the restoration business?
I am sure that in this current season the desire for restoration, personally and collectively, is high. The impatience to see an end to lockdown restrictions is obvious as MPs and commentators continually demand an exit strategy.
Although people can prove extremely resilient in times of crisis, the longer the crisis goes on, the harder it becomes to remain positive.
How many times during your life have you cried out to God for an exit strategy during prolonged times of challenge?
I think we would all agree that this coronavirus pandemic is proving to be one of those prolonged periods in which everybody is affected, one way or another, due to grief, loss, mental health issues, sickness, isolation, loneliness, deferred hope, disrupted plans, disappointment and fear of the unknown.
The weeping prophet
The prophet Jeremiah may well be someone we can relate to when we are feeling overwhelmed.
He understood the limitations imposed upon him. During the reign of Zedekiah, Jeremiah was imprisoned because the King didn't like the message God had given His prophet.
Jeremiah understood the cost of obedience to God. His assignment was a really tough one. He was opposed, rejected, worn out and lonely. He also suffered the torment of knowing that things were going to get worse before they got better.
For many years, the people of Israel had deviated so far from God's law that they had forfeited His blessing. Then along came King Josiah, whose reforms turned the nation back to God and away from its idols.
Although successful for a while, Josiah's reforms only had a temporary effect when it came to saving the nation. The history of rebellion was so strong that the people of Judah returned to idol worship soon after Josiah's death. So Jeremiah was appointed by God to show the people their sins and the punishment to come.
Something interesting happens in Jeremiah 33. The prophet is in prison and God speaks to him,
'Call to me and I will answer you' (33:3). In the midst of His anger and frustration, and the impending destruction that would befall Jerusalem, God invites the people of Israel to return to Him. Even in His judgement, God remembers mercy and promises to restore His people.
The Bible is full of stories of restoration, each one revealing the character of a God who desires to bring restoration to His children and His world. Zechariah 10:6 tells us that God will 'restore them because [He has] compassion on them', while Isaiah 57:18 highlights the fact that, even though God sees the ways of His people, He will heal, guide and restore them.
In the midst of all the coronavirus chaos, God is calling out to us, inviting us to draw closer to Him.
During this pandemic, we have seen the best and the worst of people. Back in March there was a beautiful sense of unity and compassion as people celebrated the keyworkers and looked out for one another.
Over the last few months, however, the ugly side of human nature has leaked out through extreme reactions to racial injustice, rising levels of intolerance towards opposing opinions, and a very obvious increase in something I call 'complaint culture'. We need God to restore the beauty that is possible in this world at this time. It starts with us.
Encouragement
We are representatives of Jesus. We have an opportunity to be a window of hope in a time of hopelessness. We can direct people to God's restoring power. Through our prayers, we can lift up their arms when they are weary, as Aaron and Hur did for Moses.
We can send a text to encourage someone, or give them a call to remind them that they are not alone. Even if you are finding this period really hard, reach out anyway. It's surprising how often we get encouragement from being an encourager.
I believe God will restore this world back to Himself. Yes, it is likely that we'll have to live with the consequences of coronavirus for some time yet. But He is still at work. Still moving.
God isn't on lockdown. He isn't limited or lacking in anything. He is still the all-powerful God we read about in the Bible. He is personable. Available. Quick to forgive. His love never runs dry. He is all-knowing and all-seeing — He knows each one of us intimately and loves us so much that He allowed His Son to hang on a tree to restore us back to Himself.
Finding joy
6 October 2020
When looking at the image above, do you see a glass half full or half empty?
It's easy to go through life looking at things through the lens of pessimism or optimism without consciously understanding the filter that defines our thinking. Now I'm not trying to guilt trip you into positive thinking, but there are consequences regarding the way we see things.
When Moses sent a leader from each of the tribes of Israel to spy out the land of 'milk and honey', 10 of the 12 were so focused on the negatives — seeing the people there as giants and themselves as grasshoppers — they failed to recognise God's provision and the victory He had promised them. Only Caleb and Joshua believed that God could defeat their enemies and bring them into the promised land. As a result, they were the only ones who were allowed to enter.
How many of us have missed out on God's blessing because we've focused on the negatives of our situation?
As we enter another month of lockdown-related limitations, with ever increasing rates of coronavirus cases being reported across the globe, it can be easy to see only doom and gloom.
However, when we feel anxious, worried and overwhelmed, we find ourselves weakened, fearful and struggling to pray. Optimism seems futile. What we really need is for the joy of the Lord to be our strength (Nehemiah 8:10).
Choose joy?
'Joy' is a short but powerful word. Do a Google search and you'll find many devotional articles that tell us to choose joy! Often the focus is understanding the difference between joy and happiness; happiness being dictated by our circumstances, joy being something that goes deeper.
Theopedia, the encyclopaedia of biblical Christianity, describes joy as 'a state of mind and an orientation of the heart. It is a settled state of contentment, confidence and hope.'
Christian author Kay Warren adds this definition: 'Joy is the settled assurance that God is in control of all the details of my life, the quiet confidence that ultimately everything is going to be all right, and the determined choice to praise God in all things.'
But is it as simple as just 'choosing joy'?
Too often in Christian circles, we're told that joy isn't an emotion but something we purposefully decide — an attitude of the heart. How many times have you been told that we're not to be led by feelings; that it's all about doing 'the right thing'?
Although self-control is a fruit of the Spirit, the mindset above can cause you to fail, to feel condemned when worry and grief take hold. At times when you are struggling the most, the idea that joy is something you choose, can leave you spiritually paralysed.
What does the Bible say?
It is worth noting that the Bible doesn't separate joy from emotion. More than 100 verses in various translations use the words 'happiness' and 'joy' together: 'For the Jews it was a time of happiness and joy, gladness and honour' (Esther 8:16, NIV); 'I will turn their mourning into joy... and bring happiness out of grief' (Jeremiah 31:13, HCSB).
Theologian John Piper states that 'the Bible is indiscriminate in its uses of the language of happiness and joy and contentment and satisfaction.'
God created not just our minds, but our hearts. There's an emotional satisfaction in knowing and loving Jesus. If joy isn't an emotion, then why is it listed alongside love and peace as a fruit of the Spirit? If you love someone, don't you feel something? Isn't peace something you can feel?
Found not chosen
We know that we need to experience the joy of the Lord to be strengthened in these challenging times. We realise that it's not about deciding to be joyful; that it isn't as simple as just 'having more
faith'. But how can we 'know' Kingdom joy for ourselves?
Can I suggest that the more we experience Him, the more we'll experience the joy of the Lord?
It isn't about choosing joy with our conscious mind, it's about finding joy with an open heart. The more we fix our eyes on Jesus — on who He is, on His goodness and faithfulness — the more we experience His joy in our hearts, despite what's going on in the world around us.
Joy is contagious! The more time we spend in Jesus' presence, the more likely we are to 'catch' the joy overflowing from Him.
In this season of more questions than answers, it's good to remember that God promises to never leave nor forsake us (Hebrews 13:5). Many of the stories in the Bible represent God's people enduring hard times, often for prolonged periods.
The Israelites wandered for 40 years. God didn't provide a detailed map to take them easily to their destination, but He did dwell among them. He provided, guided and comforted them. He promises to do the same for us too.
His presence is where we will find the joy that strengthens us. What an amazing gift we have in the Holy Spirit — sent to be the powerful, personal presence of the living God within us. Why not invite Him afresh to be present in your life?
Response
What three things can you do this week to help you encounter God's presence afresh? The Word of God is a good place to begin if you're struggling. Why not start with the Psalms?
Psalm 100:4 reminds us that we can experience the presence of God when we come with praise and thanksgiving. Spend time pondering the goodness of God. Give thanks for His faithfulness to you.
A season of transition
7 September 2020
The last few months have been a bit different, haven't they?
Life as we knew it went on pause for longer than we anticipated. Returning to 'normal' seems a distant dream as we navigate the 'new normal' of a mask wearing, socially distanced society.
We don't know what the future looks like. We cannot predict when we will be able to gather in large numbers safely. It could be said that we are in a season of transition.
A place between what was and what will be.
A time of waiting
You may have heard the saying, 'until God opens the next door, praise Him in the hallway'. I love this mindset of worshipping in the waiting. However, it gives the impression that 'the waiting' takes place outside of any defined space. Christian leadership teacher Paul Scanlon suggests that transition is not a 'hallway' — it is a room in its own right.
It would be easy to assign the word 'passive' to a time of waiting, but Paul says that seasons of transition require our attention. It is important to recognise the value they hold and space they need; not doing so feeds impatience, frustration, fear and anxiety.
Babylonian lockdown
Seasons of transition appear throughout the Bible. One example, in the late 7th century BC, occurred when the Temple was destroyed and the Jewish people went into exile in Babylon. It was a tremendous shock!
They were used to worshipping God at the Temple. Now all that was gone, along with their land and their freedom. What were they going to do? Little did they know that this would be their 'new normal' for 70 years!
An encouragement to the captives from the prophet Jeremiah brings with it an insight into God's perspective regarding seasons of transition:
'Build houses and settle down; plant gardens and eat what they produce. Marry and have sons and daughters; find wives for your sons and give your daughters in marriage, so that they too may have sons and daughters. Increase in number there; do not decrease. Also, seek the peace and prosperity of the city to which I have carried you into exile. Pray to the LORD for it, because if it prospers, you too will prosper' (Jeremiah 29:5-7, NIV).
More often than not, transition offers the opportunity for personal growth. Whenever God calls an individual, a nation, a movement or a corporate entity into 'lockdown', He is preparing to usher them into a new season.
Hush… don't rush
Although I don't believe that God caused the coronavirus, I do believe He wastes nothing! Intentional transitional behaviour is required to catch hold of what God is wanting to do in this challenging season.
For many of us, the last few months of lockdown have afforded us more 'breathing room' as the usual busyness of life has been replaced with less entries on our 'to do' lists.
Perhaps, like me, this gift of time has allowed you to be re-captivated by God's creation as you sit in the garden and listen to the birds singing and breathe in the cleaner air — a side-effect of fewer cars on the roads.
It is often when we slow down and quiet ourselves that we begin to hear the gentle whisper of our King. As we take our eyes off our circumstances and lay down our fears about what might or might not be — fixing our eyes on Him instead — a song of praise can't help but form in our hearts and escape from our lips.
It is this thanksgiving anthem that changes atmospheres and releases hope. (Acts 16:25-26).
In the presence of God, we understand the need to linger, rather than rush ahead. If we bring God into the centre of our lives and situations — we realise that it is okay to take our time and give ourselves room to recognise what is important and reimagine what could be when times of transition occur!
Lay it all down
Often, when we are locked into a particular season, we start to dance to the tune it is playing. Times of transition, such as the one we are in right now, pull the plug on the jukebox and invite us to choose another song. But the silence as we wait for the record to drop can be uncomfortable.
The lack of 'noise' in life can reveal areas of hurt or insecurity. It can show us issues regarding our identity or our need to be in control. It takes courage to face these and allow a little bit of 'heart surgery' as we lay them down before God. But the good news is, we are never in it alone. As Philippians 1:6 reminds us, God promises to complete the good works He has begun!
Response
Take time to recognise the treasure that God has placed within you in this season of transition. Stop, smell the roses and allow God's creation to help bring you into a place of worship.
Have courage as you reflect on any areas of hurt or insecurity that this season has brought to the surface. Write them down and offer them to God. Allow Him to minister to your heart.
Ask God what you can do to prepare for the new season He has ahead of you. What might you need to lay down?
Make room for your personal growth in this season. The next thing should come out of the next you. Remember, transitions should be identity-driven, not opportunity-driven.
Pray for the peace and prosperity of those around you.
Rahab - a woman of significance
4 August 2020
The story of Rahab in Joshua 2-7 is a familiar one. A Canaanite, she assisted the Israelites in capturing the city by hiding two men who had been sent to spy out the promised land.
In the New Testament, she is praised both as an example of a saint who lived by faith (Hebrews 11:31), and as someone 'considered righteous' for her works (James 2:25). She is also described as a descendant of Jesus (Matthew 1:5).
Rahab was a woman of significance.
Yet many church sermons or online devotions fail to show her the respect or understanding she deserves. The Bible clearly states that she was a prostitute (Joshua 2:1), and as such, so many of the write-ups or teachings deem her as this 'sinful woman of ill repute'. But it doesn't tell us much about Rahab beyond her profession. What was her life like? Her childhood?
Born vulnerable
Scripture doesn't tell us much about Rahab growing up, so we have do our best to understand the cultural norms during that time to get an idea of what life may have been like for her — and many women like her — as well as gain greater insight into the 'why' behind their circumstances.
Just for a moment, I wonder if you might picture a young girl, not much more than a child. This girl doesn't come from an affluent family — rather they are poor and in need. Perhaps she is very beautiful.
When a rich, powerful man decides he wants this girl for himself, her parents are unable to keep her safe. Women are commodities. Second-class citizens. The powerful man holds all the cards. If he wants her, he is going to have her — no one can stop him. He negotiates with the girl's father and promises to take care of the rest of the family.
Now he owns her.
This girl — as young as she is — knows her fate is sealed. This man will use her until he grows tired of her . All she has are her looks and the innate desire — like us — to survive.
We don't know if this is what happened to Rahab but, sadly, this story could be about any one of a million young women today who, because of poverty and differing cultural values, are sold into the sex trade by their families throughout the world.
Today's reality
According to UNICEF, every two minutes a child is being prepared for sexual exploitation. Every year, 1.2 million children alone are being trafficked!
This number excludes the millions already being held captive by trafficking. UNICEF also reports that approximately 30 million children have lost their childhood through sexual exploitation over the past 30 years.This story is as old as time and is still playing out across the world today. Perhaps this was Rahab's story.
Are these young women wilful sinners? Or are they broken victims of their circumstances?
It was unlikely that Rahab chose the career path she found herself on. The King of Jericho was a powerful man and, as was the custom, would have had several wives that he married for political advantages. Rahab had nothing the King needed — merely a body he wanted to use. She would become part of his harem until he got bored of her.
Rahab went on to become a prostitute and a spy for the King. We read in Joshua that 'the house she lived in was part of the city wall' that surrounded Jericho. A perfect look out. Rahab's role would be to entertain men that came and went and then share any information with the King that would help protect his throne and increase his treasury. He was expecting her to do the same when he heard about the spies' visit, wasn't he?
But she didn't.
'I know that the LORD has given Israel this land. Everyone shakes with fear because of you. We heard how the LORD dried up the Red Sea so you could leave Egypt. And we heard how you destroyed Sihon and Og, those two Amorite kings east of the Jordan River. We know that the LORD your God rules heaven and earth, and we've lost our courage and our will to fight' (Joshua 2:9-11, CEV).
Rahab lived among idol worshippers. She had been used and discarded by others. She could be forgiven for questioning the very existence of a loving God. Yet she had a knowing deep in her spirit that the God of the Israelites was so powerful that no one could stop Him.
Her fear of man was replaced by her reverent fear of God.
It wasn't despite her past that Rahab was a woman of significance, rather it was because of her dark past that Rahab so clearly recognised the light that shone in these two young men of God, so much so, she would risk it all.
Response
Take a moment to consider if, without intending to, you have ever discarded someone because of their past or their current lifestyle. Spend some time saying sorry to God and asking Him to help you see them with renewed grace.
Perhaps you find it hard to move away from your past choices and hurts? Allow the Holy Spirit to minister to your heart, and experience afresh His gift of freedom.
Ask God how you too can be a person of significance for His glory. Ask Him for the wisdom and courage to step into your calling.
Time to learn, to reflect, to change
7 July 2020
'I can't breathe!'
The agonised cries of a man pinned to the ground — a police officer's knees weighing heavily on his back and neck.
'He can't breathe!'
The desperate cries of those helplessly watching this deeply traumatic event.
'We can't breathe!'
The cry of every black person suffocating under the weight of the racial abuse, discrimination and suspicion they have suffered for generations.
The murder of George Floyd on 25 May in the USA has become a touch paper moment across the western world and beyond. Death in custody is nothing new. Black people are disproportionately stopped and arrested, often inappropriately or indiscriminately.
What is perhaps new is the wider attention this issue is receiving. Watching George Floyd's life ebb away will forever be etched on our hearts and minds. The inhumanity of his final 8 minutes and 46 seconds evokes an avalanche of emotion.
Enough is enough!
As Christians, we can no longer ignore the inequalities that exist in our world.
MAF's work in the global south focuses on the physical and spiritual inequality faced by those living in poor, vulnerable or undeveloped areas. The death of George Floyd and many others highlight the fact that inequality exists in the West too and as part of the Body of Christ, we have a collective responsibility to stand against injustice wherever we are.
What can I do?
We need to learn, reflect and be the change.
It's important we take time to educate ourselves on these issues. Bishop Mike Royal, an ordained minister, mental health chaplain and Co-Chief Executive of the Cinnamon Network UK, says it's important to understand that racism isn't just an American issue.
Rooted in the transatlantic slave trade and colonialism, pre-existing racial tensions were magnified in the late 1940s when Caribbean immigrants arrived to help rebuild the UK — many taking jobs in the NHS and sectors affected by Britain's post-war labour shortage.
In 2017, the Windrush scandal caused widespread shock and outrage at the fact that so many black Britons had their lives devastated by what ended up as a deeply flawed and discriminatory immigration system.
Bishop Mike also recommends understanding church history and the influence Africa had on the early Church. He says Christianity is often taught as if it's a mainly white religion, even though the desert fathers came from North Africa.
Acts 2 reminds us that, when the Church was born, God intended it to spread throughout the world. We can see this in Acts 8:26-39 when Philip talked with the Ethiopian official — a thriving African church being established hundreds of years before Augustine arrived in Kent in 597, to spread the Good News.
The importance of listening
Bishop Mike encourages us to hear the voices we don't usually listen to — even those coming from people who may think differently. Our human instinct is to mix with people who look, sound and think like us, but this inevitably creates blind spots.
We need to intentionally embrace diversity, remembering that unity and diversity does not mean colour-blindness. It is important to recognise that cultures can be different and united in Christ.
Be the change
'True peace is not merely the absence of tension; it is the presence of justice' (Dr Martin Luther King, Jr). As brothers and sisters in Christ, much like the Good Samaritan in Luke 10:29-37, we cannot see someone hurting and just pass by or keep quiet.
Maybe we need to consider whether we've been carrying any unconscious prejudice against those of a different race or skin colour. Is there anything we need to repent of? Micah 6:8 reminds us that we must act justly, love mercy and walk with humility. It is important to understand how justice works and ensure equal treatment of everyone, remembering we are all made in the image of God. Give the Holy Spirit permission to 'search your heart' (Psalm 139:23).
Lisa Koons, National Director of 24-7 Prayer USA, believes that, 'The Body of Christ is being invited to leave the side lines and take its place joining God on the frontlines of racial injustice and inequality. We are to speak truth to power, while working to dismantle systematic racism deeply rooted both in the world and in the Church. We are called to become peacemakers, bridge builders and agents of reconciliation in the long-ignored fields of pride and prejudice.'
She asks the following questions:
'What if this is the beginning of the next great awakening?'
'What if the revival we've cried out for looks less like spiritual euphoria from God's manifested presence in a meeting?'
'What if it looks more like justice rolling down like rivers because of our presence in the streets of neighbourhoods, boardrooms, prayer rooms, classrooms, and halls of justice, working towards biblical justice and an end to racism – in all its forms?'
So, let's examine our hearts, work and pray for unity, and cry out to God for an end to injustice.
Faithful, fervent prayer
2 June 2020
Dear friends and faithful prayer supporters,
I have had it on my heart to write and thank you for your prayers and support for MAF UK during this challenging period.
I'm so grateful that we can continue to pray for one another, and have recently been led to encourage us to pray very specifically for all the overseas MAF teams serving selflessly throughout the developing world.
As you may know, most of our field staff have stayed in their overseas programmes, though a number have close family members in different countries.
The verse which has frequently been on my mind is, 'The effective, fervent prayer of a righteous man avails much' (James 5:16, NKJV).
Let us pray — fervently — for peace, protection and the will of God to be done in the countries and remote regions where our staff live and serve.
Pray too for peace, protection and the will of God to be done in their hearts and ours.
So, what does it mean to pray fervently?
To be 'fervent' means to be specific, focused, intentional, earnest, eager, impassioned — clearly not a 'one-off' period of intercession, but one that's consistent, ongoing, and faithfully continuing.
This has made me consider 'fervent prayer' anew, and again consider why we pray, and why we need to intercede. I believe that 'fervent prayer' involves bringing God's will into a situation, both in good and in difficult times.
In the Amplified version, James 5:16 reads: 'The heartfelt and persistent prayer of a righteous man (believer) can accomplish much [when put into action and made effective by God — it is dynamic and can have tremendous power].'
But what if you're not sure where to start?
Consider the framework of the Lord's Prayer in Matthew 6:9-13 and Luke 11:2-4 — acknowledging our mighty God, and then asking for His will and His Kingdom to prevail.
This prayer is punctuated with asking: 'give us... forgive us... lead us... deliver us...'
We need to ask, because it is an important part of our relationship with our heavenly Father.
Praying the words of Scripture is also extremely helpful. In Ephesians 6 and Hebrews 4:12, the Word of God is described as the sword of the Spirit – powerful, alive and active.
When we are unsure what to pray, we can take comfort that His word is truth and that, if we walk closely with Him and seek His face, we can pray in accordance with the will of God.
When we call upon Him, speak out His Word and pray in accordance with the promises of God, we are strengthened and encouraged. So, let us pray in faith – finding and claiming the promises of God.
Based on those promises, let's ask Him — with confidence — 'being fully persuaded that God has the power to do what He has promised' (Romans 4:21).
In Ephesians 6:18, Paul tells us to 'pray in the Spirit on all occasions with all kinds of prayers and requests.' He also says, 'pray for me'. If the apostle Paul both prayed and asked for prayer, then so should we!
The well-known Victorian preacher Charles Haddon Spurgeon once said, 'God will bless Elijah and send rain, but Elijah must pray for it. If the Jews are to be delivered, Esther must intercede. God will bless Paul and the nations shall be converted... but Paul must pray.'
I have been reminded recently that we need to do what we can — leaving room for God to do what only He can. Our part is to pray!
At a time when we remain distanced from one another, let us remember that prayer knows no distance. So be encouraged that we can reach across the world and touch others with our prayers.
Be strengthened in your prayer life by knowing that persistent prayer releases the power of God!
So, may I invite you to join together with everyone working for MAF throughout the world to pray specifically and intentionally for all our overseas teams?
Thank you
Ruth Whitaker
Chief Executive, MAF UK
Response
Pray that MAF programmes serving in developing nations will be used mightily in accordance with the Lord's will, for the furthering of His Kingdom!
Pray that MAF staff will remain strong and in good health.
Pray for their protection and for them to walk with God's peace and His power in their hearts.
Finally, as Christian writer, church planter and co-founder of the 24-7 movement, Pete Greig, says, 'Keep it simple, keep it real, keep it going!'
You look, but you don't see
4 May 2020
How often do you look at something and then, a minute later, forget what you just saw?
At other times, you may be looking for an item and, although it's right there in front of you, you just can't see it!
You might laugh at this, especially if the item you're looking for is — say — your glasses, and they're actually on your head!
But there are times when it's a little more serious. Sometimes, if your eyes have been badly damaged, you literally can't see what's in front of you.
But let's take this a little deeper.
I was recently reflecting on Jesus' resurrection and reading the various gospel accounts.
Jesus had been crucified on the cross and buried in a tomb. His devastated disciples didn't understand what had happened and were fearful of the future.
On the third day after all this happened, Mary Magdalene went to the tomb to anoint Jesus' body.
When she arrived, she saw that the stone blocking the tomb had been moved and that Jesus' body had gone.
John 20:11 tells us that Mary stood outside the tomb crying. As she wept, she saw two angels in white, seated where Jesus' body had been. They asked why she was crying.
'They have taken my Lord away,' she said, 'and I don't know where they have put Him.' At this, she turned around and saw Jesus standing there, but she did not realise it was Jesus.
She thought He was the gardener. It wasn't until He called her name — 'Mary' — that she finally recognised Him.
The same day that Jesus revealed Himself to Mary, two of His disciples were walking on the road to Emmaus. As they were talking about all that had been going on, Jesus joined them and walked alongside with them. He asked what they were discussing.
The disciples, not recognising Him, explained what had happened; referring to Jesus as 'a prophet, powerful in word and deed before God and all the people.' Their disappointment was evident as they shared how they'd thought Jesus was going to restore Israel.
Even though Jesus reminded them of the Bible's prophecies, and how He had fulfilled them, they still didn't see Him. It was only later, when Jesus broke bread with them, that they realised it was Him.
Mary only saw Him when He called her name. The disciples only saw Him when He shared bread with them.
Two acts of great intimacy!
It takes intimacy to really 'see' someone.
Now it's probably easy to think, 'Surely the disciples had intimacy with Jesus? They lived with Him and followed Him for three years?' After all, Mary Magdalene is known for her great love for Jesus after He set her free from demon possession (Luke 8:2),
and she followed, adored and supported Him.
So, how can we question their intimacy with Jesus?
Although we might think that the word 'intimacy' refers to something physical, there are in fact four types of intimacy — emotional, mental, spiritual and physical. Most of those don't involve touch.
In fact, intimacy actually boils down to connection and attention.
Although the way we connect is important, intimacy requires not just connection but attention!
One of the biggest potential barriers to intimacy occurs when our attention is fixed elsewhere. It could be on our families, jobs, responsibilities, hobbies, our wants or even our hurts.
Mary and the disciples were so distracted by grief that they forgot what Jesus had told them and didn't recognise Him when He was standing right in front of them!
Often, we can stand in front of someone, go through the motions of looking at them, listening to them, and even carrying out our everyday lives alongside them — but we miss really 'seeing' them.
Indeed, to put it another way, how often do you feel 'unseen', 'unheard' and 'unknown' in a room full of people? When we have hurts in our lives, it can also affect our ability to really see others.
For Mary and the disciples, it took various acts of intimacy to really see the One who was right in front of them.
The most amazing truth in all of this is that Jesus is present. Whether we recognise Him or not, He is right there with us, inviting us to be connected to Him; calling us by name and wanting to walk through life with us.
I am sure that this season will cause many of us to pause and reflect on what's really important. For some families, this means not being able to hug their loved ones again — not this side of heaven. This is something that's truly heartbreaking!
Can I encourage you to live 'your best life' while you have the chance? Take the time to stop and see people — really see them — and allow others access to you too. Humanity wasn't created to live in isolation — we need each other.
Equipped to be the Church
3 April 2020
We are living in unprecedented times. People throughout the world are experiencing enforced isolation as a result of the rapid spread of COVID-19.
People are dying and economies struggling.
I am sure many of us are disorientated by the sudden changes that are happening on a daily basis. Schools have been closed and families are having to navigate working from home while home schooling their children.
Some people are sadly unable to work. Others, on the frontline, are serving tirelessly to bring the help and support so vitally needed. Many of the older members of the population are home alone, not knowing when they can see their nearest and dearest again.
Church services as we know them no longer exist, with most of us being told to stay home to avoid risking infection and preventing the virus from taking hold. Those who contract COVID-19, and need hospital care, are unable to receive comfort from their loved ones.
Over the last 75 years, MAF has served countless numbers of people for whom isolation is a painful reality. An MAF flight can help them access essential supplies, teachers, medical help and the beautiful truth of the Gospel.
Because of the virus, it's likely that people in the West will gain a fresh insight into what it means to be isolated and in need.
Not immune
As Christians, we aren't immune to COVID-19 or the fear that the unknown creates. It isn't a sign of weakness to admit you feel overwhelmed or scared during these anxious and uncertain times.
In fact, it is important to acknowledge the different emotions we might be experiencing and the knock-on effects this new season is having on us. It is what we do with our fears and emotions that matter.
Here are some thoughts on how we can overcome fear when it raises its ugly head:
Know the Word. We can only speak out God's truths if we know them. The Bible is full of promises and encouragements that will strengthen us in times of trouble. Romans 8:31 reminds us that, 'If God is for us, who can be against us?'
Capture those thoughts. Isaiah 26:3 tells us that God will keep in perfect peace all those who trust in Him — whose thoughts are fixed on Him. If we find ourselves becoming fearful, take those thoughts captive. Acknowledge them and then fix your mind on Jesus. What is He saying? Take time to listen to the Holy Spirit as He brings encouragement and comfort to you.
Worship. Can I encourage you to fill your homes with worship music? Psalm 100:4 says we enter His gates with thanksgiving and His courts with praise. Let's make our homes 'presence filled' places that spill out into our neighbourhoods and change the atmosphere from fear to one of peace and hope.
Prefer one another in love. Chancellor Rishi Sunak said, 'Now more than at any time in our history, we will be judged by our capacity for compassion. When this is over, and it will be over, we want to look back on this moment and remember the many small acts of kindness, done by us and to us.' Love changes things. It changes people. 1 John 4:19 reminds us that 'we love because He first loved us.'
As the Church scatters — maybe now more than ever — we can take on the mantle of 'missionaries' to our friends, neighbours and loved ones. An offer of help or a friendly phone call to check in on someone can go a long way to prevent those who are on their own from feeling lonely.
We have this incredible opportunity to model the perfect love that is Jesus — a love that has the power to transform, heal, forgive and set free even the most broken of hearts.
Take a moment to remember when you first encountered the love of God.
This love is not about religion or rules — it's about going through life aware that you are never alone and knowing you are safe even when life is scary. It is believing in Someone bigger, more powerful than anything you can see.
It is a steady hand to support you when you start to wobble. It is a love that casts out fear, ignites hope and inspires service.
It gives you courage and strength, surrounding you with peace beyond understanding and reminding you just how precious you are.It tells you that there is nothing you have done that can't be forgiven. It transforms your thinking, feeling, being and doing. There's no love like it!
For many people in today's culture, going to church seems irrelevant. This is our opportunity to 'be the Church' and help others to encounter the love of God through the love of His people.
Humanity needs to experience this perfect love. Despite the fear, the unknown and the changes that have happened, this is now the time to be bold with our love.
Free indeed?
13 March 2020
'So if the Son sets you free, you will be free indeed' (John 8:36)
Jesus was debating with those who couldn't get their heads around His referring to them as sinners. They believed that, as descendants of Abraham, they were free from sin and spiritual bondage.
Yet, for all their misguided attempts at 'right living', they wanted to kill the One who had come to save them.
All too often, we Christians can give the impression that we have it all together. Fear of judgement and elements of pride can trick us into believing this is how we portray ourselves to others. Paul, however, tells us to be confident 'that He who began a good work in you will carry it on to completion until the day of Christ Jesus' (Philippians 1:6).
We are all a work in progress. We shouldn't be ashamed of this and end up pretending that everything is okay. Our salvation story isn't our only story of God's redemptive power. But what does being 'free indeed' actually mean?
Freedom is a journey not a process
Throughout history, every breakthrough against oppression has come through those who are willing to take a stand and 'be the change'. 'Being the change' isn't a one-off occurrence, it's an ongoing process which takes time and requires surrender and submission.
Evangelist, author and international speaker Christine Caine said, 'When we bypass the process of God developing us, we are vulnerable to man destroying us.'
A good analogy, illustrating the length of time needed for us to develop, comes from old-school film photography. In contrast to the instant images we get with a digital camera, a 35mm film needs to go through a number of chemical processes before the image is 'fixed' onto the negative. But if the film is exposed to light before the processes are completed, the potential image will be ruined.
What freedom isn't
Any detrimental thoughts or feelings that influence our behaviour are signs that we aren't totally free. Anger, jealousy, resentment, fear, judgement, low self-esteem, pride, anxiety or the need to control or possess others all indicate that something needs to be dealt with.
We all have things that make us anxious, but it's how we respond to those things that matters.
How can we walk in greater freedom?
The Bible tells us to 'take every thought captive' (2 Corinthians 10:5), but how do we do that?
The first step to freedom is finding Christ. Without Jesus, we go around trying to fix everything ourselves. The Holy Spirit is clearly essential on the journey to freedom.
The second step is positioning ourselves to receive revelation. Isaiah 55:3 tells us, 'Incline your ear, and come to me; hear, that your soul may live' (ESV). There is an intention required on our part to listen.
The third step is surrendering to the process. When we see what the issues are that hinder us, they lose some of their power. But, because we often miss out on the developmental process of 'renewing our minds' (Romans 12:2), we later return to bad ways of thinking and reacting, and we question the validity of the encounter we had with God. Revelation is an invitation into transformation. Cognitive neuroscientists says it can take up to two months to form a new habit of thinking.
Our bodies recognise a toxic thought in the same way that they can recognise an illness or wound and go into action. So, when we allow a negative thought to take hold, it can actually cause brain damage. Saying one thing — 'I will take every thought captive' — but doing another, such as gossiping, complaining, judging others or basking in one's supposed victimhood can cause problems in the wiring of our brains.
Because we are made in the image of God and are designed to love and be loved, this goes against our very nature.
So, although we probably all have regrets or hurts from past experiences, we need courage and humility to face them. As James 4:6 reminds us, 'God opposes the proud but shows favour to the humble.'
Response
Proverbs 4:7 tells us, 'Get Wisdom. Though it cost you all you have, get understanding.' We can't walk around blindly hoping for the best. We need to understand who we are, what we think and what lies behind our thoughts and actions.
Take time to ask yourself, 'How am I behaving, thinking and speaking?' 'How do I treat others?' 'What unhelpful triggers do I have?'
Be honest about your situation. 'I am facing a crisis...' 'I'm in this situation...' 'I've got to deal with this...'
Be real. Cry out to God and to those you can trust. Don't pretend everything is fine when it's not. As we speak it out, it can weaken the issue or toxic thought. It brings light into the darkness.
Say 'Sorry'. Acknowledge that you have behaved, thought or spoken poorly, and you don't like it.This helps break negative thought patterns, dispelling condemnation, guilt and shame.
Capture those thoughts. Ask the Holy Spirit to help you become aware of your thoughts throughout the day. Replace any negative thoughts with truth and grace. Scripture is a great tool here.
Love is...
14 February 2020
Love is a powerful thing.
It is so much more than the commercially depicted big red hearts and Cupid's arrows that we see everywhere at this time of year.
The Bible tells us that love is patient, consistently kind to all, and refuses to be jealous when someone else is blessed. It doesn't brag or exaggerate, but humbly celebrates truth and believes the best for others.
Love is central to the apostle Paul's first letter to the church in Corinth. Written by a founding father who was intimately involved in the church's affairs, Paul's timeless teaching is clearly relevant today.
He addresses issues of division, reminds the young church of the true power of the cross, calls the believers to spiritual maturity and reminds them that we are God's holy temple.
A wedding speech
In 1 Corinthians 13, which is often read out at weddings, Paul speaks about the motivation of our lives being love. Ironically, however, he begins by saying what love isn't.
Love isn't about eloquent speaking or showing off our spiritual gifts. Generosity without love has no value whatsoever. In fact, Paul tells us that love never stops giving. It endures, honours, never gives up and is a safe place for all.
The disciple John also understood the value of love. In 1 John 4:7-8, we read his encouragement to... 'love one another, for love comes from God.' He says that 'everyone who loves has been born of God and knows God', but he goes on to warn us that 'whoever does not love does not know God, because God is love.'
How can we love authentically?
Our love cannot be an abstract theory that we only talk about. It needs to be a way of life that is demonstrated by our loving deeds — enabled by a loving relationship with our Creator. 1 John 4:19 tells us that it is 'because He first loved us', that we are able to love authentically.
In his book Love Says Go, Jason Chin identifies three ways that we are to love:
Love God
Chin says that our first mission is to love God. He says God is to be 'sought after, experienced and enjoyed in close fellowship.' He goes on to say that, 'It is important that we practise being in His presence and learn how to recognise His voice.'
The apostle Paul expands on this idea that to love authentically we must first encounter the Father's love. In his letter to the church in Ephesus, Paul says, 'My response is to get down on my knees before the Father, this magnificent Father who parcels out all heaven and earth. I ask Him to strengthen you by His Spirit — not a brute strength but a glorious inner strength — that Christ will live in you as you open the door and invite Him in.
'And I ask Him that with both feet planted firmly on love, you'll be able to take in with all followers of Jesus the extravagant dimensions of Christ's love. Reach out and experience the breadth! Test its length! Plumb the depths! Rise to the heights! Live full lives, full in the fullness of God.'
He concludes, 'God can do anything, you know — far more than you could ever imagine or guess or request in your wildest dreams! He does it not by pushing us around but by working within us, His Spirit deeply and gently within us' (Ephesians 3:14-21, MSG).
Love ourselves
Chin recognises that, 'It is essential that we walk in our proper identity in Christ and learn to love ourselves.' Mark 12:31 tells us, 'Love your neighbour as yourself', which suggests that we can only love others to the degree that we love ourselves.
This highlights the need for us to be vulnerable with God and with others. Unfortunately, many of us feel that we're not good enough or worth loving!
The journey to wholeness in Christ crosses the path of brokenness and eventually leads to freedom. Issues such as unforgiveness, jealousy, resentment, mistrust and judgmentalism can poison the heart and make us sick.
It is only when we truly surrender to the process of healing and allow God to heal us and reveal the things from which we need to be free, that we can see ourselves as God intended and we can love who we are.
Love others
In his book Imagine: Trusting God Like Never Before, Rev Simon Lawton reminds us that 'God thought we were worth creating.' The result of this revelation is that as we accept the unconditional love of the Father and allow His love to shape us, we find ourselves able to love the people around us. This leads to what Jason Chin identifies as our third mission — loving others.
Can you imagine the impact on this world if the whole Body of Christ demonstrated authentic love as we are called to?
Response
Spiritual MOT – Make time to sit before God and honestly reflect on the condition of your heart. Consider the following:
How intimate is your relationship with God?
Are there any hurts in your heart that need healing?
Are you carrying any unforgiveness or standing in judgement over anyone?
Who could you show authentic love to, through word and deed?
Natural reaction versus Kingdom response
10 January 2020
Imagine you are sitting in a small boat which Jesus is rowing. As you travel along, you are captivated by the beauty of the moment. His eyes of blazing fire crease at the sides as He smiles at you. You hold His attention as He does yours. The sunset behind Him blazes gloriously and a soft refreshing breeze swirls around you. Your heart is full.
You're secure, safe, happy, loved.
But then you suddenly become aware of the landscape ahead. The sun is getting closer, the colours more vibrant — burning reds become amber, then gold. The water seems to disappear – much like the infinity pools that flow over the edge — water with no boundaries. An unease rises up within you.
Something ahead that can't be seen begins to disturb this treasured point in time...
Jesus' position has now changed. Although He's still rowing, He is now facing the direction you're going, occasionally glancing over His shoulder at you, smiling.
Suddenly, the boat goes over the edge and you're plummeting down what seems to be an endless cascade of water. Although Jesus appears unperturbed, you grip the boat with all your might — fear overwhelming you.
The image disappears.
In its place, a small still voice.
'Don't you trust me?'
In your own strength
Not knowing what lay ahead, you took your eyes off the One who makes you feel secure, loved and safe. Instead, fear took hold of you. You reacted by gripping on to the boat, holding on for dear life!
As the boat plunged downwards, gathering speed as it went, your response to cling on was correct, though the focus was wrong. What's the use of holding on to the boat when Jesus, the giver of life, is in front of you?
Throughout life we experience ebbs and flows; mountain high moments interwoven with struggles, battles and defeats. Every situation we encounter is an opportunity to respond in love rather than react negatively to events around us.
A Kingdom response chooses Jesus every time.
As disciples of Christ, His grace not only saves us but empowers us to live a life worthy of His name. The Holy Spirit guides us and teaches us to be increasingly more like Him. When we get it wrong, reacting inappropriately to the situations around us, we can come to the Father, laying our mistakes at His feet — confident that we're forgiven.
Psalm 51:10 can be used as a powerful prayer for anyone wanting to move from merely human reactions to a Kingdom response: 'Create in me a clean heart and renew a steadfast spirit within me.'
According to a Faith Bible Ministries blog, 'In both the Old and the New Testament, the word "heart" is used to refer to the whole of the innermost part of the human, NOT merely the emotions.' It is, they say, made of three parts: mental process, emotions and will, with mental process being the major part.
When the Bible speaks about the heart, it doesn't refer to our feelings, but to our power to choose a course of action. To do this, we need to allow God, through His Holy Spirit, to renew and rewire our hearts and our minds.
Remember that when you do mess up — which we all do — it is important to be kind to yourself.
How many times have you had a breakthrough from a time of prayer or revelation, and then, some time later, written it off because you've reacted in an 'old way'?
Although we all have bad patterns of behaviour and reactions that need to be avoided, it doesn't mean that we haven't received freedom in this area — it just means that we need to be aware of what causes these reactions, and have the will and desire to respond differently.
Then, every time something potentially triggers a bad reaction, we need to apply our minds and wills to respond appropriately! But it takes time, patience, practice and grace.
As we practise our responses, pausing and listening to the Holy Spirit for guidance, we eventually rewrite the neurons in the brain to create a new habit. It takes conscious effort but will eventually become second nature.
Back in the boat
So, as the boat plunges towards the vast, swirling rush of water, you cling on tight to Jesus. The wind ruffles your hair and the water sprays your face.
You don't know where you are going.
But it doesn't seem to matter.
But you do know that this life — holding on to the One who does know — is exciting, sometimes scary but never boring.
And you realise that there is nowhere else you'd rather be.
Response
As you begin this new year, why not take a moment to ask the Holy Spirit what fears are rooted in your heart? Then lay them before the cross, praying through Psalm 51:10 and receiving God's forgiveness and renewal. Ask Him to show you how you can practise a Kingdom response moving forward.
Make a list of the different ways you've experienced freedom during 2019 and offer a shout of praise to the One who is able, faithful and ever powerful.
Like a snowflake
20 December 2019
The Christmas tree is up. The lights twinkle and you hear the post drop through the letterbox. The postman is busy this time of year. You open a card from a friend that makes you smile. On the front is a snow-covered scene.
Your neighbours are getting ready to watch their small children in the school nativity play. The youngest, you are told, is playing a snowman this year. How things have changed!
The town is busy with last-minute shoppers rushing around to buy gifts. In the big department store, a small girl stops to marvel at all the decorations.
In wonder, she picks up a snow globe and gently shakes it. Her eyes widen and she makes a wish for it to snow on Christmas day — you know, just like in the movies...
While many countries across the globe are experiencing their 'summer', here in the UK — as the nights draw in and the air takes on a crisp chill – the fascination with a 'white Christmas' is all around.
But 'Jesus is the real reason for the season!' I hear you say...
Indeed! And I doubt there was snow in Bethlehem as the wise men and shepherds gathered around the manger to meet the promised King. But what if there is more to the snowflake images that adorn our cards and wrapping paper at this time of year?
Purpose
In Isaiah 55:10-12 (AMP), the prophet uses a snowy image to reveal God's purposes and the promise of breakthrough:
'For as the rain and snow come down from heaven, and do not return there without watering the earth, making it bear and sprout, and providing seed to the sower and bread to the eater, so will My Word be which goes out of My mouth; it will not return to Me void (useless, without result), without accomplishing what I desire, and without succeeding in the matter for which I sent it.
'For you will go out [from exile] with joy and be led forth [by the LORD Himself] with peace; the mountains and the hills will break forth into shouts of joy before you, and all the trees of the field will clap their hands.'
Commentaries have referred to the snow as a symbol designed to denote the fertilising effect of God's truth. The snow can be seen as God's mercy and cleansing — poured out to cover the earth; the rain, a metaphor for revelation.
A snowflake is one of God's most fragile creations, beautifully intricate and unique in design — yet it has purpose. And its purpose is significant enough that God uses it here to remind us of His faithful promise to lead the people of Israel into freedom.
The symbolism of the fragile yet purposeful snowflake is significant when you consider the possible reaction of the wise men when the Saviour of the world arrived as a baby. How could something so small and delicate possibly be the coming King that the prophets had foretold?
Relevance
As Christians today, we have a greater understanding that 'God's ways are not our ways'. We live more than 2,000 years after the death and resurrection of Christ. We know that God's Kingdom is 'upside down' to the world's ways.
By grace, we have been gifted with the Holy Spirit to enable us to 'be the light in the darkness' and we have the Word of God to help us 'take His truth to the ends of the earth'.
Although we aren't looking at a baby in a crib and wondering how He is going to draw people to God, we can still find ourselves questioning how His salvation purposes are going to work out. We can feel small and insignificant when we see the great needs that still exist across the world.
So, we look again at the snowflake.
As tiny and fragile as it is, the snowflake is carefully crafted — intricately woven to be a source of fertilisation. We too are fearfully and wonderfully made and, like the snowflake, have a purpose.
We may not feel as if we can change much by ourselves but, with each faithful surrender, God can do so much more than we hope or imagine. Although one fragile snowflake may not achieve much on its own, when it joins a lot of other snowflakes, it can stop traffic!
Like snowflakes, we can make a big difference if we work together, each one of us simply playing our small part.
Response
This Christmas, why not spend time reflecting on the snowflake, giving thanks that you too are intricately created for a purpose? Ask God to reveal His purposes for your life in 2020. Be intentional in reaching out to others with the love of Christ during this holiday season. Whether in prayer or in deed, remember that together we are stronger.
Called to never-ending prayer
15 November 2019
Inspired by an Arise Walk devotional
In 1979, American composer Dan Schutte wrote the famous hymn Here I am Lord, when one of his friends asked him to write a song for an upcoming ordination service.
With just days until the service, Schutte prayed that God would help him. As he thought about the ordination, he turned to the stories of prophets like Jeremiah, who asked God to give him the right words to say.
Schutte commented, 'In all those stories, all those God was calling to be prophets had expressed in one way or another their humanness or their self-doubt.'
Unbeknown to him, the song, which was eventually published in 1981, would become an inspirational success and would be voted the UK's 10th favourite hymn.
Still calling
Today, God is still calling His followers to bear His light into this world. However, like the prophet Isaiah, we can sometimes question God and doubt our ability to respond.
As MAF serves 27 developing nations — despite the incredible beauty we see in this world, the apparently immeasurable number of creative possibilities and the amazingly faithful people serving overseas – there's no denying the brokenness and hunger, fear and anguish, conflict and need that remain so very real for so much of humanity today.
God is still calling, and he is calling us to never-ending prayer.
1 Thessalonians 5:16-18 (NKJV) tells us to: 'Rejoice always, pray without ceasing, in everything give thanks; for this is the will of God in Christ Jesus for you.'
We need to build a healthy rhythm of continuous prayer.
We may not be able to serve overseas ourselves, but we can all pray for those who do. We can also pray for those whose hearts God is stirring and who may do so in the future. A good place to start is to echo the words of the apostle Paul in Colossians 1:9-12 (NIV):
'We always thank God, the Father of our Lord Jesus Christ, when we pray for you, because we have heard of your faith in Christ Jesus and of the love you have for all God's people — the faith and love that spring from the hope stored up for you in heaven and about which you have already heard in the true message of the Gospel that has come to you.
'In the same way, the Gospel is bearing fruit and growing throughout the whole world — just as it has been doing among you since the day you heard it and truly understood God's grace...
'For this reason, since the day we heard about you, we have not stopped praying for you.
'We continually ask God to fill you with the knowledge of His will through all the wisdom and understanding that the Spirit gives, so that you may live a life worthy of the Lord and please Him in every way: bearing fruit in every good work, growing in the knowledge of God, being strengthened with all power according to His glorious might so that you may have great endurance and patience, and giving joyful thanks to the Father, who has qualified you to share in the inheritance of His holy people in the Kingdom of light.'
The blessing of prayer
How grateful we are when we hear that someone has been praying faithfully for us. It's such a privilege to bring other people to God in prayer and to pray that they discover God's perfect will for their life.
God is a master planner and He has one big plan for the salvation of the world. Within that master plan is an individual part for each one of us to play. Someone once said that God doesn't always call the qualified, He qualifies the called!
It's important to remember that the part each of us has to play will relate to other people. We need each other. Sometimes we cannot move into God's major calling on our life until others have found their place in God's plan.
Response
James 3:17-18 (NIV) reminds us that 'the wisdom that comes from heaven is first of all pure; then peace-loving, considerate, submissive, full of mercy and good fruit, impartial and sincere. Peacemakers who sow in peace raise a harvest of righteousness.
'Let us pray that the quiet yet passionate insistence of God to follow Him will be spoken to men and women whose every sense is receptive.
Pray that they will be filled with the spiritual wisdom and knowledge that will direct them into their part of God's master plan.
Take time to allow the Holy Spirit to bring you face-to-face with God, praying that you hear the same thing that Isaiah heard — 'the voice of the Lord'. Then, having heard His voice, ask God to grace you with the ability to respond with strength and courage; echoing Isaiah by affirming: 'Here am I. Send me!'
The generation game
18 October 2019
In 1971 the BBC launched a new game show, hosted by Bruce Forsyth, in which family members of the opposite sex and different generations worked together to win prizes.
For more than 10 years The Generation Game dominated Saturday night TV. Watching two generations attempting to replicate a designer cocktail dress together, made purely out of bin liners, would have you laughing until you cried!
When generations work together, the world is a better place.
Sadly, the gap between the generations seems to be widening with each new age. Changes in economic stability, educational methods, parenting styles and innovation have created a vast gulf between the different generations. To help bridge that chasm, we need to understand what those differences are and why they exist.
Proverbs 4:7 (NIV) tells us that 'the beginning of wisdom is this: get wisdom, though it cost all you have, get understanding.'
Understanding generational culture
In their quest to examine how attitudes change over time, sociologists have identified six generational groupings.
The first recorded generation still alive is known as the 'Greatest Generation' and consists of people aged 94 and above. These are the men and women who came of age during World War II and played a part in the struggle against fascism.
Next comes the 'Silent Generation', those aged between 74 and 93; a generation that was taught 'to be seen and not heard' and values financial security after growing up during a period of war and economic depression. They have strong family values.
Recognised as linear learners, they know what it means to work hard and respect authority, although they are not keen on change.
After the war there was a surge of births and, as a result, the next generation became known as the 'Baby boomers'. Aged between 55 and 73, they are characterised as individualistic, dominant and competitive. Education is important to them, with retirement seen as a dirty word. Often the most active in church communities, the baby boomers generally prefer leaders who are driven.
'Generation X', otherwise known as 'latchkey kids', are aged between 39 and 54. Known as the most creative of all the generations, Gen Xers tend to use their imagination to play and create.
Seen as resourceful, logical and with problem-solving abilities, they have a tendency to be independent and self-reliant, rather than depending on others. People from this generation generally want authentic and genuine leaders.
Probably the most spoken about and criticised generation is that of the 'Millennials'. Aged between 24 and 38, they are often seen as tough to manage, with an air of entitlement. Because of huge student debt, they stay home longer. But this is also the generation that witnessed the birth of smart phones, instant messaging and the ability to search the Internet.
Millennials are pioneers of the digital age. They love collaboration, are looking for purpose, and want to make an impact. Experience driven individuals, they look for leaders who empower others.
The last generation is 'Gen Z'. Aged between 9 and 23, these are our future leaders. They are digital natives, having lived their whole lives connected. Technology is like oxygen to them — it is everywhere, and it's vital! Incredible multitaskers, they value individual expression and often commit themselves to fight injustice.
Radically inclusive, this generation values equality and acceptance. They want leaders who will enable them to make a difference.
Living intentionally
Understanding enables us to love others well and reflect Jesus to those around us. When we understand the different generations, and what shapes them, we are able to see the treasure in others and champion each other forward into God's plans; prevented from walking in confused and misguided judgement.
Different doesn't equal 'wrong' or less important. 1 Corinthians 12:19-27 (CEV) reminds us why:
'A body isn't really a body, unless there is more than one part. It takes many parts to make a single body. That's why the eyes cannot say they don't need the hands. That's also why the head cannot say it doesn't need the feet. In fact, we cannot get along without the parts of the body that seem to be the weakest...
'God put our bodies together in such a way that even the parts that seem the least important are valuable. He did this to make all parts of the body work together smoothly , with each part caring about the others. If one part of our body hurts, we hurt all over. If one part of our body is honoured, the whole body will be happy. Together you are the Body of Christ.'
Response
Take time to consider how connected you are with people from other generations. What do you understand about how different generational cultures can affect people's behaviour and attitudes?
Think about ways you can reach out to someone from a different generation. Why not ask them to share how God has worked in their lives? (Psalm 145:4)
Ask the Holy Spirit to reveal any unhelpful attitudes you may have towards another generational group. Offer up your repentance and allow God's forgiveness to help you connect with them.
Seeing or Believing?
20 September 2019
Is seeing believing?
Psalm 19:1 tells us that, 'The heavens declare the glory of God; the skies proclaim the work of His hands', while Romans 1:20 notes that, 'God's invisible qualities — His eternal power and divine nature — have been clearly seen, being understood from what has been made, so that people are without excuse.'
Yet many of the people we know, work with, or who live near us or with us, don't believe God exists. Why is that?
2 Corinthians 4:4 says that, 'The god of this age has blinded the minds of unbelievers, so that they cannot see the light of the Gospel that displays the glory of Christ, who is the image of God.'
Fortunately, when referring to God's chosen people in 2 Corinthians 3:15-16, the apostle Paul notes that, although a veil covers their hearts, 'whenever anyone turns to the Lord, the veil is taken away.'
So be encouraged! However resistant people might seem to be, hearts can turn, and blind eyes see. Just as physical sight can be physically restored (MAF planes frequently fly eye doctors and surgeons to isolated areas), so spiritual blindness can also be reversed.
Have you been sharing the Good News faithfully for years but are currently feeling discouraged? Remember Paul's heartening words in Galatians 6:9: 'Let us not become weary in doing good, for at the proper time we will reap a harvest if we do not give up.'
So let's pray more, share more and show love more — tailoring our message to the needs of those around us so that friends and family might finally see God's glorious light.
The Gospel of Matthew contains frequent instances of Jesus' sight-restoring miracles (9:27-28, 11:4-5, 12:22-23, 15:30-31, 20:30-34 and 21:14). But although healing blindness was easy for the One who gave human beings their sight (Exodus 4:11), for those who saw the miracles but were spiritually impaired, the ability to realise the significance of what Jesus was doing proved far harder.
In John 9, Jesus healed a man blind from birth by making some mud with His saliva and putting it on the man's eyes — enraging the Pharisees because He did so on a Sabbath. But their violent reaction only proved that the religious authorities of the day were 'blind guides' (Matthew 15:14, 23:16, 23:24).
In what ways, I wonder, are we blind?
How often do we only see what we want to see and avoid noticing anything we don't, whether it's a homeless person on the street, a church member in distress, a potential problem we'd rather not acknowledge, or something we don't want to hear?
Do we wilfully close our eyes to the legitimate needs of those around us? Is our focus fixed on God and His glory, or is it directed on us and our self-centred desire for self-advancement?
Do we seek His face or fix our eyes on that which is shameful, unseemly or unsightly by looking at things on TV or online that we know we shouldn't?
Are we blind to Jesus' call to take up the cross and be His disciples? Blind to the things Jesus is doing in the world? Or blind to the effect — consciously or unconsciously — that our words and actions might be having on others?
As the 16th century dramatist John Heywood once noted, 'There are none so blind as those who will not see. The most deluded people are those who choose to ignore what they already know.'
But God knows. He sees. Nothing is hidden from Him! So, let's ask Him to remove any spiritual blindness we might have so we can serve Him wholeheartedly.
Life is fleeting, so let's make it our goal to live lives that not only glorify God, but which mean — when we finally see the Lord face to face — that we won't be ashamed to look Him in the eye.
Response
Are we turning a blind eye to the sins Jesus is highlighting in our lives – things we know we need to stop doing? Let's call upon His strength and His Spirit to help us make the changes we need.
How do we view our fellow brothers and sisters in Christ? Do we treat them as well as we should, and look out for them as we ought? If not, let's ask God's forgiveness and ask Him to help us love and support them better.
Finally, let's fix our eyes on Jesus, the pioneer and perfecter of our faith (Hebrews 12:2), asking Him to show us the needs of those around us. It could mean sharing the Good News with someone who doesn't know Christ – asking God to open their eyes – doing something for someone who's homeless, unemployed or bereaved, helping the stranger in our midst or supporting a church member facing hard times.
Being present
16 August 2019
Picture the scene.
The school bell sounds and everyone rushes to the door, knowing they have less than five minutes to retrieve their exercise books before heading to the next class. As the heavy-laden students hurry down the long corridor, the headmaster bellows, 'Walk, don't run!'
Walk.
Don't run.
I remember the time a few years ago that God spoke the same words to me.
I saw a picture of me walking through a garden, amazed at the rainbow of colour exhibited in the flowers — the symphony of birdsong dancing around as I let the fresh breeze on a summer's day catch my breath. God explained that, when we run through life, we miss the fragrance of the flowers around us. We tune out the song of His creation.
Like many of us, I didn't pay heed to this wisdom. I continued to rush through life from one task to another — finding my value in what I did and missing the truth of who I am as a child of God. That was until recently.
Two months ago, I had an accident.
A fall down the stairs resulted in a fractured leg and an enforced time of rest. I couldn't walk let alone run for nearly seven weeks. As I write this, I am still recovering, hobbling around with a big boot and crutches. As it stands, I don't know when I will be 'up and running' again.
But — and it may sound crazy — I'm so thankful for this season.
Don't get me wrong, the first couple of weeks passed in a haze of intolerable pain, frustration and painkillers. I haven't slept properly for the last two months and I miss being in the MAF UK office.
But I've discovered a sense of stillness that I hadn't experienced before, together with the realisation that it is okay to just 'be'. Psalm 131:2 captures it like this: 'I am humbled and quieted in Your presence. Like a contented child who rests on its mother's lap, I'm Your resting child and my soul is content in You' (TPT).
I don't think for a moment that God was behind the accident, but I do know that He has used this time to shape me and do some heart surgery along the way.
As I work from home with the doors open, I notice the different voices of bird song. I can now tell the difference between a pigeon, a blackbird, a sparrow and a parakeet.
I'm thankful for the little things. I celebrate the small wins.
After weeks of having to remain downstairs, I'm now able to navigate the stairs on crutches. My progress is laboured and it's slow going as I purposefully fix my attention on every step. There can be no distractions. Through this, I'm learning to be truly present.
I watch the cat as he sleeps peacefully beside me and thank God for my little companion.
I read the Bible with new insight, pondering on the words and the message, giving thanks for the Holy Spirit who brings life and revelation. And I pray.
It's interesting how, when you're less busy, your eyes are opened to the needs around you. There's so much brokenness in this world and, although some of us may live with physical restrictions, we can always pray.
I've discovered that the sun doesn't go away just because it's behind a cloud, that vulnerability is powerful as we admit our weaknesses and allow God and others to step in, and that you can be in a room with someone and miss them completely when you're busy or distracted.
I realise afresh that God made me for Himself. Any 'works' I do in His name, although important, are only effective if they're based on my intimacy with Him. If I don't have time for that, then I am getting it all wrong.
Psalm 46:10 tells us, 'Be still and know I am God' and I thank God for how He has revealed Himself again to me in this season. I praise Him for revealing who I am, and I pray that what He has done in me will become rooted and strong even when life gets busy again.
Response
Time. Take time to reflect on how good you are at 'being present'. Ask the Holy Spirit to reveal ways in which you can adjust your lifestyle to make time to 'walk through the garden and smell the flowers'.
Ponder. Reflect on the different seasons through which we pass. What did each season teach you? How can you take that learning into the next season?
Pray. Ask for eyes to see 'who is in the room with you' and how you can pray for, encourage or help them.
Give thanks. Find something to give thanks for each day. If you are in a season where life feels restricted, celebrate the small wins, praise God, and be kind to yourself.
Be still. What spiritual habits can you form that will help you be still and know God more deeply?
Hearing God
19 July 2019
God, being God, can speak to us in a number of ways: through His voice (Isaiah 30:21, John 10:27), His Word (Romans 10:17, 2 Timothy 3:16-17), His Son (Matthew 7:24, Hebrews 1:1-2), and through the Holy Spirit (John 14:26, 16:13-15, Acts 8:29).
He can speak through Christian friends and faithful preachers (1 Corinthians 2:12-13, 1 Thessalonians 2:13), creation (Romans 1:20, Psalm 19:1-2), and by giving us guidance and instruction (Psalm 32:8,48:14, 73:24).
But our loving heavenly Father isn't some kind of celestial chatterbox. He chooses to tell us what we need to know when we need to know it; doing so in a way that's most helpful to us, and is true to His Word.
Nor will He keep communicating with us if we have no intention of listening — or obeying! So it's important we heed His still small voice (1 Kings 19:12) and the inner conviction He so graciously gives us.
An Irish Christian I once knew told the story of how he used to leave his office by the same route each day to reach his car. One day, however, he felt God prompting him to go a different way — one that was less direct and would take longer.
It didn't make any sense to him but, keen to avoid the possibility of being disobedient, he took the long way round. A few seconds before he reached his car, there was a massive explosion. If he'd arrived at the car park any earlier, he'd have been caught in the blast and probably died.
However, because subjective inner impressions can sometimes be wrong, the most reliable way to hear God is clearly through His Word. Regardless of the way He chooses to reveal Himself, God will never contradict what it says in the Bible, and any message we receive will always be for our eventual blessing and His glory.
How many of us, having been through a particularly difficult period, whether it's bereavement, unemployment, ill health or a failed relationship, have heard God 'speak' through a particularly timely church sermon?
In one case, a series of talks about having a 'small faith' (Luke 17:6) contrasted Christians who, due to devastating or debilitating circumstances, now had 'small' or 'little' faith, with non-Christians who didn't have any assurance whatsoever. Later, an embattled couple stood up in church and explained that the sermon series had been a spiritual lifesaver.
A quick tour of the Bible shows that, through the ages, God has used a variety of ways to communicate.
He conversed with Adam in the garden (Genesis 3:9-12), told Noah to build an ark (Genesis 6:13-22), used a vision to promise Abram a son (Genesis 15:1-4), appeared to Moses in a burning bush (Exodus 3:3-6), spoke to Jacob and Moses face to face (Genesis 32:24-30, Exodus 33:11), talked to Balaam through a female donkey (Numbers 22:28-30) and communicated with Jonah when he was swallowed by a big fish and lost the plant that originally sheltered him (Jonah 1-2, 4:6-11).
In the New Testament, Zechariah and Mary received a life-changing message from an angel (Luke 1:11-20, 1:26-38), while the Magi were directed by God through a star (Matthew 2:1-2).
Joseph, like his Old Testament namesake, was shown what to do through various dreams (Matthew 1:20-24, 2:13), though Matthias was added to the 11 apostles by using lots (Acts 1:26).
Although Jesus' disciples and contemporaries could hear an audible voice (Matthew 17:5-5, Mark 1:10-11), as did Saul and his companions on the way to Damascus (Acts 9:3-7), Ananias received a vision which directly related to Saul's (Acts 9:10-12); an experience similar to that of Cornelius and Peter (Acts 10:3-20).
The One who spoke the world into being is a divinely effective Communicator — the above examples showing just a few of the ways He's communicated with His people.
The living Word, in His infinite love and mercy, has used a host of meaningful and creative ways to convict, challenge, exhort, warn and guide.
His thoughts are not our thoughts, neither are our ways, His ways (Isaiah 55:8). So, like the Berean Jews in Acts 17:11, we need to check everything alongside Scripture as we seek to follow our Saviour heart and soul — listening for His voice in any way that's consistent with His Word.
Response
How do you hear God 'speaking' to you? List the ways you experience God's guidance and consider the last time you 'heard' His voice. If it was some time ago, why not pray for fresh guidance, reassurance, challenge or reproof?
Do you need to make an important decision and aren't sure what to do? Turn to the Bible for direction, recall the wisdom and principles laid out in Scripture, pray with friends, seek godly advice, and pursue God's will through prayer and fasting.
Re-read the story recounted by the Irish office worker during The Troubles in Northern Ireland, then consider how important it is to heed God's prompting. What might have happened if he hadn't? What can we learn from this?
What does it mean to be a friend?
21 June 2019
I wonder what sort of thoughts and feelings come to mind whenever you hear the word 'friend' or 'friendship'?
Chances are, they'll probably be pretty positive — whether you're thinking of 'man's best friend', 'our feathered friends', 'a friend in need is a friend indeed' or 'any friend of yours is a friend of mine'!
The wrong kind of friend, of course, can be bad for us.
1 Corinthians 15:33 tells us 'bad company corrupts good character', while James 4:4 warns, 'Don't you know that friendship with the world means enmity against God?'
So it's important we choose wisely, seeking people who will come alongside us, encourage us and — where necessary — challenge and rebuke us. People who will draw us closer to God.
'A friend loves at all times,' says Proverbs 17:17, 'and a brother is born for a time of adversity.'
In 1 Samuel 20, we see the sacrificial friendship between Jonathan and David — a relationship that sees Jonathan willing to relinquish the throne to his friend David and risk his own life by opposing his father King Saul. Jonathan even gets a spear thrown at him for his trouble (1 Samuel 20:33).
Though Job's friends didn't exactly get it right, they did at least go to comfort him after Job lost his cattle, servants, sons and daughters, and was himself afflicted with painful sores (Job 2:11-13).
In Daniel 1-3 we see how Daniel and his friends encouraged one another through their commitment to the living God, while Abraham and Moses had the awesome privilege of being known as God's friends (2 Chronicles 20:7, Exodus 33:11).
Relationships can of course ebb and flow. Sometimes we feel carried by our friends' love and concern and are buoyed up by the relationship. But sometimes it seems as if, Jonah-like, we've been thrown overboard and end up washed ashore; beaten and battered by the breakers buffeting against us.
But what should biblical friendship look like?
According to Scripture, friends rejoice in our good fortune (Luke 15:6-9), strengthen one another (2 Corinthians 12:19), speak lovingly to one another (Philippians 4:1), encourage one another (1 Thessalonians 5:11) and exhort one another to abstain from sinful desires and make every effort to be found spotless, blameless and at peace (1 Peter 2:11, 2 Peter 3:14).
They rebuke and advise one another (Proverbs 27:6 and 27:9), comfort one another ('Dear friends, do not be surprised at the fiery ordeal that has come on you to test you', 1 Peter 4:12, NIV) and stimulate one another to wholesome thinking (2 Peter 3:1).
But what if a friendship has gone wrong and someone has let you down and you're feeling sad, lonely, forsaken or betrayed? Jesus knows. He loves you. He sympathises with you. He's been through it Himself.
At Gethsemane, Jesus was betrayed by Judas and abandoned by His closest friends (Mark 14:32-50). The writer of Psalm 41:9 also knew rejection: 'Even my close friend, someone I trusted, one who shared my bread, has turned against me.' The loss of friendship or a friend's betrayal can be extremely painful.
The good news, however, as Hebrews 13:5 so powerfully reminds us, is that God will never leave us nor forsake us. He is a true friend — with Jesus offering the ultimate example of what true friendship should look like. John 15:13 tells us, 'Greater love has no one than this: to lay down one's life for one's friends.'
By doing exactly that for us on the cross, Jesus not only showed the kind of love and friendship He has for us — His friends — but the kind of love and friendship He expects us to show others.
Response
Perhaps you're feeling neglected or rejected. Take it to God, who knows, cares and will never let you down. Matthew 11:28 says, 'Come to me, all you who are weary and burdened, and I will give you rest.' Whatever your hurts, concerns or upsets, take up His offer right now! Then, strengthened by His support, share that love with others.
'Everything is permissible, but not everything is helpful. Everything is permissible, but not everything builds up' (1 Corinthians 10:23, ISV). Take a moment to examine the various relationships that are part of your life. Ask yourself if all your friendships are helpful, beneficial or, in the immortal words of the popular author Jerome K Jerome, 'worth the name'. Are there any challenging, unhelpful or demanding friendships that you need to pray about, lay down or relinquish for the sake of the Kingdom? If so, seek God's help to do so now.
Finally, is there a brother or sister in Christ that you'd like to be friends with but are too shy to approach? Be brave and do it now! Sometimes we can take so long to do anything about contacting a potential friend that, when we finally decide to do it, we discover that we have left it too late and they've already moved to another church, job or location.
Understanding culture
17 May 2019
Culture plays an important role in our lives. It influences a person's views, values, hopes, humour, loyalties and concerns. As Christians, it's important that we understand and appreciate the cultural differences of those we encounter — both inside and outside the Church.
The potential for conflict in our multicultural age can be high as we attempt to navigate many differing world views. How we approach these differences determines whether we demolish the walls in someone's heart or help to build them higher.
Misconception or perception?
The need to understand culture isn't limited to society today. As we read God's Word, we should be aware of what the culture was like for those living at that time. A great example of this can be found in the story of the woman at the well (John 4:4-30).
You know the story — Jesus is thirsty and stops by a well in the midday sun and asks a Samaritan woman for a drink of water.
There is so much in this story that doesn't appear in the words alone. By interacting with the woman, Jesus broke three Jewish customs.
She was a woman
She was a Samaritan
Drinking from her cup would have made Him ceremonially unclean.
Traditionally, the Jews despised the Samaritans, who had their own version of the Bible — the Samaritan Pentateuch — and their own temple.
The woman knew that Jesus had broken a number of social taboos and was shocked that He was willing to interact with her in this way. In John 4:9 she says, 'You are a Jew and I am a Samaritan woman. How can you ask me for a drink?'
She knew what it meant to be judged. The reason she'd come to the well at noon, the hottest time of the day, was to avoid the prejudice of a community that viewed her as immoral.
Can you imagine her reaction when Jesus spoke to her? Perhaps she was initially suspicious of His motives. How many times have you experienced suspicion when you've reach out to someone who's different? Someone who feels they might be judged by the Church?
The account in John's Gospel is often regarded as having a dismissive and judgemental tone, when Jesus says to the Samaritan woman: 'You are right when you say you have no husband. The fact is, you have had five husbands, and the man you now have is not your husband. What you have just said is quite true' (4:17-18). But when we understand the prevailing culture, it subtly changes our understanding of the text.
Women at that time were not able to initiate divorce — so the five marriages Jesus referred to indicate that she had either been widowed, abandoned or rejected — making it difficult for her to survive in a patriarchal society without a husband.
When we understand this, we read Jesus' tone a little differently. He didn't tell her these things to make her feel ashamed — He was identifying with her suffering. He understood the painful life she'd led.
His posture was to listen and to understand and retell her story back to her in a way that she had probably never heard before. In doing so He removed the veil from her heart (2 Corinthians 3:14-16) — enabling her to receive the living water He was offering.
He transformed a destructive memory of the past and released her into true freedom and forgiveness.
Having avoided the crowds because of her former life, she became an evangelist who proclaimed the Good News about Jesus — thus benefitting the entire town!
Our tendency to judge others because of stereotypes, customs, fears or prejudices can build walls around people's hearts. Jesus, however, treats people as individuals and accepts them with love and compassion, and we are called to do the same!
Unless we understand where people are coming from, they will never lower their guard and, no matter what we say, pray or do, it will be hard for them to respond to God's love, grace and forgiveness.
A Kingdom Culture
As we gain a greater understanding of the culture we live in and realise how much it influences us and those around us, instead of judging or excluding people, we should find it easier to follow Jesus' example and dismantle the walls that exist in our fragmented world.
Rather than condemning those living contrary to God's ways, Jesus demonstrated a very different set of values. As we look at the way He treated others, it will hopefully reshape the way we engage with those we meet.
Jesus reached out to the people His contemporaries attempted to avoid. So let's follow His example by crossing cultural divides and looking for God's image in the faces of others.
As we humble ourselves, being quick to listen, slow to speak and slow to react to those with a different world view to ours (James 1:19), we get a little glimpse of heaven on earth, and experience the love of Jesus in a whole new, mind-blowing way!
Divine comedy
19 April 2019
Christians are not known for their sense of humour. We are often viewed as judgemental killjoys; party poopers rather than the life of the party.
This, despite the efforts of comedians such as Harry Secombe, Adrian Plass, Tim Vine, Milton Jones and Paul Kerensa.
It's a shame! We are called to be Jesus to people, and I believe that the Son of God was the very opposite of a dour and humourless son of man. Instead, I imagine that He was fun to be with, charismatic and full of joy.
God created us in His image, so it stands to reason that, if we have a sense of humour, God must have one too.
Don't believe me? Try watching a nature documentary with a straight face; proboscis monkeys with their long pink noses, penguins waddling along an ice shelf, birds of paradise performing their comical mating dances. Goodness gracious, just look at the duck-billed platypus!
Laughter is a gift from God. It brings joy to the heart (Proverbs 17:22) and is proven to have health benefits. If you don't believe me, please read it here.
A tense situation can often be softened through the use of humour. Being able to laugh at ourselves keeps us humble.
Not all jokes are funny and not everything funny is good — there's a big difference between laughing with people and laughing at them. But, as children of God, we should be known for our commitment to good humour, laughter and the spreading of joy.
I referred earlier to Jesus' use of humour. You may not have noticed it, and I certainly hadn't until recently. I was raised to read the Gospels with reverence but, in doing so, I missed some of their lightness.
Unfortunately, the translated words we read have lost some of the nuance and light-heartedness that appear in the original language.
However, when Jesus spoke to people in first century Judea and Jerusalem, he used puns, wit, irony, hyperbole and a variety of humorous effects.
Take the comic image created by Jesus of a man with a plank in his eye trying to remove a speck of dust from somebody else's (Luke 6:42).
Admire the wordplay involved in Jesus' comments about straining out a gnat ('galma' in Aramaic) while swallowing a camel ('gamla') in Matthew 23:24.
Enjoy the exaggeration Jesus employed when telling the story of a servant in Matthew 18:23-34 who owed his master 10,000 talents (about 200,000 years' worth of wages for a day labourer); a truly vast sum!
Appreciate the tongue-in-cheek pun Jesus used to provide Peter with the nickname 'rock'. (Although the impetuous Peter was hardly like the highly focused wrestler turned actor Dwayne 'The Rock' Johnson, the Greek word for Peter meant 'rock'.)
Even the Pharisees were stumped when they heard Jesus' reply to their question about whose authority He was under (Luke 20:1-8). You can almost hear the laughter from the crowd listening to His clever response.
Okay, so Jesus wasn't dropping one-liners and puns in every sermon. He hadn't been trained to start each talk with a humorous anecdote to warm up the crowd. Yet there's no denying that Jesus knew how to use subtle, funny and yet probing humour to engage with people.
An MAF pilot recently recalled how he had been taught to treat flying as a serious business. Quite right too! Attention to detail, single-mindedness and focus are key requirements for our staff.
However, in focusing so intently on this, he had neglected the counsel he'd been given to connect with the people in the communities he served. One day, he landed on a jungle airstrip in Ecuador and decided to tell some jokes. But he soon realised that what is funny in the USA doesn't work well in the Amazon jungle. Here, in his own words, is what happened next:
'While weighing cargo bundles to load, I grasped a two-pound package.
'Instead of lifting it, I pretended to strain, shake and groan as if it was stuck to the ground. Finally, panting, I let go and declared it too heavy for me. "I need help!" I said.
'I surveyed the crowd and asked a kid to load it for me. When the child lifted the parcel, I picked him up and carried both to the plane. After he placed it inside, I set him down, saying, "I couldn't have done it without you!"
'The kids whooped. The adults guffawed. In their eyes, I suddenly morphed from sky wizard to human being. As I tried variations at other villages, my prayer became that the open door crack they could now peer through would reveal Christ's light shimmering on the other side.'
As we pray, let's do so joyfully!
Let's be known as 'funny Christians' for the right reasons. Let's spread the joy of the Lord wherever we are and with everyone we meet.
The path to forgiveness
15 March 2019
'Blessed is the one whose transgressions are forgiven, whose sins are covered' (Psalm 32:1).
Have you ever fallen out with someone? Perhaps you've been wronged and hurt by this person. If they are close to us — a family member, close friend or perhaps a fellow believer — it can sting all the more. Or maybe it was you who brought about the offence?
Either way, our natural reaction can be to withdraw from that person — to distance ourselves. We can become disillusioned and angry, or guilty and fearful.
The Bible places great importance on the need to bury the hatchet and reconcile with those who have wronged us.
This may be easier said than done sometimes.
We wrestle with feelings of being mistreated and fear that they will do it again. We may have the urge to let them know how they have offended us.
If this is the case, we need to advance with caution. Often, it's better to take our hurts and grievances to the Lord rather than the person who's offended us.
Sometimes the best thing for us to do is turn the other cheek (Matthew 5:39) and forgive and forget as many times as is necessary (Matthew 18:21-22), rather than pouring fuel on the fire and bringing up every offence that our friend, family member or fellow believer has committed against us.
Before doing anything, ask God what He would have you do.
There are times when, rather than causing an unnecessary confrontation, the best thing we can do is take our pain to the Lord in the privacy of our home (Matthew 6:6), asking for grace, mercy and the ability to forgive.
'Blessed are the peacemakers, for they will be called children of God,' says Jesus in Matthew 5:9, and there are enough conflicts raging throughout the globe – many in countries MAF serves — without our throwing caution to the winds, adding fuel to the fire, and kindling yet another!
God's people should be careful not to speak out when situations don't demand it, the Lord doesn't require it and Scripture doesn't command it.
When Matthew 18:21-22 talks about forgiving those who sin against us 'not seven times, but seventy-seven times', this not only includes wrongs caused by 'repeat offenders' but our need to stop reciting, recalling, reliving or repeating offences that may only have occurred once.
'If it is possible, as far as it depends on you,' says the author of Romans 12:18, 'live at peace with everyone.'
'What causes fights and quarrels among you?' asks James 4:1-2, 'Don't they come from your desires that battle within you? You desire but do not have, so you kill. You covet but you cannot get what you want, so you quarrel and fight.'
The warning in 1 John 2:11 is equally sobering: 'Anyone who hates a brother or sister is in the darkness and walks around in the darkness. They do not know where they are going, because the darkness has blinded them.'
In life, being able to see clearly is obviously necessary for both our physical and spiritual survival. It's not just the Pharisees and teachers of the law referred to in Matthew 15:14 who, like the blind leading the blind, can end up falling into a pit.
Joyce Meyer sums it up when she said, 'Harbouring unforgiveness is like drinking poison and hoping your enemy will die.'
Although there may be times when it's appropriate to confront the 'guilty party', if we can't be sure our motives are pure or the relationship will endure, then we should bite our tongue and swallow our pride rather than bite the bullet and start a conflict neither side can win.
The poet Alexander Pope once wrote, 'To err is human; to forgive, divine.' Is there someone you know that you need to forgive? By doing so, you'll bring a little bit of heaven to earth.
'Forgive our sins, as we forgive everyone who has done wrong to us. And keep us from being tempted,' prays Jesus in Luke 11:4 (CEV). It's not only a prayer and an encouragement, it's a command.
Response
The Bible calls us to be peacemakers. What do you think this might look like in your own life? Is there anything you need to do to 'make peace' and resolve things with someone?
If someone's actions have left you feeling hurt or angry, take it to Jesus. If appropriate, ask Him to change your heart — and theirs — in private. (It's sometimes better to avoid a fruitless confrontation that will only yield bad fruit and leave a nasty taste in your mouth.)
Wherever you are, whatever you're doing, conflict will be raging throughout the world among different tribes, races, people groups, religions and political groupings. Pray for peace, forgiveness and reconciliation. Pray that God's Kingdom will come, and His will be done, on earth as it is in heaven.
An audience of One
15 February 2019
How many times have you found yourself making mistakes that have been caused by trying to impress others?
Do you experience anxiety as you worry about the effects your actions will have on people?
The desire or need to be acknowledged and 'seen' can be so deep-rooted that we find ourselves striving and competing in a way that not only becomes intense but is exhausting and unobtainable.
This description may seem a bit strong, but please bear with me.
An Internet search for 'An Audience of One' will result in post after post which tell us that, as followers of the Lord Jesus, we are supposed to be most concerned about what God thinks.
In Galatians 1:10, the apostle Paul describes a true servant of the Lord as being someone whose supreme desire is to please God rather than being popular with men — something people often try to do by using flattery or through watering down the Gospel.
He writes, 'Am I now trying to win the approval of human beings, or of God? Or am I trying to please people? If I were still trying to please people, I would not be a servant of Christ.'
We know we should be like this and pray that we'll be like this, but are we living like this?
Western culture, social media and reality TV all create the subconscious belief that our daily lives are just a performance. Our self-esteem can revolve around how many likes we receive for our latest online comment or update — the insidious whisper of comparison weakening our sense of identity and worth.
Although we are part of the Body of Christ, we may also be affected. Within our Christian communities we can still wrestle with the need to live up to the expectations of others.
Even in the workplace — whether Christian or secular — although we want to do everything for Jesus, objectives, deadlines and outcomes can become our focus instead of the One we are called to worship. We can easily fall into a performance mode that unfortunately turns our attention away from the living Lord.
So it's important we properly consider the question, 'Who are we really living our lives for?'
Perhaps it would help to define what living for an audience of One looks like.
First, it requires a deep intimacy with Jesus. Time with the Lord in the secret place is non-negotiable. It is when we are hidden in Christ that we discover His unrelenting mercy and grace (Hebrews 4:16).
Our hearts are captivated by His unfailing love (Psalm 36:5-7). Our identity is changed as we become rooted in the fact that we're a new creation (2 Corinthians 5:17).
Second, we gain understanding. It is out of intimacy with Jesus that we can, without condemnation (Romans 8:1), discover the hurts in our heart that can cause striving and low self-worth. We have to be intentional in pressing into the reasons that cause us to walk in mistrust or build up walls of defence.
It is through divine revelation that we find ourselves convicted of our need to repent and are able to lay down our hurts and receive healing and restoration.
Third, we understand the value of hidden service. It's so easy to measure our significance against worldly standards. We equate it with immediate results and recognition. We can overlook the potential God has placed in our everyday life — the possibility for every conversation, interaction and opportunity to speak life and encouragement into someone else's situation.
By looking to God, we can discover areas that need to be covered in prayer and situations where spiritual warfare is vital (Ephesians 6:12).
Living our lives for an audience of One allows us to walk securely (Proverbs 10:9), speak freely (2 Corinthians 6:11) and act justly (Micah 6:8). Instead of being conformed to the pattern of this world, the way we think is renewed (Romans 12:2) as we pour ourselves out for His pleasure — knowing we are part of the bigger picture that His plans and purposes provide (Psalm 33:11).
Response
Take some time to sit before the Lord and contemplate who your audience is. Ask Him to show you a time when you may have 'performed for the audience of men' and tell God you are sorry for taking your attention from Him.
Perhaps you might benefit from taking the time to work through past hurts that may underline your need for man's approval. Although it's not easy, it is definitely worth it! (John 8:36 tells us, 'If the Son sets you free, you will be free indeed.')
Why not speak out this popular prayer written by Presbyterian minister Dr Lloyd John Ogilvie: 'Secure in God's love, I will not surrender my self-worth to the opinions and judgements of others. When I am rejected, I will not retaliate; when I am hurt, I will allow God to heal me. And knowing the pain of rejection, I will seek to love those who suffer from its anguish.'
Becoming
18 January 2019
'If God is the great longing of our soul, He will become the pulse of our very being' (Alan Poole)
Throughout the Bible are foundational values that we are urged to adopt into our everyday lives. We can study The Sermon on the Mount (Matthew 5) and The Ten Commandments (Exodus 20) and 'know' how we, as followers of Jesus, should behave. But is 'knowing' them enough?
Studies have shown that learning values alone isn't enough to see a deep commitment to living them out. Children may 'know' that lying is wrong, but when asked if they have done their homework, they will lie about losing it rather than get in trouble with their teacher.
King David 'knew' that adultery was wrong but, once Bathsheba was pregnant, he called her husband Uriah home in the hope that people would think Uriah was the father. Uriah refused to leave his post and go home, so David, knowing Uriah would be killed, ordered that he be sent to the front line. He went from adulterer to liar to murderer in his attempts to cover up his wrongdoing (2 Samuel 11).
But wasn't this the same David that was referred to as a man after God's own heart (1 Samuel 13:14; Acts 13:22)? So what was it about David that caused God to refer to him in this way?
He believed. He recognised he needed God (Psalm 23).
He trusted. His focus when facing Goliath was not the size of his enemy but rather on the promise and power of God (1 Samuel 17:45).
He sought the Lord with both his praise and despair (Psalms).
He repented. His choice to give into the passing pleasure of sin displeased the Lord (2 Samuel 11:27). When confronted with what he had done, David humbled himself and cried out to God in repentance (Psalm 51:10).
Though David faced the consequences of his sin for years to come, he continued to devote himself to the Lord through praise, worship and adoration. God became the great longing of his soul.
Although our struggles may not be as headline as David's, they still carry the danger of putting a wedge between us and Jesus. Cultural pressures such as double mindedness, impatience, conflict, busyness and materialism can influence all our actions.
Social media, photo filters and celebrity blogs constantly challenge our identity and self-esteem as everything we look at reminds us of our less than perfect reality.
The very real dichotomy between the blessing of online connection and our modern-day epidemic of loneliness screams loudly for the need for wisdom and discernment. The narrow road is narrow for a reason. It requires conscious awareness to stay on track.
One of the finest lines we dare to tread is between living a godly life and falling into judgement of those that don't. It didn't work for the self-righteous Pharisees, whose hypocrisy blinded them from seeing their need for repentance and a Saviour. The words of Matthew 23:25-28 (NIV) act as a harsh warning to us all:
'Woe to you, teachers of the law and Pharisees, you hypocrites! You clean the outside of the cup and dish, but inside they are full of greed and self-indulgence. Blind Pharisee! First clean the inside of the cup and dish, and then the outside also will be clean.
'Woe to you, teachers of the law and Pharisees, you hypocrites! You are like whitewashed tombs, which look beautiful on the outside but on the inside are full of the bones of the dead and everything unclean. In the same way, on the outside you appear to people as righteous but, on the inside, you are full of hypocrisy and wickedness.'
Response
So how do we come to a place of deep commitment; authentically and vibrantly living the life to which He calls us?
John 14 reminds us of the promise that God will send a helper, the Holy Spirit, who will be with us forever and teach us all things. It is not by might nor by power, but by His Spirit (Zechariah 4:6) that we walk the narrow road. Why not invite the Holy Spirit to fill you afresh – awakening your spiritual eyes and ears to His promptings?
Practise spiritual disciplines. Richard Foster in his book Celebration of Discipline says this: 'Whilst we are saved by grace, God has given us the disciplines of spiritual living as a means of receiving His grace, they allow us to place ourselves before God so that he can transform us.' Why not make the space to just be still before the Lord, meditating on His goodness and making the time to hear Him speak? It is amazing how we see differently when we stop looking through the lens of distraction.
Study the Word of God – don't just read it. Allow the Spirit of God to speak into your life through the Scriptures. Check out some commentaries or other study books.
Reflect. Take the time to honestly reflect on your day. What promptings of the Holy Spirit did you miss or ignore? Ask yourself why? Is there an underlining fear or hurt blocking you from responding?
Repent. Matthew 3:2 commands us to 'repent, for the Kingdom of heaven has come near'. Keep short account with yourself. David was grieved that he had sinned against God but, rather than run and hide, he turned towards God in repentance and received forgiveness.
As we seek God first and allow Him access to our whole heart, we find ourselves being transformed, becoming all that He calls us to be. Oswald Chambers, in his book My Utmost for His Highest warns that, 'The most important aspect of Christianity is not the work we do, but the relationship we maintain [with God] and the surrounding influence and qualities produced by that relationship. That is all God asks us to give our attention to, and it is the one thing that is continually under attack.'
A moment to ponder
21 December 2018
'But Mary treasured up all these things and pondered them in her heart.' Luke 2.19
Unlike the Queen's speech, the Christmas story is the same every year. We all recognise the manger, the shepherds and the kings. We read the Gospel accounts, sing the hymns and re-enact the story.
Is there a danger that we can become so focussed on the circumstances of the birth of Jesus that we fail to be impacted by the power of His incarnation? How do we ensure that the wonder of this transformative event doesn't become dulled by familiarity?
One way is to learn from the mother of Jesus. When she heard the shepherd's tale of angels filling the sky and declaring God's plan of salvation for the world, she didn't throw a party or rush to the synagogue to make sacrifices. She simply treasured these words and pondered them in her heart.
I like to think of pondering – some may use the term reflecting or even meditating – as similar to making a good cup of tea.
If I am in a hurry, I will throw a tea bag in a cup, pour on some boiling water and squeeze it with a spoon. However, to fully appreciate the flavour, I know I need to place loose tea leaves in a teapot, add water and let it steep. This way the leaves are allowed to fully expand, giving a richer and more nuanced flavour. It may take a little longer, but the results will be worth the effort.
It's funny that we are prepared to tarry over a good cup of tea, while finding it hard to make time for the greatest story ever told to steep in our lives.
How often do we consciously sit and ponder as Mary did? It's easy to find excuses. Mary didn't have a full-time job. Mary didn't have family coming to dinner. Mary didn't need to do the flowers for Church on Christmas day. Mary didn't live in the hectic world of 2018...
But, just like Mary, we have 1440 minutes available each day and the freedom to choose how we use them.
Personally, I find it no trouble at all to find time to go for a run, to watch football, or to meet up with a friend. Yet time to sit in God's presence always seems to get squeezed out – or ends up with me falling asleep.
This year my prayer for myself, and for you, is that we will find time to ponder. To follow Mary's example of treasuring God's blessings in our hearts.
A few years ago, I was in Snowdonia National Park in North Wales. I'd travelled there with my camera to try and capture the beauty of the scenery on a crisp winter's day. As Idrove along the narrow lanes, dry-stone walls criss-crossing the landscape, I spotted a placid lake. There on the surface of the motionless water was a perfect mirror image of the mountains and trees.
Hours later I returned to find that the wind had picked up and disturbed the water. The former clear image was distorted and marred preventing a clear image.
When we allow the waters of our lives to still, it enables us to enter that place where we can 'see' God more clearly.
The Psalmist says: 'I remember the days of old; I meditate on all that you have done; I ponder the work of your hands.' Psalm 143.5 (ESV) It is good for us to follow this example.
Merry Christmas
We hope this devotion has given you something to ponder this Christmas, and that you can slow down and find time to steep in the wonderful news of Jesus' birth in the coming days. From all of us here at MAF UK, we wish you a peace-filled Christmas and a wonderful New Year!
Being intentional
16 November 2018
Do you believe you were created for a purpose?
Ephesians 2:10 (NIV) tells us that 'we are God's handiwork, created in Christ Jesus to do good works, which God prepared in advance for us to do.'
The Contemporary English Version goes further, saying, 'God planned for us to do good things and to live as He has always wanted us to live. That's why He sent Christ to make us what we are.'
Ponder that for a moment.
If we believe the Scriptures, then it means that our existence isn't accidental or a mistake — that we are all created in the image of God and are called to work in partnership with Him. And we are able to do so through faith in Jesus Christ, who has paid the price for every error we've ever made and every sin we've committed.
We just need to be intentional
But what does being intentional actually mean?
To put it simply, it means being purposeful in word and action. God deserves our best effort!
As Christians, we are called to be the light of the world (Matthew 5:14). But, like every light bulb we use, it needs to be connected and it needs to be switched on — that's the intentional part!
While Philippians 2:13 reminds us that it is God who works in us to will and to act in order to fulfil His good purpose, we do have a responsibility to intentionally engage in His good purposes.
Let's take a moment to ask some pertinent questions about being intentional:
Are we carving out time to not only speak to God, but also hear from Him? It's so easy to go to God with a list of our woes and forget to stop and listen to what He has to say.
Is worshipping God part of our everyday lives? We need to be intentional about worshipping Him in the valley moments as well as the mountaintop ones. In Acts 16, we read how Paul and Silas chose to worship and pray despite being chained, beaten and held prisoner in a dank, dark inner cell. Their intentional worship caused a miraculous move of God: the earthquake came, their chains came loose and the prison doors flew open.
Do we journal? Habakkuk 2:2 reminds us of the Lord giving a message in the form of a prophecy. He instructs the prophet to write it clearly enough to be read at a glance. We also read that, at a time He has decided, God's word will come true. It can be really helpful to have a journal we can write in, look back on, and see how God's power has been at work in our lives.
When we start each day, do we prepare ourselves for service? Do we begin the day by consciously connecting with God — opening ourselves to His purposes?
Are we quick to listen, slow to speak and slow to get angry (James 1:19)? How we interact in our daily lives is a powerful witness of His power at work in us.
Are we wise with our time and commitments? Do we overstretch ourselves with other things? Or maybe we've got into a bad routine and miss the opportunities for connection and service that God has lined up?
Are we intentional with our conversations? Or do we merely wait for someone to come to us?
Are we intentional about learning those Scriptures that combat the enemy's lies? 2 Timothy 3:16 tells us, 'All Scripture is inspired by God and is useful to teach us what is true and make us realise what is wrong in our lives' (NLT).
As Christians, we live with the tension of knowing that nothing is impossible for God, while being all too aware of our faults, failings and fallible human nature. There's a lot we don't understand — illness, death, disaster — and we can be left feeling that God is no longer active; lacking confidence in His power at work in our lives.
Prayer Storm's founder James Aladiran once said, 'We are believers, not feelers.' As followers of Christ, the truth of His death and resurrection has been revealed to us — we've been saved for a purpose (2 Timothy 1:9).
The journey into this purpose is not something that can be achieved overnight. It comes with great opposition. To live an intentional life, it's important to know who you are and, more importantly, whose you are.
It takes intentional obedience.
A word of caution, however. Please be aware of the lie that 'we need to wait until we are ready.' The reality is, we are made ready along the journey.
Remember, our time here is finite. Let's be intentional about how we use it.
Response
Ponder the questions earlier on in this devotion and take time to hear from God, consciously and intentionally fixing our attention on the One who knows the end from the beginning (Isaiah 46:10).
We need to open ourselves to the Lord for a spiritual MOT and ask Him if there is anything we need to lay down, repent of, or if there's anyone we need to forgive. Take a moment to respond to what He says.
Ask the Holy Spirit to help you stay tuned to God's prompting throughout the day, as He opens up opportunities for you to engage with others, bless those in need, and respond to His call.
Finally, give thanks that 'we know that in all things God works for the good of those who love Him, who have been called according to His purpose' (Romans 8:28).
For the sake of the world
19 October 2018
The world we live in is crying out for a move of God like never before! The voice of intolerance, fear and revenge screams out at us today, bringing death and despair.
Throughout the developing world, people are experiencing famine, displacement, war, hunger, sickness and fear — with MAF planes rallying to the call as they bring medical help, food and clean water to countries such as the Philippines, Haiti, South Sudan, Indonesia and Papua New Guinea.
Here in the UK, our towns and cities experience economic insecurity, substance abuse, homelessness and fractured families. The result? Discouragement, isolation and a seemingly endless cycle of hopelessness and resignation.
To see change, we need to pray!
For the Sake of the World is God's idea. It recognises the broader picture of a hurting world in need of God's healing.
It acknowledges the call and promise of 2 Chronicles 7:14: 'If my people, who are called by my name, will humble themselves and pray and seek my face... then I will hear from heaven, and I will forgive their sin and will heal their land.'
There is something significant that happens when the body of Christ unites together, humbly crossing cultural barriers and reflecting the true and beautiful diversity of heaven (Revelation 7).
Something amazing happens when we believe with great courage; fully expecting to see God's promises of restoration, healing, redemption and provision being fulfilled in today's storm-tossed world.
Throughout the Bible, we read stories of humble courage. Elijah confronting the prophets of Baal and praying for rain (1 Kings 18). Moses parting the sea and getting water from the rock (Exodus 14-17). The young shepherd David victoriously facing the fearsome Goliath (1 Samuel 17). The release of Paul and Silas while praying in prison (Acts 16).
As a global mission movement, MAF's 128 light aircraft enable some 2,000 partner organisations in 27 developing nations to reach people in dangerous, remote and isolated areas. So, the question became, 'Why not partner and connect with friends in the UK too?'
On 3 November 2018, we will be hosting the For the Sake of the World mission focused prayer conference, working in partnership with Elim Missions, Prayer Storm, Betty King Ministries, Kingdom Worship Movement and Missio Africanus. It is more than a conference. It is more than any one organisation or group. It's about God's people praying to see the world radically transformed through the love and power of the Lord Jesus Christ.
We are living at a time when God is calling His Church to unite, and it's a call to which MAF is keen to respond.
1 Timothy 2:1 urges us 'first of all', to pray for all people. But the exciting, worship centred, mission focused prayer conference is just the beginning!
In January 2019, we will be launching For the Sake of the World prayer groups. The Bible promises us that where two or three gather together in His name, He is there (Matthew 18:20).
We want to facilitate mission focused prayer in your area, to see godly change happen across the nations. The prayer groups will share the wider prayer needs by working in partnership with other mission groups.
Something takes place when we pray, on our own or with other believers, that impacts the world in which we live — our prayers partnering with God's power.
James Aladiran, leader of Prayer Storm and one of the speakers at the November conference, says that 'prayer is such a vital part of God moving and changing the world.' He is certain that, as we gather together in genuine unity, we can release a sound that will shake the heavens to prepare the way for a fresh wave of missions. Join us! Pray for us.
Response
Whether you can meet with others or pray on your own, the important thing is to pray. Your prayers are powerful and effective (James 5:16).
Ask yourself, 'What am I doing to cross cultural barriers?' Read Revelation 7 and ask God to reveal how you can reflect such diversity in today's world.
Why not set up a For the Sake of the World prayer group, or join one? Perhaps you already meet with other Christians but would like to receive some resources to help inform your prayers. To register your interest or obtain helpful material, please email us.
A life of transition
21 September 2018
The life of an MAF family is one of constant transition. Leaving the UK, serving overseas, home assignment visits, transferring between programmes, moving to a new house, meeting up with family, teams changing, jobs evolving, programmes adapting... the list goes on and on.
These events are often highly stressful and, when experienced over a prolonged period, can lead to exhaustion and burnout if our staff don't have good support mechanisms in place to help them cope.
Of course, you don't have to be a missionary to experience times of transition and change. A new job, marriage, divorce, children, a new church leader, illness or bereavement are all life events that happen to many.
The word transition helps describe the changes that take place in us when moving from one situation to another. You could also call transition a 'time of transformation' or even 'conversion'. Not only do our circumstances alter, but we ourselves are transformed in the process; 'converted' into a new person as a result of our experiences.
Jesus Himself faced periods of change and transformation. The first of these was when He became human and lived among us.
'He made Himself nothing by taking the very nature of a servant, being made in human likeness' (Philippians 2:7).
The next transition took place shortly before Passover. On the road to Jerusalem, the crowds welcomed Him with palm branches, shouting, 'Blessed is He who comes in the name of the Lord!' Later, the people heaped insults and abuse on Him and called for the authorities to 'Crucify him!'.
He died on a cross and was placed in a tomb. Then the greatest transition in history took place. Jesus defeated the grave and returned to life, spending 40 days encouraging His followers and showing that He was alive.
Finally, He returned to His Father in heaven and gave His Spirit to everyone who believed in Him.
When we go through times of transition, let's remember that Jesus Himself experienced the feelings of loss, excitement, grief, joy, uncertainty, anxiety and hope with which we too are familiar.
We read of Jesus weeping in Gethsemane as His role changed from healer and teacher to that of substitute and sin bearer — taking our guilt and sin upon Himself. Imagine the joy and excitement He felt as He reappeared to His family and friends after His resurrection!
Jesus was fully human as well as fully God. He can empathise with us because He has been there too. Through the tears and the laughter, the sorrow and the triumph, He always trusted God — knowing that the future was safe in His hands.
'My Father,' Jesus prayed, 'if it is possible, may this cup be taken from me. Yet not as I will, but as You will' (Matthew 26:39).
He grew up in a small town, working — Scripture implies — as a carpenter. After 30 years of obscurity, He then transitioned into His ministry as Messiah, spending 3 years leading a team of disciples. He eventually stood before the Jewish and Roman authorities, accused of being a criminal and a blasphemer.
Response
Let's seek to see times of change and transition – both good and bad – not as trials to be overcome but as opportunities to be transformed through God's glorious grace.
Praise God in the good times and cling to Him in the hard times, always knowing that transition means change, that change means growth and that, in the end, growth means newness, life and transformation into His likeness.
As 2 Corinthians 3:18 reminds us, 'And we all, who with unveiled faces contemplate the Lord's glory, are being transformed into His image with ever-increasing glory, which comes from the Lord, who is the Spirit.'
Good news!
17 August 2018
The word evangelism can conjure up varying images, depending on our age, experience, culture and personality. One definition of evangelism is 'the spreading of the Christian Gospel by public preaching or personal witness' (Oxford Living Dictionary).
Billy Graham, one of the most famous stadium evangelists of our time, saw large numbers of people profess Christianity — with many of those who responded to his evangelistic 'crusades' recalling the Christian truths they first heard at school.
Today, however, things are different. In the West, we live in what many regard as a post-Christian age. The foundations of Christian belief are no longer taught in schools as a matter of course, although an openness to spirituality and searching has arguably increased.
Telling someone that they are a sinner who needs to repent is possibly less effective because the Church is viewed by many as irrelevant, out of touch or hypocritical. Rightly or wrongly, people today are looking for stories and experiences. Many are hungry for an authentic connection with God. They appear less interested in hearing about logic, proof or reasons for God's existence.
We need to reimagine our approach to evangelism.
Evangelist Luis Palau states that the true story of Jesus Christ is the greatest story ever told. It's a story of eternal consequences, promises of hope, freedom and all that is joyful. Sadly, however, it's a message that's rarely heard in today's world.
It is time that each one of us stepped up and took our own important roles in daily evangelism.
In his book Reimagining Evangelism, Rick Richardson tells Christians that we're all called to partner with the Holy Spirit by journeying alongside others as listeners and storytellers.
Deep down, we all need hope — whether we admit it or not. The problem is that many people have no idea who Jesus is or what He has done for them. Our families, neighbours and work colleagues, says Richardson, are all waiting to be invited on a spiritual journey of discovery through genuine friendship and encounter.
It is truly amazing that God allows us to take part in sharing His love with others. The Great Commission (Matthew 28:16-20) commands us to go and share the Good News. This journey becomes a blessing as we grow in Christ ourselves during the process.
Every part of our walk with Jesus can become a living testimony as we come alongside others dealing with the daily struggles of life. People who've suffered persecution or difficulty, helped the poor or learned to love their enemies can reveal an evangelistic vitality that's contagious.
Corrie Ten Boom, a Dutch Christian who sheltered Jewish people during World War II and survived incarceration in Ravensbrück concentration camp, went all over the world sharing her story. Through it, many people were reached with the good news of Jesus.
Perhaps we're too shy to share our faith or are fearful of being rejected; afraid we'll do it so badly that we'll put others off.
Or maybe we feel we don't have the time or are so busy within our church family that we're unable to connect with anyone outside the Church. Could it be that we've forgotten our original spiritual state and become so used to being saved that we forget what it was like to be lost?
Response
Take a moment to pause and prayerfully think back to what life was like before Jesus entered it.
Consider what we'd be like now without Christ.
Take time to praise God for what He has done in our lives. Let's thank Him for His unfailing love and saving grace in our life. Let's praise Him for His mercy: that, seeing us as we were, He would choose to leave the ninety-nine to find the one (Luke 15:4).
Having recalled who we once were and what we are now (a chosen people, a royal priesthood, a holy nation, 1 Peter 2:9), let's recommit to partner with the Holy Spirit in our every day.
Rick Richardson says that 'if we believed that God is at work everywhere and we're more like a detective discovering clues and a guide sharing wisdom, then evangelism would feel very different.' Let's choose to stay alert and look for God at work everywhere we go.
Finally, ask the Holy Spirit to help us to be good listeners and authentic storytellers. Pray for Him to help us walk alongside others as they move forward in their spiritual journey, discovering together the love, joy and freedom that relationship with Jesus brings!
Great courage
20 July 2018
We often think great courage means bravery, and recognise the courage of those who respond first to disaster.
We acknowledge the soldiers who've served in war-torn countries by giving them awards and medals. We commend the firefighters who risked their lives during the Grenfell Tower inferno that ripped the community of West London apart. And it is right that we do so!
But there are other kinds of courage too.
In her book Courage Doesn't Always Roar, Mary Anne Radmacher writes, 'Sometimes courage is the little voice at the end of the day that says I'll try again tomorrow.'
In the midst of feeling overwhelmed, unqualified, discouraged and fearful, the promise that tomorrow brings another opportunity can breathe life to the flame of courage that we're tempted to feel is almost extinguished.
Another definition of courage is 'fear that has said its prayers'.
Having great courage isn't about the absence of fear, it's about facing that fear and moving forward anyway. Through prayer, we receive from God the strength that we need to persevere, the insight to push through, and the peace to carry on.
Throughout the Bible, God's people are constantly told to 'be strong and courageous'. Courage has always been a necessary quality for His followers.
We see this when Moses demanded that Pharaoh 'let his people go' (Exodus 9), when a young David faced Goliath (1 Samuel 17), when Esther went to King Xerxes without being summoned (Esther 4:10-16), and when Joshua succeeded Moses and led God's people into the promised land.
The same courage can be seen in the New Testament. There's the woman 'who had been subject to bleeding for 12 years' but nevertheless dared to touch the hem of Jesus' garment (Matthew 9:20-22), along with Ananias, the disciple who prayed for Saul's sight after the former persecutor of the Church encountered the Lord on the road to Damascus (Acts 9:10-19).
Courage doesn't have to be dramatic. Today, moral courage — the ability to do the right thing in the face of opposition or discouragement — can take great courage.
In an age where concepts such as integrity, honour, commitment and honesty have become muddled and vague, the way we live out our faith is an essential witness to God's power at work.
It takes great courage for a nurse to offer to pray for the woman who has just been given six months to live.
It takes great courage for the teenager to walk in the ways of the Lord and not submit to peer pressure.
It takes great courage for the single mum, working two jobs to survive, to offer a meal to a lonely neighbour.
It takes great courage to speak to a friend about the freedom found in a relationship with Jesus.
It takes great courage when being persecuted because of your faith, gender or race, to turn the other cheek and love your neighbour as yourself.
It takes great courage for a family with young children to move to war-torn South Sudan to serve in Jesus' name, or to leap over the cultural barriers that prevent the body of Christ from truly standing as one.
It takes great courage to forgive, knowing that the person who has hurt you may do so again.
And it takes great courage to love, and risk your heart being broken.
As followers of Jesus, how we live our lives, deal with disappointment and heartache, and overcome opposition and confusion, can reveal the living God at work today.
It's important that we raise the next generation to recognise what great courage looks like. We need to teach them how to walk bravely in the face of adversity, knowing the One we can call upon when we're scared and feeling weak.
Can I encourage you, when you're faced with fear and disappointment and feel completely overwhelmed, to say a quiet prayer, thanking God for the strength to keep going and remembering that tomorrow's a new day?
'Now all glory to God, who is able, through His mighty power at work within us, to accomplish infinitely more than we might ask or think' (Ephesians 3:20 NLT)
Prayer works
22 June 2018
Almost a year ago in the August 2017 Prayer Devotion, I wrote about the journey God took Paul on in order to get Paul to where He wanted him to be.
It was neither the most obvious nor straightforward plan – by human understanding — but it was nevertheless perfect. At times, it must have felt like the plan had gone wrong, but all the time God was in control.
I also wrote about my own journey and how it also felt like something must have gone wrong, and that I couldn't see the way forward.
Yet, in spite of all that, I knew God was in control and that He would lead me through.
The dead end that my journey appeared to have reached was a period of illness. An illness which left me unable to do very much — with no apparent diagnosis or cure.
But although the doctors didn't know how to make me well, I knew that God did, and would, in His perfect timing.
God knew
So I asked for your prayers, and you prayed! And your prayers joined the prayers of literally hundreds of others from all over the world who'd also prayed.
And all those prayers were later joined by one final prayer. Not a prayer that was more powerful or more important, but one that was ordained by God at just the right time, so that no one could doubt that it was He who had brought about my healing.
That prayer was spoken by Becky, my girlfriend. She realised that, although she had facilitated lots of prayer for me, she had never actually prayed over me herself.
In fact, she easily allowed herself to fade into the background because she didn't feel confident in her own prayers — particularly when surrounded by so many people with greater experience and eloquence.
But one night Becky really felt that God wanted her to pray over me — particularly over each part of my body. And so she did. She didn't pretend to know what was wrong with me, or even to know what to say. But she knew that God knew what to do, and therefore prayed.
Shaking violently
As Becky started to pray, I began shaking violently all over — which is something that sometimes happened with my illness.
She started with my head and she prayed over it. Then she prayed over my neck. Then my shoulders. Then my chest and my back.
Then she prayed over my upper arms and — as she did — I realised that they were shaking less. Eventually, they were completely still. Then she prayed over my forearms, and the same thing happened. And then again with my hands.
Eventually, my whole upper body was still.
My legs, on the other hand, were still flailing around as if they had a life of their own.
So Becky prayed over my thighs, and they became still. And then my calves, my feet and my toes, which also stopped moving. By then, I was completely still, from my head to my toes — for the first time since returning from Papua New Guinea!
Touch of heaven
My season of questioning — of battling the small whisper of failure and of feeling lost — was over, as my body knew the touch of heaven.
God had healed me and brought me from a dead end to endless possibilities. God truly is a God of miracles!
I don't know what God has for me next, but for now I am resting in Him as I regain my strength and wait excitedly for His leading.
Thank you so much for your prayers. Not only because it means an awful lot to me that you would choose to share in my struggle, but because your prayers are powerful!
Please continue to pray for me as I seek to follow God in this new chapter of my life.
Please pray for Joey
Please pray for wisdom as Joey seeks God for His leading. Ask the Lord for clarity and wisdom in this new season.
Ask God to provide Joey with all the patience he needs, as he rebuilds his strength and waits on Him.
Petition the Lord for new and consistent levels of energy for Joey.
Speak freely
18 May 2018
Too often we overthink prayer.
Whether it's for a scheduled meeting, a regular quiet time or a pressing need, many of us know how we should come before God.
Perhaps with hands folded — or maybe stretched out. Perhaps sitting comfortably — or maybe on our knees.
When we approach Him, it's so easy to posture ourselves in ways that seem appropriate. We follow the lead of others or repeat understood patterns to remain comfortable or accepted.
But does it matter? Does God look upon our stance, our expertise or even our words when we come to Him in prayer?
If our hearts are being 'tossed back and forth' by the inevitable waves of life (Ephesians 4:14), why do our prayers flow out calm, collected and composed?
When we utter the same, unanswered plea for the umpteenth time, why do we appear so positive and hopeful when our faith is really in shreds?
If you want to get to know someone, you talk to them. You say what you're thinking, and maybe later delve deeper. And if someone wanted to know you, they would listen, and you'd begin to understand one another.
So why are our exchanges with our heavenly Father so different at times?
God hints about what prayer means to Him in the words of Matthew 6:5-6:
'When you come before God, don't turn that into a theatrical production... Here's what I want you to do: Find a quiet, secluded place so you won't be tempted to role-play before God. Just be there as simply and honestly as you can manage. The focus will shift from you to God, and you will begin to sense His grace.' (MSG)
If you want to know God better, don't cling too tightly to pre-rehearsed lines of prayer which can leave you feeling distant, unchanged and empty.
God longs for us to come to Him just as we are, without polished public prayers, but with hearts of raw, human weakness.
Imagine the thrill of sharing your day with someone who has walked by your side through it; someone who already knows your words before they leave your lips (Psalm 139:4).
Imagine speaking to someone who understands, no matter how easy or difficult it is for your words to flow out.
So why not start sharing your thoughts with God during the day, sometimes out loud and at other times in your head?
Why not come to God in the midst of life as it's happening; uttering your feelings in real time without waiting for the comfort of a special chair or the solitude of an empty room.
God is waiting for you now — even as the world is unravelling through unrest and our minds grapple with countless distractions and escalating demands.
Whether your day has been crushed by suffering or elevated by success, bring Him your anger, sadness or joy. Whisper your thoughts to Him, the One who knows and sees all things.
But wherever you are right now, make sure you come and speak freely before your King as you would to a friend who knows you better than you know yourself.
Response
Take courage
If you struggle to express yourself freely before God, read these words from Psalm 109:1-15, where David is so full of anger, resentment and hatred that he even wishes death upon those who have upset him:
'My God, whom I praise, do not remain silent, for people who are wicked and deceitful have opened their mouths against me... In return for my friendship they accuse me, but I am a man of prayer...
'Appoint someone evil to oppose my enemy; let an accuser stand at his right hand... May his days be few; may another take his leadership. May his children be fatherless and his wife a widow.
'May his children be wandering beggars; may they be driven from their ruined homes. May a creditor seize all he has... May no one extend kindness to him or take pity on his fatherless children... May their sins always remain before the Lord, that He may blot out their name from the earth.' (NIV)
Who knows what God makes of this prayer? Perhaps it's printed in the Bible to show us David's raw, exposed, shameless emotions, and his intimate relationship with God.
Express yourself
Perhaps you're comfortable relating to God intellectually, but struggle to express yourself more creatively to expose how you really feel.
As a short exercise, read a current news story — in print or online — and take a pen and paper. On a blank page, draw a circle in the middle and write the names of a few key people who need God's help in this story.
Around the outside, draw arrows pointing towards or away from them which represent areas where God could provide or remove something to improve their lives.
Now turn the page over, and draw the circle with you in the middle. Then do the same exercise, using words or pictures to describe areas of breakthrough you'd like to see in your own circumstances.
All that lives forever is love
20 April 2018
'Sometimes things break, sometimes things break, you don't always see it coming, out of nowhere without warning, like a punch right to the stomach takes your breath away…'
These lyrics from Steffany Gretzinger's song 'All That Lives Forever', paint the poignant picture of life in a fractured world. In a single moment — often through circumstances outside our control — our lives can take a hit and we find ourselves wounded. Breathless, we ask the question, 'Why?'
Being a Christian doesn't exempt us from the troubles of life. People will make mistakes and hurt us. We can experience ill health or loss. Reminded of our fallibility, rejected, lied to or about, we can get things wrong. Jesus Himself warned us of the many trials and sorrows we might encounter (John 16:33).
However, there is the assurance of eternal hope (1 Peter 1:3), as we choose to push into God, shelter in His presence (Psalm 27:5) and allow Him the access He needs to minister to our deepest hurts and fears.
But it's a choice.
Often, our first reaction in times of trouble is to try to find solutions in our own strength, adopt a victim mindset, or look for someone else to blame. We can struggle with unforgiveness and even question our faith when our prayers seemingly go unanswered.
But God is bigger than the pain of this world. His grace, comfort and mercy are all we need. As we navigate this earthly pilgrimage — sometimes with tears streaming down our face and weakness in our bones — it is in choosing to trust the Lord with all our heart, leaning not on our own understanding, that we can discover a deeper intimacy with Him (Proverbs 3:5-8).
We experience God's peace and — despite our circumstances — discover His strength in our weakness and an unshakeable inner joy (2 Corinthians 12:9).
As we allow ourselves to be vulnerable with Him, we get closer to His heart and find ourselves held by an unfailing love that never runs dry. We experience His forgiveness and are enabled, by the power of the Spirit Who's alive in us, to forgive others (Luke 23:34, John 20:22-23) and ourselves.
The Bible tells us that God is love (1 John 4:8). Rather than one of His attributes, God's very nature is love. It is the light that illuminates the darkness (John 8:12), the life that invites us (John 3:16) and the voice that whispers (1 Kings 19:12). It is the sacrifice that saves us (Luke 23:46), the power that connects us (Galatians 4:6) and the grace that sustains us (2 Timothy 2:1).
We see His love reflected in the courage of the girl who was told that she would never be good enough, but who returned to college to retake her exams — her mind renewed by God's truth.
We see it in the peaceful eyes of the man battling cancer as the doctors tell him that no more can be done — knowing that death is just a doorway to God.
We see it in the smile of the displaced and hungry child who, having lost everything, experiences the love of God through those who have given up their time to come and help.
And we can see it in people like us.
As we trust the One who knows the end from the beginning, then — whatever our troubles — we can become a light that shines His life, His invitation, His voice, His sacrifice, His power and His grace on those around us.
We reflect a love that can rescue and redeem the broken pieces of our troubled world. A love that cannot be extinguished by failure, death or pain.
All that lives forever is love.
Response
Worship
Although the last thing you may feel like doing is worshipping, it's probably the most powerful choice you make. God's Word reminds us that He inhabits the praises of His people (Psalm 22:3). God is always worthy of our praise and, as we fix our eyes on the One who saves — declaring our love for Him — we can receive a peace, strength and knowledge of His ways that's priceless.
Keep it real
Be real with God, He can handle it. Don't be afraid to let Him know how hurt you feel. Tell Him your frustrations and fears. It's important to admit that you can't do it alone (1 Peter 5:7). He knows. He cares.
Listen and respond
Allow yourself to listen to what God has to say, then respond. If you're struggling to hear His voice, the Bible is a great place to meet Him. Persevere. There may be areas of unforgiveness that need addressing, or past hurts or lies that might adversely affect your relationship with your heavenly Father. Whatever your concerns, remember that God will never leave you nor forsake you (Deuteronomy 31:6).
Knowing God
16 March 2018
Whenever, though, they turn to face God as Moses did, God removes the veil and there they are — face-to-face! They suddenly recognise that God is a living, personal presence… And when God is personally present… We're free…! All of us! Nothing between us and God, our faces shining with the brightness of His face. And so we are transfigured much like the Messiah, our lives gradually becoming brighter and more beautiful as God enters our lives and we become like Him' (2 Corinthians 3:16-18 MSG).
Like most Christians, we go through life with a sense that we know God. After all, we've read His Word, have walked with the Lord, and have experienced life with Him. But do we really know God?
The delight of the Lord
Throughout Scripture, the message that God delights far more in our efforts to know Him rather than in any gift we have to offer, occurs repeatedly.
Jeremiah 9:24 reminds us that 'those who wish to boast should boast in this alone: that they truly know me and understand that I am the LORD who demonstrates unfailing love and who brings justice and righteousness to the earth, and that I delight in these things' (NLT).
Ephesians 3:19 exhorts us 'to know [practically, through personal experience] the love of Christ, which far surpasses [mere] knowledge [without experience], that you may be filled up [throughout your being] to all the fullness of God [so that you may have the richest experience of God's presence in your lives, completely filled and flooded with God Himself]' (AMP).
Beginning in the garden with Adam and Eve, God demonstrates His desire for us to have a close and authentic relationship with Him. His ultimate demonstration of this is seen in Jesus' death on the cross. And it was this that, following the Fall, provided the means by which we can be reconciled to God.
This painful, compassionate, unsparing act reflects the depth of love and mercy that the Father has for His children. Not only that, but he sent His Holy Spirit to dwell in us — pouring His truth, love and life into our hearts.
Become more like Him
It is in knowing God that we become more like Him. As we purposefully spend time getting to know Him through His Spirit and by reading His Word — in stillness and in struggle — we gain wisdom.
Knowing God provides a practical understanding of who He is. It enables us to experience an intimacy with God that touches our hearts and souls in a way that's far deeper than just touching our thinking. Knowing God affects our lives in ways that will last forever.
In moments of crisis when our faith is shaken, or we're forced to endure difficult circumstances beyond our control, we often discover a reliance on God and a depth to our relationship with Him. His promise to never leave nor forsake us (Hebrews 13:5) becomes tangibly real.
Transformation
But we don't have to wait for a valley moment to know God more. As we spend time with Him — carefully looking at His way of doing things — we experience His great love and endless grace. His priorities become ours. What's important to God becomes important to us.
As we continue to know the Lord more deeply, our hearts and our thinking realign. We grow in our ability to become His hands and feet — bringing lasting transformation to a broken world, one person at a time.
The apostle Paul knew the heart of His Saviour. From a place of imprisonment, he shares his own heart with the church in Ephesus:
'My response is to get down on my knees before the Father, this magnificent Father who parcels out all heaven and earth. I ask Him to strengthen you by His Spirit — not a brute strength but a glorious inner strength — that Christ will live in you as you open the door and invite Him in.
'And I ask Him that with both feet planted firmly on love, you'll be able to take in with all followers of Jesus the extravagant dimensions of Christ's love. Reach out and experience the breadth! Test its length! Plumb the depths! Rise to the heights! Live full lives, full in the fullness of God' (Ephesians 3:14-19 MSG).
Please pray
Ask the Lord for a greater hunger to know Him intimately, bringing an even deeper revelation of who He is that transforms your relationship with Him and with others.
Pray that the light of His love and grace will continue to shine brightly through the work of MAF as our staff go deeper with Jesus in their daily walk.
He loved us first
16 February 2018
The human desire to be loved is considered one of our most basic and fundamental needs. In fact, it is thought to be a significant cause of human happiness.
Love gives us the assurance that we are not alone in the world and often motivates us to achieve great things. Living without love can even lead to apathy.
However, psychologists suggest there's a parallel need that we often fail to recognise: the need not just to be loved, but to love.
We love God because He first loved us
Created to love as well as to be loved, our ability to do so comes from the One who formed us.
1 John 4:19 reminds us that 'We love because He first loved us.' But what does this really mean?
To love comes from a place of being loved. 'For God so loved the world that He gave His one and only Son, that whoever believes in Him shall not perish but have eternal life' (John 3:16, NIV).
The cross represents the most selfless love we could ever experience. Jesus, suffering unthinkable pain and torment, called out, 'Father, forgive them; for they do not know what they are doing' (Luke 23:34, NIV).
Despite His betrayal, arrest, interrogation, humiliation, torture and death, Jesus still speaks words of compassion, mercy and love.
Theologian and author John Piper suggests it is 'in beholding and spiritually apprehending God to be the kind of God who loves sinners like us with such amazingly free grace and through such stunningly wise and sacrificial means of atonement, we are drawn out to delight in this God for who He is in Himself.'
We love others because God first loved us
God is love (1 John 4:8). It is the very essence of His nature and character. As we attempt to grab hold of this truth, our response is awakened to love the Lord our God with all our heart and with all our soul and with all our strength and with all our mind, and to love our neighbour as ourselves (Luke 10:27).
This call to love is not limited to our love for the Father, but is to be extended to each other.
Across the nations, people are crying out to experience genuine love and care. As MAF's personnel reach those living in remote and isolated areas, let's take a moment to think about the people in our own geographical area who may also feel isolated, alone and unloved.
We love because we reflect His love
As recipients of Christ's love – poured into us – we are called to pour out His love on those around us. This isn't always easy. People who have been hurt, rejected, abused or neglected can often put up a wall around themselves as a form of self-protection.
The Christian writer CS Lewis describes it like this:
'To love at all is to be vulnerable. Love anything and your heart will be wrung and possibly broken. If you want to make sure of keeping it intact you must give it to no one, not even an animal.
'Wrap it carefully round with hobbies and little luxuries; avoid all entanglements. Lock it up safe in the casket or coffin of your selfishness.
'But in that casket, safe, dark, motionless, airless, it will change. It will not be broken; it will become unbreakable, impenetrable, irredeemable... The only place outside heaven where you can be perfectly safe from all the dangers and perturbations of love is hell.'
As the body of Christ, we have a responsibility to reflect the love of God that casts out all fear (1 John 4:18), heals the broken hearted (Psalm 147:3), brings freedom (Psalm 119:45), and strengthens and renews (2 Corinthians 4:16).
Loving others doesn't happen in our own strength. Romans 5:5 reminds us that God's love has been poured into our hearts through the Holy Spirit.
We love because of His great love for us.
Response
Take a moment to reflect on the love and character of God, and how you've experienced this great love for yourself.
Prayerfully seek out those around you. Consider reaching out to them with the love of God – asking the Holy Spirit to enable you to be vulnerable and courageous as you step out in faith.
Pray for MAF as we continue to reach remote and inaccessible people with Jesus' love. Pray that many will come to know the Lord's redeeming love.
Be still, and know that I am God
19 January 2018
The words of Psalm 46 are widely sung in churches across the country. You may have received a card containing the words of verse 10, exhorting us to be still and know that God is... well, God.
Although this command sounds simple and undemanding, it can provide both a challenge and an impetus for our prayer lives.
Sea changes
The MAF UK office in Folkestone is just 328 feet from The Leas, a Victorian promenade that overlooks the English Channel and — on a clear day — provides stunning views of the French coast.
This proximity to the sea allows us the opportunity to witness the changing conditions as the seasons pass and weather fronts come and go.
On wet and windy winter days, the surging breakers roll in and strike the shore with power, churning the sand and shingle, producing a deafening roar as if attempting to pound the land into submission.
In summer, the same water can appear motionless, lightly lapping the sand as it reflects the clear blue sky above like an ornamental pond. The transparency of the water is transformed, depending on the intensity of the swell.
On unsettled days, the depths become opaque — the seabed hidden from view as though a veil has been drawn to hide ancient maritime treasures.
However, during days of calm, the sediment slowly settles and the waters become limpid, revealing the wealth of marine life below the surface such as tiny fish, iridescent shells and mermaid's purses.
Surrender
In Psalm 46 we are encouraged to 'Be still, and know that I am God.' The Hebrew translation of 'still' in this context is 'raphah'. The word appears 64 times in the Bible and is used in the context of letting go or becoming weak — it means to literally let your hands drop.
It implies submission, surrender and weakness — words that strike a counter-cultural tone in 21st century Britain. This is the physical, mental and spiritual posture the psalmist calls us to when we enter a time of reflection, prayer and communion with God.
Forgetting to live
Singer Lou Rhodes wrote these lyrics to her song Little Things:
There's so many things that we miss in our everyday lives
We're so busy hustling, bustling chasing far away dreams
We forget the little things
Like blue skies, green eyes and our babies growing
Like rainbows, fresh snow and the smell of summer
We forget to live
Give us eyes like children so we live each day as our first
We're so sure we know so much that we forget to listen
Then we want the fickle things
Like cheap thrills, fast pills and constant consumption
Like TV, CDs and cars that speak our names
We forget to live
We are busy people with increasingly hectic lives. One of our greatest challenges today is to stop. To drop our hands physically and metaphorically. To. Be. Still.
In the same way that we can allow life's small joys to pass us by, so we can neglect and forgo the privilege of drawing near to our Creator and Saviour in prayer.
Settle down
The reason we are exhorted to encounter stillness is contained, as are many of God's truths, in the natural world.
As we rush about — minds filled with information, screens demanding our attention, diaries filled with appointments — our activity hinders our ability to truly connect with God. Our lives become clouded; obscuring our ability to hear from God and to know Him.
Only when we allow the swirling fragments of our lives to settle are we able to come to that place of surrender to the knowledge of who God is. This is the starting point for prayer.
Only when we allow our hands to drop and our minds to rest — becoming vulnerable in the process — can we pray with God's heart.
Still new year
As we embark upon a new year, let us respond to God's call through His Word to let our hands drop; to surrender our time and energy to Him as a form of worship. May this inspire and infuse our prayers as we pray from a place of knowing God and being known.
Please pray
Ask God to grant you stillness in body, soul and spirit; making Himself known to you and guiding your prayers.
MAF staff and partners face intense pressure on their time and energy. Pray that they too will be able to experience the stillness of God in the face of the many storms they face on a daily basis.
Desperate faith
14 December 2017
Throughout the Gospels we read of Jesus' miraculous ministry. Each account invites us to unpack the writer's intended message, as well as ponder the significance of the text.
An unnamed woman
As Christians, we know we are called to walk by faith and not by sight (2 Corinthians 5:7). This can be difficult as we experience life's challenges and unanswered prayers. Yet, as we read page after page of God's Word, we find ourselves inspired and hopeful as our faith is renewed.
An inspiring story of 'desperate faith' can be found in Mark 5:25-34, where we meet an unnamed woman who had been bleeding non-stop for 12 years.
She had spent all her money looking for a solution. She was desperate. Because of Levitical law, she was deemed 'ceremonially unclean'. Leviticus 15:31 gives clear instruction about keeping separate those deemed to be 'unclean'. She was extremely isolated.
But then she heard about Jesus
It is significant that Mark emphasises this fact. Someone must have been talking about the miracles Jesus had performed — of Him calming the storm and casting out demons.
As Christians, we have a responsibility to talk about Jesus. Who He is, what He has done and what He promises to do.
After hearing about Jesus, the woman, with desperate faith, pushed through the crowd, telling herself, 'If I can just touch the hem of His garment, I will be healed.'
Why the hem?
Perhaps it had something to do with a promise found in Malachi 4:2: 'But for you, who fear My name, the Sun of Righteousness will rise with healing in His wings.'
The original Hebrew word for 'wings' also translates as 'corners of a garment'. It could be that this woman, after hearing about Jesus, thought, 'This is finally the One with healing in His wings.'
In the ancient Middle East, the corner of a person's garment represented their identity; it was a symbol of who a person was and what they stood for.
In Mosaic law, God instructed His people to make tassels on the corners of their garments as a reminder that they were God's people, called to keep His commandments. That's why we read in Ruth 3:9 that, when she was seeking to marry Boaz, she asked him to spread the corner of his garment over her. It was a request for Boaz to identify with her.
There was nothing magical about the cloth Jesus was wearing. It was more about this woman publicly aligning herself with Jesus. Often it is when we come to the end of ourselves, that desperate faith begins. This woman had nothing left but to trust Jesus.
The next part of the Scripture is breath-taking! Immediately she was healed.
After 12 long years of suffering, isolation, poverty and shame, the flow of blood dried up and she felt in her body that she was free.
Although she wasn't allowed to touch anyone for fear of defiling them, she nevertheless touched the right person. A touch that caught Jesus' attention as He felt power go out of Him. His disciples questioned how He could know someone had touched Him when there were so many people around. But He knew.
His question 'Who touched me?' was possibly more of an invitation for her to step forward and publicly declare what had happened. It was also an opportunity for Jesus to acknowledge and encourage her faith.
The enormity of what had happened caused fear and trembling in her body as she knelt before Him and told Jesus the whole story. Jesus' response is beautiful:
'Daughter, your faith has made you well; go in peace, and be healed of your disease.'
He calls her daughter. This unnamed woman becomes a somebody. He acknowledges her faith. Her action to step out in faith caused Jesus to heal her. He makes a declaration. 'Go in peace' indicates that more than just physical healing took place. It denotes wholeness. Perhaps it was also intended for those who were listening – as if to say, 'This woman is no longer to be marginalised.' He speaks complete healing over her.
At the heart of this story is Jesus' readiness to include the excluded; to redeem those who are marginalised, isolated and cut off. It shows the value He puts on all people — male and female — at a time when equality was almost non-existent.
It reminds us of the need to introduce others to His redeeming love, encourages us that faith can move mountains and shows that our identity is best found in Him. It reassures us that He restores and heals — that His power and desire to heal is as strong today as it was then.
Please pray
Give thanks that our faith can touch Jesus and bring His power into our circumstances.
Remember those who are isolated and marginalised, asking the Lord how you can reach out and shine His redeeming love and hope into their situations.
Lift up MAF and our many partners as they reach out across the nations to bring help, hope and healing in Jesus' name.
Be like Barnabas!
17 October 2017
Everyone can use a little encouragement sometimes. A kind word or a simple comment of appreciation can boost our feelings of acceptance, achievement and wellbeing. The reality is, most of us get satisfaction from knowing that we've done a good job and are on the right track.
Encouraging someone is like giving them a gift!
The gift of encouragement is listed in Romans 12:8. The word used in this verse comes from the Greek word 'parakletos', which can mean to exhort, come alongside of, comfort or encourage.
Son of encouragement
The book of Acts tells us about a man called Joseph, a Levite who sold his land and generously donated all the proceeds to the apostles in Jerusalem (Acts 4:36-37).
As a result, the apostles renamed him Barnabas, which means 'son of encouragement'. The donation of Barnabas' proceeds was indeed an encouragement to the apostles, but his encouragement went far beyond financial giving.
A noticeable trait of Barnabas, a prominent leader in the early Church, was his desire to seek out, encourage and assist others. He is known for his personal courage in bringing Saul (who was also known as Paul) to the apostles.
Having been a violent persecutor of Christians, Saul had a physically and spiritually sight-restoring conversion experience when Jesus spoke to him on the road to Damascus. The change in Saul was extraordinary as he began to speak boldly about Jesus wherever he went.
The disciples, however, were afraid of Saul, and found it hard to believe that he now followed Christ. Although many shrank from Saul in fear and confusion, Barnabas came forward and showed him great kindness. He stood between Saul and the apostles and — bridging the gap — testified on his behalf. Because of this, the believers eventually welcomed him.
Called
Paul (his name change reflects his new identity) later wrote many of the books in the New Testament, including Romans, 1 & 2 Corinthians, Galatians, etc, and spent his life proclaiming the risen Lord Jesus throughout the Roman world — often at great personal cost.
Barnabas was a good man, full of the Holy Spirit and faith. His kindness, generosity and forgiving nature helped to console and encourage many. His courage and humility, together with his ability to be openminded, helped him to see the treasure in Saul. It enabled Barnabas to come alongside, mentor, guide and release Paul into all that God had called him to be.
Hope has wings
The MAF family seeks to encourage people in all we do. Our vision of bringing help, hope and healing is done in the powerful name of Jesus.
The isolation, poverty and conflict that exist throughout the world can devastate peace and destroy hope. Can you image how frightening it must be to go into premature labour, living deep in the jungle and days away from a hospital?
MAF reaches those who are in need and provides care and attention. We also pray for our passengers as we transport them to places where they can get help. These acts of love bring encouragement and renew hope.
The faithful prayers and generous giving of our supporters make what we do possible. We are so encouraged by all the ongoing support we receive!
Be like Barnabas
As Christians, we are called to encourage others. The Passion translation of Romans 12:8 illustrates this beautifully: 'If you have the grace-gift of encouragement, then use it often to encourage others.' Will you dare to be like Barnabas?
Some people are more comfortable encouraging others. They carry the 'grace-gift' we read about in Romans 12. For others, it can be a little more challenging.
It takes courage to look at someone and see the potential inside. It takes commitment to come alongside another person and journey with them. It needs optimism. But this shouldn't be an excuse to leave it to someone else. 1 Thessalonians 5:11 calls 'believers to encourage one another and build each other up.' Challenging stuff…
Holy Spirit helper
But we need not fear. In John 14:16, Jesus tells the disciples shortly before His death that God will send another advocate to help us and be with us forever. The term used in the original text —'paraclete' – most commonly refers to the Holy Spirit.
Barnabas was a man 'full of the Holy Spirit' and we too can 'be like Barnabas' and let the Spirit lead us: listening and watching for opportunities to encourage someone — whether in word or deed!
Please pray
Ask the Lord to help you be in tune with the Holy Spirit; giving you eyes to see, ears to hear and the opportunity to encourage someone today.
Pray continued blessing on the work of MAF and its partners. May we and our partners be an encouragement to those that we reach and serve, in Jesus' precious name.
Every valley has a story
15 September 2017
The LORD is my shepherd; I shall not want. He makes me to lie down in green pastures; He leads me beside the still waters. He restores my soul; He leads me in the paths of righteousness for His name's sake. Yea, though I walk through the valley of the shadow of death, I will fear no evil; for You are with me; Your rod and Your staff, they comfort me. You prepare a table before me in the presence of my enemies; You anoint my head with oil; my cup runs over. Surely goodness and mercy shall follow me all the days of my life; And I will dwell in the house of the LORD forever. Psalm 23 (NKJV)
A funeral psalm?
Psalm 23 is commonly used at funerals. The words are used to help personalise the listener's relationship with God, and paint Him as comforting and nurturing.
'Yea, though I walk through the valley of the shadow of death, I will fear no evil; for You are with me' gives mourners a sense of hope in a time of darkness and loss.
For Christians, the words 'I will dwell in the house of the LORD forever' remind us of the promise of eternal life after death.
The evangelist Luis Palau, however, believes Psalm 23 is better suited to dealing with present, worldly matters rather than with death.
As Christians, we are not exempt from trials and tribulations – we all go through different seasons in life.
Sometimes life is great and everything is going well. Then there are other times when life is hard and we struggle to see beyond our dispiriting situation. We have mountaintop moments and we have valley moments.
The reality is that there is always a valley between two mountains. We reach a mountaintop experience and live there for a while, but when a wind of defeat or discouragement comes, it blows us right down to the bottom of the mountain again.
A charmed life?
King David didn't have a quiet life. He became a soldier in his adolescence, spent much of his life on the run and, as king, struggled both politically and spiritually.
He failed in his relationships with his wife Michal, sons and contemporaries. His personal life was fraught – full of pain and difficulty. One son died at birth, another grew up to rape his sister, which led to yet another son killing him for it.
David knew what the valley was like. But, as we see from Psalm 23, he recognised that God was in the valley with him.
The truth is that every valley moment has a story that God will use to bring life and revelation. If we let Him, God will use our situations to advance His Kingdom.
They build our character and equip us to help others.
Romans 8:28 (NLT) reminds us that 'God causes everything to work together for the good of those who love God and are called according to His purpose for them.
A life of defeat?
There are so many things that can knock us down. Health issues, financial worries, marriage breakdown, bereavement, family problems, loss, loneliness, busyness, past hurts, unforgiveness, the unknown...
In many of the countries in which MAF serves, the terrain and isolation can be overwhelming. The poverty and conflict people experience there cry out a desperate song that echoes through the land.
But one of the things we need to understand about valley seasons is that they are unavoidable — bad things happen. They are unpredictable — you can't choose when you experience them. They're impartial — no one is immune.
Yet they are also temporary. They won't last forever. Remember, we are just walking through. And they have a purpose.
1 Peter 1:6-7 (Message) tells us:
'I know how great this makes you feel, even though you have to put up with every kind of aggravation in the meantime. Pure gold put in the fire comes out of it proved pure; genuine faith put through this suffering comes out proved genuine. When Jesus wraps this all up, it's your faith, not your gold that God will have on display as evidence of His victory.'
God is using these moments to refine us as evidence of His victory! Hallelujah!
Please pray
The green pastures this psalm speaks about were not belly-deep alfalfa but small tufts of grass growing where there was moisture by the rocks.
The shepherds led their sheep to the sustenance they required, then led them on to the next mouthful whenever it was needed. Today, however, we often find ourselves dealing with tomorrow's problems on today's pasture.
Take a moment to allow the Holy Spirit to speak to you about this, and lay down tomorrow's problems at His feet. Ask the Lord to help you to trust Him for His provision right now.
Remember those MAF serves in isolated communities – seeking the Lord to meet all their needs in Jesus' name. Pray that those who don't yet know Him will find God in the valley and choose Him as their Shepherd.
Lift up the MAF family as they live their lives as a witness to God's goodness for His glory.
Trusting God in the unknown
18 August 2017
Sometimes we can find ourselves going in a different direction to the one we felt God call us, which can lead us wondering if we misunderstood God's leading. This month's Prayer Devotion, written by MAF Senior Technician Joey Redhead, who, in 2016 moved to the other side of the world to follow God's call to serve with MAF in Papua New Guinea. Joey shares his own personal experience of such a challenge.
There was once a guy called Paul. You've probably heard of him.
He brought Christianity to Europe and wrote much of the New Testament. But, sometime before all that, he felt called by God to tell the Good News about Jesus Christ to what is now modern-day Turkey.
Turkey and the surrounding area was the socio-economic hub of the world at that time, so making an influence there would be a way of influencing the world.
It was a big job and one that Paul was no doubt excited about. However, only a short way into his journey, he found that he was unable to share God's Word there.
Called
In some ways, I can relate. At the beginning of 2015, I felt God call me to go to Papua New Guinea (PNG) to serve the people there with my engineering skills.
It wasn't that I thought this would be a good thing to do, or that it was something of which God would approve.
No, God made it irrevocably clear that this was what He wanted me to do. It happened with a clarity I couldn't doubt and a certainty that I knew I'd need to hold on to in the future — although I didn't know why at the time.
In the summer of 2016, I moved to PNG and began to work with MAF there. I very much enjoyed myself, settled in well, and like to think that I made an impact for God's glory there too.
But after six months, I became ill and had to come back to England to be treated. Much about my illness still remains a mystery. The prognosis for my recovery in the future is good, but when this will occur is totally unclear. I am very much in a time of uncertainty.
Lost
It is easy to question whether I misunderstood what God was telling me when I felt called, but I know this is not the case. It's easy to feel that I failed in some way, that I wasn't strong enough, but I know this was always God's work and it was only because of His strength that I'd be able to achieve this task – a strength that I know never fails.
It's easy to feel lost because, well, I am. But that's okay, because I'm travelling with God and He doesn't just have the map, He made it!
Interrupted
The Bible doesn't tell us how Paul felt when he was unable to carry out his plans. It's also unclear as to why Paul wasn't able to share the Good News about Jesus.
It does however tell us that God was the author of this interruption.
It also tells us what Paul did next. He carried on! He tried to preach throughout the whole region and, when he wasn't able to, he moved on to the next.
He carried on and on until he found himself at the very tip of Turkey.
From there, God led him to bring the Gospel to Europe, which would remain the social and economic hub of the world for the next 2,000 years. It was something Paul could never have known at the time, but was something God had planned all along.
Please pray for Joey
That he will always find his hope and his rest in God.
That God will use this time of uncertainty however He pleases.
That God will bring him healing in His perfect timing.
That God will bless and encourage our team in PNG
Discipleship for mission
21 July 2017
'Now go in my authority and make disciples of all nations, baptising them in the name of the Father, the Son and the Holy Spirit. And teach them to faithfully follow all that I have commanded you. And never forget that I AM with you every day, even to the completion of this age.' Matthew 28:19-20 (TPT)
As believers in Christ, being on mission is our commission. Whether paid, unpaid, overseas or at home — in school, working or retired — we are all called to tell others about Jesus.
Acts 1:8 tells us that, when we receive the power of the Holy Spirit, we will be His witnesses in Jerusalem, and in all Judea and Samaria, and to the ends of the earth. For some, this means serving people overseas. For others, the mission field may be closer to home. (The use of Jerusalem in the verse above refers to a local area.)
Mission, at its simplest, is sharing God's love with others. It can be as modest as stopping to chat with someone who needs a listening ear, or sharing the burdens of those in our neighbourhood, churches and workplaces — shining God's love. It is about discerning where God is already at work and seeking to join Him in building His Kingdom.
When Jesus gave the Great Commission, He was calling every Christian to step out in faith and spread the Good News. It is an invitation to obedience, adventure, divine destiny and purpose. We are called to 'make disciples' and should see discipleship and mission not as separate callings, but as one and the same thing. Rather than being about activities or certain people serving in distant countries, the call to mission originates in the very nature of God. After all, the God of the Bible is a sending God.
Throughout history, God has been sending people. He sent Abraham into the unknown to experience the presence and power of faith. He sent Moses to the oppressive dictator Pharaoh to let the bells of freedom ring through the corridors of history. He sent the prophets to God's people with a message of judgment and forgiveness.
And He sent His Son, Jesus. And Jesus sent His disciples.
As Christians, our mission is an extension of the nature of God, who cares enough to seek, search and save people, meeting them where they are.
Miriam Swaffield, Fusion UK's Student Mission Leader, says:
'Mission is really about relationship. Relationship with God and others. Loving Him and so loving others with that love of God that is arrestingly different to the love of the world, covered in the aroma of Christ. Mission isn't an event, it's a person.
'Discipleship is really about relationship. Relationship with God and others. Loving Him and so loving others as we all walk in His ways and help each other keep in step with the Holy Spirit. Including those who are yet to live in obedience to the Holy Spirit themselves. That's where we can bring life, and life in all its fullness, because that is where it is needed. Discipleship isn't an event, it's people.
'If discipleship and mission are all about relationship between God, His people and all of humanity, then the whole thing is inseparable. Both discipleship and mission are about sharing and knowing more of Jesus with each other in community with God.'
MAF is a family of missionaries. Some are based overseas, serving people in isolated communities. Others work in MAF support offices and resourcing groups all over the world, partnering with our supporters, volunteers and prayer partners to see God's love and power reach those in need of help, hope and healing.
As disciples of Christ, when we step into our 'missionary shoes' — being the hands and feet of Jesus and sharing Him as a natural overflow of our relationship with Him — we find ourselves more aware of His presence in our lives.
We start to mature in mission, being discipled by the Holy Spirit as we search for the right words and responses to those in need.
Response
Ask the Lord to show you what your mission field is for this season in your life, seeking Him for boldness, direction and open doors.
Think about people you could disciple, whether helping them grow deeper in Christ, or perhaps teaching those who do not yet know about Jesus' redeeming love.
Continue to pray for MAF's family of missionaries as they serve Jesus. May they continue to draw close to the source of all life — being led by His Spirit in all they do.
Finally, please pray for more people to hear God's call to serve with MAF throughout the developing world.
Let faith arise
16 June 2017
'Don't worry about anything; instead, pray about everything. Tell God what you need, and thank Him for all He has done. Then you will experience God's peace, which exceeds anything we can understand. His peace will guard your hearts and minds as you live in Christ Jesus.' Philippians 4:6-7 (NLT)
The tragic events over the last few weeks will forever be etched on our minds.
The senseless bombing of a packed arena in Manchester and the vicious attack in London resulting in the death and injury of so many innocent people, reminds us of the vulnerability of human life and the devastating effects of someone's choices.
Why?
At such times, many question the existence of a loving and powerful God as they search for reasons and answers; the poignant question 'why?' hangs heavy in the air.
'Where is your God in all this?' is something we've all heard at times – a question we don't always know how to answer.
Was the same question asked when Jesus, nailed to the cross, took His last breath?
The King of Kings who was coming to save the world was dead. Confusion, heartbreak and despair consumed His followers. Doubt and fear crept in. Self-preservation overtook Peter as he denied Christ.
The story wasn't over
Yet that was not the end.
The death and resurrection of Jesus is an illustration of triumph over tragedy, light out of darkness, life from death. It challenges our understanding of what power and authority look like; rooting us in the truth that Love always wins.
Love wins little by little with every act of kindness, each selfless choice, every bold decision to serve.
In the midst of loss and bewilderment, as the stark reality of what happened in both Manchester and London gradually unfolded, we witnessed the unity of people standing together to support the community.
In all the heartbreak, we experienced something of God's presence.
In many of the developing countries in which MAF serves, tribal conflict, false beliefs and superstition result in loss of life.
Changing a culture is possible, but it takes time
In Papua New Guinea (PNG), a measles outbreak has led to innocent women and children being accused of witchcraft. But God is at work.
With MAF's help, missionary Anton Lutz and a young woman called Nes Mark have been confronting accusations of sorcery head on. Through the work of an intervention team including missionaries, pastors, a police commander and public servants, communities have been renouncing their tradition of attacking those believed to be harbouring evil spirits. Unfortunately, despite the churches efforts to combat false allegations, lives are still being lost in PNG.
When Dr Rosie Crowter attempted to teach the women of PNG about TB and malaria, she found that everyone believed the diseases were caused by witchcraft and evil spirits.
So, to combat these beliefs, Rosie adapted her workshops to bring God's Word. She is helping to change people's mindsets by teaching them who God is and what He says about sorcery and death.
In Papua, it was the Word of God, alongside missionaries placed 'for such a time as this', that helped save the life of little Emma Grace who, because of false beliefs, was left to die shortly after being born.
The only book to be translated into the native Moi language was Exodus 1, but this was enough for missionaries to share with Emma Grace's father the story of the Hebrew midwives who, despite Pharaoh's orders, saved the Israelite boys from being killed. God softened the man's heart and the family now follow Christ.
Let faith arise
God is at work in this broken world. His ways are not our ways, but His Word brings revelation and renewal. Let faith arise as we ask the Lord to reveal His hand at work in the little things – giving us eyes to see, ears to hear and the courage to be His hands and feet in a world that desperately needs us.
Please pray
Romans 12:2 reminds us not to conform to the pattern of this world, but to be transformed by the renewing of our minds. As we find ourselves with questions we cannot answer and despair in our hearts, let's ask the Lord to renew people's minds throughout this troubled world; setting them free for fear and superstition.
Pray for Anton Lutz, Nes Mark, Dr Rosie and others doing the Lord's work, asking for protection as they continue to challenge false beliefs in Jesus' name.
Pray specifically for Pastors and Christians in remote communities who are the first line of defence for those accused of acts of sorcery.
Give thanks for MAF's ability to reach remote and isolated communities – enabling emergency medevacs, missionaries and the Word of God to reach those most in need.
The power of praise and worship
19 May 2017
In 2 Chronicles 20:1-3 we read of the reaction of Jehoshaphat, King of Judah, when he received word that an alliance of three vast armies were coming to attack. Understandably, he was terrified.
A faithful man of God
King Jehoshaphat was a faithful man of God, devoted to the ways of the Lord. He had strengthened Judah to stand against attacks from Israel.
He had sent out teachers and priests to declare the word of the Lord.
He had appointed Judges, telling them to 'always act in the fear of the Lord, with faithfulness and an undivided heart' (19:9 NLT).
He was a good man. He didn't deserve this. Yet he found himself under attack.
When we find ourselves facing undeserved opposition, we can become overwhelmed and adopt a 'Why me?' attitude. We can even get angry and blame God.
A call to pray
King Jehoshaphat, however, chose a different response. He called a national prayer meeting, asking his people to fast.
As the people gathered, he prayed, 'O LORD, God of our ancestors, You alone are the God who is in heaven. You are ruler of all the kingdoms of the earth. You are powerful and mighty; no one can stand against You!'
He fixed his eyes on who God is, rather than focusing on the impending attack.
He remembered what God had done before: 'Did You not drive out those who lived in this land when Your people Israel arrived? And did You not give this land forever to the descendants of Your friend Abraham?'
And he brought his problem to God – admitting his own weaknesses and vulnerability.
Do we do this?
Dependency on God
Often our great dependency on God is revealed in times of opposition; in those times when we're unable to keep fighting alone.
The story continues with the Spirit of the Lord coming upon a man called Jahaziel. He spoke the word of the LORD, saying, 'Do not be afraid! Don't be discouraged by this mighty army, for the battle is not yours, but God's... stand still and watch the Lord's victory.'
When we come together to seek God, He encourages us and guides us.
What they did next was incredible. They worshipped!
We don't worship in response to His presence – His loving presence responds when we come before Him in worship
King Jehoshaphat and the people of Judah knew the secret of lifting their hearts above their troubles and entering into God's presence. Their response provided a channel for God's power to operate.
Psalm 22:3 reminds us God inhabits the praises of His people. We don't worship in response to His presence – His loving presence responds when we come before Him in worship.
Verse 22 of 2 Chronicles 20 tells us that at the very moment they began to sing and give praise, the LORD caused the armies to turn against each other, and all were killed.
Sweet fragrance of affection
The fragrance of our affections, our praises to the most high King, repels the darkness of the enemy – bringing God's light, love and redemption in its place.
There is power in our praise and worship.
There is power in our responding.
There is power in our standing.
Paul and Silas knew this power as they sat chained and beaten in a dark, dingy cell. Their choice to pray and worship, despite their circumstances, saw the earthquake come, the doors fling open, the shackles fall off and – more poignantly – through choosing to remain where they were, salvation come to the prison guard and his family.
There is power when we join together to pray for the work and people of MAF.
There is power when we share stories of God's provision and breakthrough.
There is power when we declare the promises of God to restore the land.
There is power when we admit our weakness and dependence on the Lord.
Power of praise
For further encouragement on the power of praise, check out this short testimony from MAF Pilot Israel Neale.
As you ponder the power of praise and worship, ask the Lord to direct your prayers to one of the countries in which we serve.
Seek His heart for the people of that country, our partners and for the MAF staff serving there. Let's stand together for the things that are yet unseen, giving glory to our King!
Share what the Lord has spoken to you with our Prayer Communications Leader, Victoria Fagg by emailing her so we can join you in praying for those God lays on your heart – praising Him for all He intends to do.